Recently on Cyclingnews.com

Road Season Preview 2004
US & Canadian Women's Teams
Can anyone topple T-Mobile?
By Kristy Scrymgeour & Anthony Tan
With Saturn's exit from cycling sponsorship after 12 years' involvement, one or two riders have landed contracts with European teams like Team SATS or Equipe Nürnberger Versicherung, while most of the women, largely through circumstance, will continue to race in the United States with other domestic teams. The team most likely to benefit from Saturn's departure is T-Mobile, however, other teams like Rona-Esker, Genesis Scuba, Victory Brewing, Basis-Aude and Quark could well prevent the predicted whitewash caused by the women in pink and black.
Team by team breakdown
The T-Mobile Women's team
Photo ©: Steve Dascomb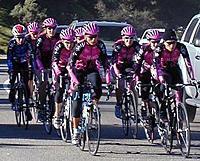 The T-Mobile Professional Cycling Team is, at least on paper, the strongest and most complete women's cycling team in the US, and by some margin - not dissimilar to their male counterpart in Germany. Understandably, team manager and director, Jim Miller, can't wait for the season to unfold, and being the closest thing to a national team, Miller knows a number of his riders have an excellent chance at bringing home an Olympic gold for the US.
"This is a very exciting year for the team," he said to Cyclingnews. "We are very focused on what USA Cycling's goal was when we started this team: to develop an all-American women's team and build towards fielding the strongest possible team going into 2004. This year, 70 per cent of our racing will be abroad, so that the women have the highest level of racing to be competitive at the Olympics in Athens."
The Machine from Lachine: Geneviève Jeanson
Photo ©: Rob Karman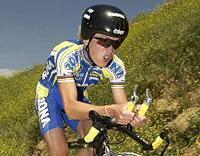 "We've got many new faces on the team for 2004," said Equipe Cycliste Rona's Directeur Sportif André Aubut to Cyclingnews. "But I think we'll have more depth in 2004 than in 2003, even though with Karen Bockel's retirement we're losing a first-rank cyclist."
Once again boasting the "Machine from Lachine", Geneviève Jeanson, Equipe Cycliste Rona will look to dominate the tough, hilly stage races in the US that Jeanson makes look easy, as well as field a competitive squad in World Cup events including Flèche Wallonne and the Montréal World Cup and the world road championships in Verona, Italy. In America and Canada, look out for Rona in races like Tour du Grand Montréal, Fitchburg-Longsjo Classic, The International (Tour de Toona) and the T-Mobile Grand Prix.
Added Aubut, "This is a well-balanced team and we can promise an exciting show for the folks who come to watch us race. Geneviève Jeanson will get strong support in climbing. We also have what it takes to come out ahead on the flat and in the criteriums.
"We really approach each season on a race-by-race basis. We want to come out of each competition with the feeling that we've raced the best we could. When we achieve that, we've done our job and we're happy. When we don't, we have to learn something. If all RONA team members are improved racers in October compared to March, I'll consider it a great season."
A night out with Victory Brewing
Photo ©: Mike Tamayo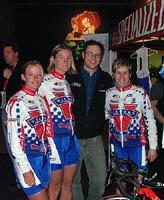 A team with a good mix of experience and youth is the Victory Brewing Cycling Team who are back in force after a solid year in 2003. The squad of nine riders with their headquarters in Trexlertown, Pennsylvannia, will be focusing on the domestic racing scene in 2004 with the odd race or two abroad. Last year Gina Grain proved her sprinting prowess and with the addition of two Kiwis and an Aussie to their roster, this team will certainly not be lacking in tenacity.
Team director Mike Tamayo told Cyclingnews that with "the team adding some horsepower and climbing strength, as a whole we feel the team is stronger all around. Top NRC team is a realistic goal for us in 2004. Pursuit of the Women's Prestige Cycling Series will also be high on the priority list."
Team leaders such as Sandy Espeseth and Nicole Demars will no doubt use their experience again this year to lead their team to many more victories.
Basis-Aude - An interesting mix
Photo ©: Nicole Freedman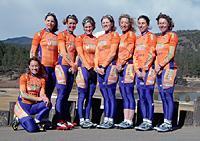 Another Canadian women's team, Basis-Aude, has an interesting mix of youth and experience, and like T-Mobile, the team's aspirations for the Olympic Games are high the agenda.
Said rider and team manager, Nicole Freedman to Cyclingnews: "Our mission is to provide a supportive, teaching environment from which to develop our next Olympians. Our goal this year is to help riders qualify for the 2004 Olympics and to provide our developmental riders national and international experience in early preparation for the 2008 Olympics.
Freedman, not surprisingly, is also very praiseworthy of the team's product sponsors; however, she also holds a strong opinion on those teams that simply accepts products or money without first considering their worth. "It is not okay to ever accept money to ride a product," she said.
"Our philosophy is to only ride, request or accept products everyone on the team absolutely loves. We decided if we we could not agree 100 per cent on a company, we would simply let riders do their own thing and not have a sponsor. Our bike ponsors are absolutely incredible, and we are incredibly fortunate to have such an amazing crew supporting us - our bikes should hit the minimum UCI weight and not fall apart, either!
One team to watch out for in 2004 will be the Quark Cycling Team. With four out of seven riders from Team Saturn - including Lyne Bessette, Megan Elliot, Amy Moore and Sarah Uhl - and Team Rona's Magali Le Floch also joining the fold, you're unlikely to see Quark barking up the wrong tree!
Races Quark are scheduled to compete in include: McLane Pacific, Pomona, Redlands, Sea Otter, Bisbee, Tour de L'Aude, Montréal WC and Tour du Grand Montréal, Nature Valley, Wachovia Liberty Classic, USCF National Championships, Fitchburg, Toona, Olympic Games, USPRO Criterium Champs, Vail Circuit Race, San Rafael and the T-Mobile International.
Laura Van Gilder takes out the final stage at Valley of the Sun
Photo ©: Jon Devich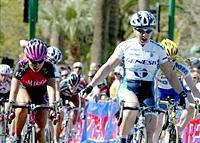 With two riders that invariably deliver solid results throughout the season in Tina Mayolo Pic (ex-Diet Rite) and Laura Van Gilder (ex-Saturn, winner of the women's Pro Cycling Tour in 2002), the Genesis Scuba/FFCC Cycling Team could well meet their ambition of finishing atop the National Racing Calendar (NRC) rankings by the year end.
Said Michael Skop, Genesis Scuba/FFCC's Director Sportif to Cyclingnews: "Our primary objective is to finish the season at the top of the NRC rankings. We'll be competing in all NRC races as well as the Montréal World Cup and the Tour of Tour du Grand Montréal. We're also looking forward to competing in the Prestige Women's Series.
Team Roster
Tina Mayolo Pic
Laura Van Gilder
Sue Palmer-Komar
Grace Fleury
Iona Wynter
Maggie Shirley
Candice Blickem
Kori Seehafer
Rook Campbell
The Webcor Women
Photo ©: Webcor Women's Cycling
While much of the attention will be focused on the men's squad after signing last year's number one-ranked US rider, Chris Horner, The Webcor Builders Women's Cycling Team, led by 2000 Olympian Karen Brems, will compete the full NRC schedule, with a special emphasis on the Women's Prestige Series, the Olympic trials and national championships, and the T-Mobile International, held in the backyard of team sponsor Webcor Builders. The team also expects to contest most of the major events throughout Northern California
Team Roster
Christine Thorburn
Felicia Greer
Catherine Malone
Yukie Nakamura
Stefanie Graeter
Kimberly Boester
Lisa Norris
Carrie Thrasher
Karen Brems
The TDS Schwalbe Women's Cycling Team
Photo ©: Karl Heidgen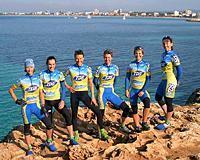 For the TDS Schwalbe Women's Cycling Team, their aims are six-fold:
To win the Women's Prestige Series
Compete at major stage and one-day races in North America
Support women riders by helping them gain experience by racing in Europe
Offer a strong team environment for which riders to race within
Support all of our sponsors to the best of our ability
Support our individual riders in reaching their goals within their national team for the world championships and Olympics
Team Roster
Anne Samplonius
Joan Davies
Shawn Heidgen
Emily Gloeckner
Erin Carter
Andrea Ratkovic
Megan Monroe
Karen Bockel
The Verizon Wireless women's team is excited to return in 2004 and continue their commitment to raising awareness of domestic violence. Team management said to Cyclingnews: "We continue to pledge all of our race winnings to domestic violence organizations identified through the Verizon Wireless HopeLine program.
"On the team/racing front, we are very excited to be part of the new Women's Prestige Cycling Series and motivated for the free trip to Bermuda! We expect to be a strong force in the series events. Outside of this series, we will again focus on National Racing Calendar and top local events in our New England base."
Verizon Wireless also hope to further raise awareness of the HopeLine phone recycling program. With the new cell phone number portability law, there is an expected increase in the number of old cell phones, so one of their goals will be to alert as many people as possible to this program and give people a positive disposal option for their old cell phones. Donations of phones from any provider can be made at any Verizon Wireless retail store and are tax deductible.
Team Roster
Paula McNamara
Ann Marie Miller
Julie Monagle
Brenda Nevins
Sara Bresnick
Kelly Chang
Alicia Genest
Leah Goldstein
Janine Verstraeten
Shannon Hutchison lines up at Roswell in 2003
Photo ©: Colavita Olive Oil
With an expanded roster and substantially increased budget and infrastructure, the Colavita Olive Oil Women's Team anticipate being among the premier teams on the US women's criterium circuit, and one of the major players in road races, including Pro Cycling Tour stops. Said Colavita team managers, Greg Wheeler and Rick Bausch, to Cyclingnews: We are particularly excited about the recent restoration of the women's race at the New York City Cycling Championships, which, along with the Tour of Somerville, we consider our "hometown" races and will be prime race targets for us.
"The Colavita-Bolla Women's Team boasts two "A list" candidates for the coveted nominations to the Athens Summer Olympics. Ashley Kimmet is among the favorites for a spot on the US Olympic team in the points race and individual pursuit. Joanne Kiesanowski is one of the foremost candidates for a position on New Zealand's squad for the Olympic road race, and a leading candidate to represent her nation in the points race as well."
Team Roster
Charmian Breon
Shannon Hutchison
Lenore Imhof
Joanne Kiesanowski
Ashley Kimmet
Rebecca McClintock
Brooke O'Connor
Kristy Scheffenacker
Tracy Sproule
A relatively new and young team of seven riders, the America's Dairyland Team (aka the "cowgirls") has modest goals for the 2004 season, concentrating on the Midwest, with representation at about half of the National Racing Calendar (NRC) events. America's Dairyland debuted in 2003 and is building toward national presence in 2005.
Rachel Couch, 2003 Colorado Crit Champion is team captain. The team goals are to build on last season's racing accomplishments and to talk to school kids about the importance of a healthy diet and exercise," says team director Rebecca Anderson. Team members will visit a school in Wisconsin and present information on exercise and healthy eating, whether or not the kids are in sports.
Team Roster
Julie Schmitt
Julie Tatar
Jamie Surges
Rachel Couch
Rachel Eichers
Rebecca Anderson
Anna Dierking
A team that has been around for about six years and was once Team Ameritech, Trek-VW Midwest and finally Jamba Juice in 2003 is now back with a new sponsor and a very optimistic feeling for 2004. The large team made up mostly of women who work full time is now known as Kenda Tire. Cyclingnews spoke to the manager of the team, Paul Forsythe, who explained that the teams goals are to "support the Women's Prestige Cycling Series and continue to support community events that promote cycling safety and goodwill to women in sports as we look for even more opportunities to show our sport to the masses." They are also eyeing
The Kenda Tire Women's Cycling Team
Photo ©: Kenda Tire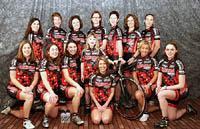 some medals at both Elite and Masters Nationals. New to the team this year are Carla Hukee, Carol Lynn Neal, and Kate Sherwin from California as well as triathlon star Jacqui Lockwood from Phoenix and Norwegian Olympian May Britt Hartwell, who now resides in Indianapolis.
Team Roster
Carla Hukee (Venice, CA, Cat. 1)
Carol Lynn Neal (Palm Desert, CA, Cat. 1)
Catherine Walberg (Topeka, KS, Cat. 1)
Debbie Dust (Chicago, IL, Cat. 1)
Heather Woodhouse (Phoenix, AZ, Cat. 2)
Jacqui Lockwood (Phoenix, AZ, Cat. 1)
Jenn Wangerin (Bloomington, IN, Cat 2)
Jessica Drees (Overland Park, KS, Cat. 2)
Kate Sherwin (Marina Del Ray, CA, Cat.1)
Katie Weber (Indianapolis, IN, Cat. 2)
Laura Hammer (Lafayette, IN, Cat. 2)
May Britt Hartwell (Indianapolis, IN, Cat. 1)
Melanie Fitz (Covington, IN, Cat. 2)
Mindi Martin (Mangum, OK, Cat. 2)
Monique Karlen (Madison, WI, Cat. 2)