Road Season Preview 2004
US Teams Part I - Men's teams
Wide open road
By Kristy Scrymgeour & Anthony Tan
With Saturn's exit from cycling sponsorship after 12 years' involvement, one or two riders like Tom Danielson have landed contracts with big European teams, while most, largely through circumstance, will continue to race in the United States with other domestic teams. What this will most likely mean is a much more even domestic racing scene this year in the US - for the men, teams such as Navigators, Colavita-Bolla, Health Net, Jelly Belly and Webcor, among others, are now all in with a chance at winning a number of the major events, such as Redlands and Sea Otter, Tour of Georgia, USPRO Championships, New York City Cycling Championships, San Francisco GP (T-Mobile GP), as well as races on the Pro Cycling Tour.
Team by team breakdown
The Navigators Insurance Cycling Team
Photo ©: CN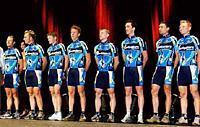 The Division II Navigators Insurance Cycling Team is one squad expected to fill much of the void left by Saturn. Business Manager Ray Cipollini said the team's goals for the 2004 season are similar to years past, with a strong focus on their early season campaign in Europe. "Obviously we are placing a lot of importance on our European racing, and Stateside, the Pro Cycling Tour and Tour de Georgia will be major goals," said Cipollini to Cyclingnews.
"There are many high-quality races that will be in our scopes throughout the season. Our single goal at every event is to win it. We don't have a single team leader, but instead have the best squad for that particular race, and use the race plan that we believe (generally, as a team) will be the most successful.
"We generally exceed our expectations and strive to win more, and higher category, races," he said optimistically.
The Jelly Belly-Aramark team at the Valley of the Sun
Photo ©: Jon Devich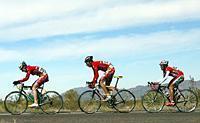 Jelly Belly-Aramark are equally ambitious, but with a reinforced line-up including riders such as Jonas Carney and Alex Candelario, as well as Ben Brooks, Adam Bergman and Caleb Manion, this Division III team certainly has the potential to become one of the top domestic teams in the US.
"The team definitely has loftier goals, as we look to be one of the top teams in the United States this year," admits Assistant Team Manager, rider and captain, Kirk Albers to Cyclingnews.
"The addition of Jonas Carney and Alex Candelario give the team a genuine sprint threat, while Ben Brooks, Adam Bergman, and Caleb Manion give the team depth for the hilly races as well as the overall classification. Caleb Manion is a Tasmanian who has spent the last four years with the Australian Under 23 team in Italy and has also represented his country at world championship level."
Also returning are strongmen Olympian Mariano Friedick, team veteran/captain Kirk Albers, with other new members Paul Ellis, Ernesto Lechuga, and Collegiate National Champion Doug Ollerenshaw. The team also continues to develop younger athletes with U23 riders Corey Steinbrecher and Jeremy Powers also on the roster
Jittery Joe's Chad Hartley scores the team's first big win for 2004
Photo ©: Jon Devich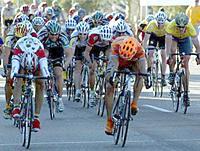 Jittery Joe's may be a purveyor of quality micro-roasted coffee, but according to Manager and Team Manager of The Jittery Joe's Pro cycling Team, Micah Rice, they hope to have success at the macro-level this year.
"We hope to have success at a wider variety of races this year," said Rice to Cyclingnews. "We had great success at the criteriums with Jeff [Hopkins] last year, but we want to attend more stage races and do well there. Cesar [Grajales] had a great ride at San Francisco after coming back from injuries during the first half of the season. He didn't really get going until late August, right at the end of the year."
Despite the addition of just one experienced rider to the mix, Rice believes the bar will be raised within the team: "I think you will see some riders step up from within the team this year," he said. "Chad Hartley is a young rider who is going to do nothing but get better. Jeff will do even better this year in the sprints. We are looking to move up a big step on the domestic ladder, and we really have only added one rider, Chris Pic, who is a tried and true professional. We plan on getting the job done with our existing team and our new young additions."
Sharper Image - Mathis Brothers Furniture is not just another new team on the US domestic scene - this team is an extension of the highly-successful Mathis Brothers Elite Team that enjoyed a number of National Racing Calendar (NRC) victories as well as over 10 podium appearances in other professional races throughout last year. The entire four-man squad from 2003 has been retained, with the addition of strong talent resulting from the exit of the Sportsbook.com pro cycling team, including Adam Hodges Myerson, Larry Perera and Matt Svatek. Some up-and-coming talent has also been added, such as Mike House, Michael Lange, Aaron Smathers, Jason Waddell and David Wenger, bringing the total riders on the 2004 roster to 11.
Says manager and rider Jason Waddell to Cyclingnews, "For the 2004 season we are targeting marquee events such as the Dodge Tour de Georgia, Wachovia Week, NYC Invitational and the San Francisco International, which is the headquarters for Sharper Image Inc. We will be aiming to make our presence in these races as well as promoting our sponsors through outside promotional events."
The Webcor Professional Cycling Team
Photo ©: Bikezen.com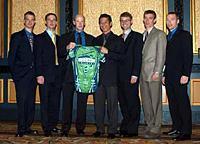 Webcor, one of America's leading general contractors specialising in major construction projects, made arguably the biggest acquisition out of any domestic team last year with the signing of Chris Horner. And the acquisition of super-sprinter Charles Dionne was no mean feat, either.
Said Webcor Cycling Team's Melissa Gambol in a team statement: "The 2004 Webcor Builders Cycling Team is committed to professionalism and putting riders on the podium in every NRC race the team enters. The team expects to see both its young riders and more experienced racers develop under the leadership of Chris Horner, ride beyond expectations and deliver Horner and sprinter Charles Dionne to the line when it counts.
"The team intends to fully support Horner at the U.S. Olympic Trials road race, as well as give Dionne the freedom to prepare to ride for Canada at the Athens Olympics. The team is looking forward to a full season of success, culminating at the T-Mobile International, held in the backyard of team sponsor Webcor Builders, where Webcor will help Horner defend his title."
CEO of Webcor, Andy Ball, was a little less aggressive in his outlook, and said the team is not just about getting results. "Results are secondary. It's great to win as long as you keep it in perspective and enjoy life,"," said Ball. "At Webcor, we really just believe in people and we like to give people the freedom to do well - the same goes with the team.
"It is a balanced team and Horner will get good support for the big races that he wants to do well in, and in the local races, he will work for the other guys so that everyone can feel good about racing and all the hard training they put in," he said.
In 2004, the RMS Elite Cycling Team plans to establish itself as a national presence on the NRC calendar. Co-Team Manager, Carl Hoefer, said to Cyclingnews: "To achieve such a lofty goal, we have added several new riders and we are scheduled to compete in 10 to 12 NRC events. We aim to become a dominant Northwest elite team, to create a positive team atmosphere and represent our sponsors well to a national audience and continue to build the team for seasons to come."
Team Roster
Ryan Miller
Craig Wilcox
Josh Kerkhof
Rusty Beall
Kevin Selker
Rocky Serna
John Fry
Lance Coffel
The 2004 Sierra Nevada Cycling team
Photo ©: Casey B. Gibson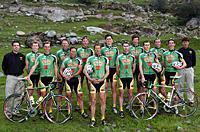 The Sierra Nevada Cycling team has a diverse group of talent in 2004, ranging from multiple national time trial champion Eric Wohlberg to stage race performer Trent Klasna. Manager Kurt Stockton said to Cyclingnews: "On my end, my biggest goal is to have every rider on the team win a race this year. We have assembled quite a diverse group of riders, from established and respected riders in the peloton, to David Washburn and John Hygelund, two of our 20 year-old riders, with a lot of talent in between.
Team Manager Mike Neel concurs, and said with the change of riders, Sierra Nevada's focus has shifted from a team purely focused on development: "I would say that we have shifted our focus from a development-type team to a team of serious contenders for the NRC title. The remaining riders from last year will greatly benefit from the experience and confidence of our new acquisitions," said Neel.
Adds Stockton, "I want my riders to race intelligently and be a factor in every event they compete in. Of course, we want to win races as well. At the same time, I want all of my riders to represent every one of our sponsors and the sport of cycling with respect and professionalism. Sierra Nevada Cycling needs to promote the sport of cycling in such a way that all of our sponsors benefit and at the same time I want us to make potential sponsors of cycling to take note that professional cycling in the US is a viable way to showcase and promote their brand, product and image."
The Colavita Pro Cycling Team at the Valley of the Sun
Photo ©: Jon Devich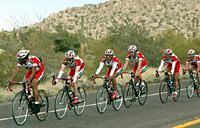 Not surprisingly, with US champion Mark McCormack and one of last year's winningest riders, Australian time trial champion Nathan O'Neill, part of the squad in 2004, Team Manager Chad Davis wants the Colavita Pro Cycling Team to one of the top three teams in the US by the year end. "We expect Colavita Pro Cycling to be one of the top three teams in the country this year," said Davis to Cyclingnews.
"Without a doubt, defend the US National Jersey. Mark and his team-mates are very focused on this. Second, but equally strong, is our focus for Tour de Georgia. This race will be key in this year's program. Looking at other races, Redlands, NYC Invitational, Gran Prix de Beauce and T-Mobile will also be target races for the team and select riders. Building off his early season national championship, Nathan O'Neill looks to be back in form. We look to him to have a continued strong season. Keep your eyes on him!
With Colavita Olive Oil's company motto being "Eat Well. Ride Hard. Live Long", their philosophy blends well with the team's goals. "Colavita Olive Oil is an ideal sponsor because the company stands for healthy eating and living - the team will focus in markets across the US to help promote such a lifestyle," said Davis.
"We are also a very young team - the average age is under 27 - and that helps us look at a long-term program similar to that of Saturn in its early years. Riders like Will Frischkorn, Aaron Olson, Tyler Wren, Juan Jose Haedo, Thad Dulin and Sebastian Alexandre will look to spread their wings this year."
Health Net/Maxxis at the Le Tour de Langkawi
Photo ©: Mark Gunter
Plenty are expected from the Health Net Pro Cycling Team presented by Maxxis, but then again, Health Net/Maxxis expect plenty from themselves, too. Said Communications Director, Jeff Sobul to Cyclingnews: "The domestic cycling community has heaped a lot of expectations on us, but then, we have high expectations of ourselves, too. Obviously, the primary goal is to win a lot of races. We've brought in a number of experienced, successful riders, both through the combination with 7UP/Maxxis, and through the signing of guys like Wherry and Moninger. But with Colavita beefing up their roster, and Webcor adding Horner, there's going to be a lot more parity than people might think this season.
"Gord Fraser proved in Langkawi that he hasn't lost any speed, despite being 36, but he also knows it's time to prepare a successor, and we've got several riders in particular who we want to give more opportunities to. You saw one already in Langkawi with Greg Henderson. Both Greg and fellow countryman Hayden Godfrey are excellent track guys just finding their legs on the road. And both of them will be going to Athens to represent New Zealand on the track.
"We also have guys like former junior world mountain biking champion Walker Ferguson who is testing his legs more on the road, and Tyler Farrar, who'll be going back to Europe with the U.S. Under 23 national team soon. And people forget that Danny Pate, despite being one of the leaders of Prime Alliance last season, will only be 25 in March. And he has a tremendous upside.
So given the mix of proven and developing talent Health Net/Maxxis has on the roster, and the size of the squad - which will give them the chance to do a split calendar of races and give the younger guys plenty of experience - the team is definitely riding with an eye toward the 2005 season, as well as achieving success in 2004."
Monex riders at the Valley of the Sun
Photo ©: Jon Devich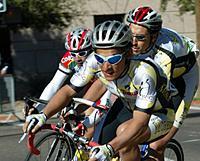 Based out of Laguna Beach Cyclery in Orange County, California, Team Monex's aim is to be one of America's premier professional road-cycling teams as well as a community-minded sports organisation, serving Southern California. The main sponsor is Monex, the nation's largest and oldest precious metals company in the US. A family-run business with roots in cycling, the team has decided to field a team of up-and-coming talent as well as seasoned veterans for 2004.
A portion of the team's proceeds will go to benefit the St Joseph's Hospital Foundation in Mission Viejo, CA. Team director Chris Carabini said they had a surprisingly beneficial year for the hospital last season: "Last year we intended to raise a couple thousand dollars... we ended up raising $20,000. Proceeds on the merchandising of the clothing benefits the hospital. We guaranteed to match what we did last year and we won't let them down," said Carabini.
Being based in Southern California they have focused on the crit scene there and will again this year but with another squad that will travel to such races as Redlands, Superweek, USPRO Championships, the T-Mobile International and possibly the Tour de Georgia.
San Francisco-based McGuire Procycling team's goal for the 2004 professional team will be to make their mark on the National Racing Calendar (NRC). Their pro team will consist of nine members all based in the San Francisco Bay area, competing in races throughout California as well as a number of the NRC races across the US.
Said Team Manager Terry Curley to Cyclignnews: "With the strong finishers in Dave McCook, Dave Fuentes and Mike Taylor, they are likely to give Health Net, Sierra Nevada and Webcor a run for it.
"Specific goals for the team are: podium finishes in top races throughout the west coast - that being McLane, Pomona Redlands, Sea Otter, Manhattan Beach and T-Mobile; podium finishes in key NRC races across the U.S. - Tour of Georgia, Heritage Series, Roswell, Tour of Connecticut, USPRO, Superweek; recognition to the general public of the McGuire name and the team's equipment sponsors; development - i.e., develop riders from the club to compete in the professional ranks; and coaching - the pro riders will give back to the developmental club in the form of clinics and coaching.
Following a successful 2003 season that included over 50 wins including four national titles, the Ofoto-Lombardi Sports cycling team continues into 2004 again as a UCI Division III pro outfit. The team's focus will again be on the US road racing scene, with specific emphasis on the US Pro Cycling Tour, the National Racing Calendar events, and UCI-sanctioned Tour de Georgia.
A newly-created Division III squad, the Team Seasilver Pro Cycling team aims to earn a top five ranking in the United States, as well as continue to support cancer charities and events like Lance Armstrong's Ride for the Roses.According to team team member Jacob Erker the team's "main goals are to generate exposure for the sponsors and increase awareness of the Parish Foundation. Winning races is a great way to do that," he said, "but obviously we will have a realistic approach. It would be silly of us to race Redlands and the Tour de Georgia like the biggest teams would- focusing on winning the overall. We plan on taking advantage of those battles of the titans to sneak off and take stage wins and KOM's. Maybe one of those moves will lead to something bigger for us like a top 3 G.C."
An even newer formation - only put together in the last six weeks! - the eight-man Subway-Express team is centered around the South East, with the Subway food chain being a regional South East sponsor.
Team managers Bob Yost and Kendra Wenzel told Cyclingnews their aim is to "get a couple of top placing's in races like Philly and San Francisco in particular, and we are hoping to get a start in Tour de Georgia. We are planning on continual growth in each consecutive year building towards an international schedule in the future."