Recently on Cyclingnews.com

Road Season Preview 2004
January 21, 2004
Saeco
Big Ambitions for big red Saeco train in 2004
By Tim Maloney, European Editor
Thumbs up boys
Photo ©: Olympia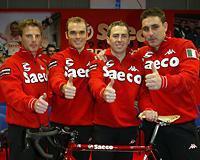 Although Claudio Corti's Saeco Macchine per Caffe team saw World Champion Igor Astarloa depart for another team at the end of 2003, Corti nonetheless has major ambitions for his Saeco squad in 2004. With proven star riders on the Saeco roster like Gilberto Simoni, Danilo Di Luca and Dario Pieri, there's no reason that the 24 man squad won't again be one of the most competitive cycling teams in the world in 2004. On a crisp, sunny morning in Torino, at new team clothing sponsor Kappa's HQ, Italian comics Elio and Faso were part of the lively team presentation, but behind the fun was a deadly serious group of world class bike riders determined to make their mark this season.
Team leader Gilberto Simoni is not only looking to rack up a bis in the Giro d'Italia, but the hard headed mountain man is still interested in another go at the Tour De France. Simoni only started his training a week ago, but already the sensations are positive. "It's obvious that I want to win the Giro for a third time but it's not as easy as it sounds and as many people think", explained a fit looking Simoni.
Gibo is just one month younger than Lance Armstrong and he may sense that 2004 could be his last chance to shine in the French Tour. "However because I'm stubborn, I also never give up. I've learned a lot from last year, so I'm also going to ride the Tour de France again, in the hope of giving Armstrong a few problems. I hope and believe that this time things will go a lot better," exclaimed the optimistic Simoni. "With Armstrong, Ullrich, Beloki, Mayo...everyone worth beating will be at the Tour."
A well-groomed Di Luca
Photo ©: Sirotti

Newlywed Danilo Di Luca, winner of five races in 2003, is also ambitious for 2004, telling the media at Saeco's presentation that, "I can't put things off any longer, I've just got to win a World Cup race."
Team manager Corti told La Gazzetta dello Sport that "Di Luca can do better than Astarloa. He needs to work on two things: his tactics and his fondo, but I'm sure that Danilo will have a great season in 2004."
Along with Mirko Celestino and Dario Pieri, Saeco will have a triple threat this year for any classics challenge. And don't forget Toto Commesso, the human cannonball of pro cycling. Once the Neapolitan rider gets rolling, he's as hard to stop as a landslide. Experienced Slovenian Gorazd Stangelj will also make a solid contribution in one day races, as will talented young Tuscan Gabriele Balducci.
Claudio Corti has made some smart acquisitions to reinforce the Saeco roster from 2003: strong man Eddy Mazzoleni, Simoni's Trentino neighbour Stefano Casagranda, Polish climber Sylvester Szmyd and major talent Eugeni Petrov will all beef up Saeco's stage race squad to support Simoni when it counts. Other talented young Saeco riders to watch are Former European champ Antonio Bucciero, speedy Spaniard Juan Fuentes and ex-junior world champ Damiano Cunego. Saeco's two neo-pros for '04 are Austrian climber Andy Matzbacher and Swiss all-rounder David Loosli.
Dario Pieri
Photo ©: Sirotti

Besides Saeco Macchine Per Caffe as title sponsor, Kappa will become the official sportswear sponsor, while Simoni's regional bank Casse Rurali Trentine will also come on board to stoke the Big Red Train's engine in 2004. American bicycle brand Cannondale will be back again in 2004, with Full Speed Ahead supplying handlebars, stems, cranks and bottom brackets. Helmet & Eyewear supplier will be Rudy Project.
Team sources told Cyclingnews that after today's presentation in Torino, part of the Saeco team travelled south of Rome to Terracina for their first ritiro (training camp) until January 28. After this, Pieri, Commesso, Balducci, Glomser, Ludewig, Loosli, Stangelj and Petrov head to Qatar for their season debut at the Tour of Qatar 31 January. Then, Simoni, Di Luca and the rest of Saeco Macchine Per Caffe will have their ritiro in from January 27-Februay 7.
Saeco Macchie per Caffe 2004 team roster
Photography
Images by Olympia Photo
Images by Fotoreporter Sirotti