Road Season Preview 2004
January 21, 2004
R.A.G.T Semence - MG Rover
RAGT Semences-MG Rover 2004: A new sponsor plants its seed
By Chris Henry
New colours in the French peloton
Photo ©: Chris Henry/Cyclingnews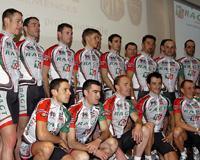 A sponsor new to cycling enters the fray this year as French agricultural firm RAGT Semences assumes title sponsorship of the team formerly known as Jean Delatour. One of last year's team sponsors, the MG-Rover automobile brand, steps up to a larger level of support for 2004, while Jean Delatour remains a sponsor but in a much smaller capacity.
RAGT Semences, a seed company, opened the presentation on an unfortunate note, as chairman Alain Fabre felt his responsibility to mention the ongoing drug investigation in France which implicates Polish rider Marek Rutkiewicz, due to ride for the team this season. Rutkiewicz, arrested last week by French police on charges of possession of prohibited substances, did not figure in today's presentation and Fabre said quite simply that the rider was no longer welcome in the team.
With that business attended to, Fabre began a more upbeat explanation of his firm's business and RAGT's goals in sponsoring the ex-Delatour team. While Jean Delatour's announcement just prior to the 2003 Tour de France that it would discontinue title sponsorship led to a mass exodus of nervous team leaders, team management was able to hold onto enough of the existing roster to maintain Division I status for 2004.
RAGT chairman Fabre
Photo ©: Cyclingnews

Inspired by the drama of the centenary Tour and the hard-fought battle between eventual winner Lance Armstrong and his number one rival Jan Ullrich, the heads of RAGT decided to make a quick play to assume control of the team, which will keep the basic structure from past seasons. Serge Barle carries on as the team's general manager, alongside directeur sportif Jean-Luc Jonrond, communications and marketing man William Schroo, and new sport director Julien Jurdie.
With several notable figures gone from the team, notably Tour de France yellow jersey wearer and winner of the final stage, Jean-Patrick Nazon, Patrice Halgand, Laurent Lefèvre, and Samuel Dumoulin, the RAGT team for 2004 is perhaps not as strong on paper as 2003's Jean Delatour squad. Nonetheless, the new sponsors have envisioned at least a three year commitment and the team is poised to grow in the coming seasons.
Rinero & Finot
Photo ©: Cyclingnews

At the head of this year's line up are new recruit Christophe Rinero, veteran team captain Eddy Seigneur, and emerging talent Frédéric Finot. Rinero is among the team's most accomplished riders, with a career highlight of fourth place overall and the king of the mountains jersey in the 1998 Tour de France. A capable climber, he will likely lead the team in the stage races. Seigneur is a multiple French national champion (road and time trial) and will continue to lead the team on the road and provide guidance to the younger members while still seeking his own chances throughout the season.
"My objectives are still to win stages and win races," Seigneur told Cyclingnews after the presentation. "Maybe I'll figure less in breakaways like in years past, but I'll still look for opportunities at the end."
Other riders like Guillaume Auger (ex-BigMat), Pierre Bourquenoud, David Lefèvre, and Ludovic Martin are all ready to ride both support and for themselves, as the team management stresses the importance of each rider having his own chances throughout the season. Accomplished Ukrainian amateur Roman Luhovyy, who rode last year with Saeco's development team, turns professional with RAGT in 2004.
Jean Delatour made good on its wildcard selection to the 2003 Tour de France with consistent performances and Nazon's yellow jersey for a day and stage victory on the Champs Elysées in Paris. This year, despite the somewhat more modest lineup, the team is just as eager to earn selection to the Tour, which for any team (particularly French) remains the pinnacle of the season.
Directeur sportif Jonrond
Photo ©: Cyclingnews

"We're a French team, so for us it's a big advantage," Jonrond told Cyclingnews when asked of the team's prospects for selection this season. "It's true we don't really have a big leader, but it's a team of fighters, and I think we've proved that in our results of recent years. I'm fairly confident in the [Tour] organisation at ASO- they're professionals who know what they need to do, but I think we'll prove in the first few weeks of competition that the team is at a good level."
Aside from the Tour, which remains goal number one for Jonrond and his team, RAGT will not target any particular races, rather take its chances when they come in both single day and stage races in France and internationally. Of greater importance are the Coupe de France races, and naturally the French national championships will figure among the collective and individual objectives in June.
On the technical front, RAGT Semences-MG Rover will ride LOOK bicycles this year, a change from Jean Delatour's Scott frames of the past few seasons. The team will be outfitted with KX Light frames, built with Shimano components and wheels. Team cars, no surprise, will be supplied by MG Rover.
RAGT Semences-MG Rover 2004 team roster
Photography
Images by Chris Henry/Cyclingnews