Road Season Preview 2004
January 15, 2004
Phonak Hearing Systems
Phonak Hearing Systems 2004 Team Presentation
By Chris Henry
It's Tyler for the Tour
Photo ©: Chris Henry/Cyclingnews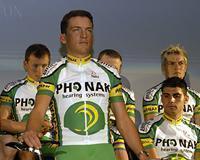 Professional team presentations are by nature supposed to be enthusiastic affairs, showing off the latest recruits, team leaders, perhaps new uniforms and equipment. Switzerland's only professional team, Phonak Hearing Systems, unveiled an ambitious project, led by an ambitious man.
Phonak CEO Andy Rihs set the tone for the 2004 team presentation, held January 15 at the company's headquarters in Stäfa, Switzerland, by stating with no hesitation that Phonak would race this year's Tour de France.
Despite a serious bid in 2003, supported by the signing of more notable riders to the roster, Phonak was not awarded a wildcard spot in the centenary Tour. Rather than wallow in its losses, and in the face of a season with few victories, team management charged ahead with bold plans to earn a slot in the 2004 Tour. The team picked up nine new riders, but most importantly, it picked a leader.
Real leadership
Main attraction
Photo ©: CN

Enter Tyler Hamilton. Although the proposition of a move to Phonak from Team CSC was already on the table before July, Hamilton's gutsy ride in the 2003 Tour de France only fuelled Phonak's interest and by the end of the season a deal had been reached to make the American the sole focus of a now quite serious bid for the grande boucle. Furthermore, after two seasons under the tutelage of 1996 Tour winner Bjarne Riis, Hamilton is considerably more confident that he can lead a team in a bid for victory.
"My two years with CSC were fantastic," Hamilton explained, emphasizing his admiration and respect for manager Bjarne Riis, whom he considers a father figure. Still, chances to become a unique team leader, with a roster built around his aim of not just improving on his fourth place of 2003, but winning the Tour, was too good a deal for Hamilton to let pass.
"That was the hardest decision of my life," he added. "You can't take away the last two years [at CSC]. I had great results, and so did the team... But most important was the fact that Phonak could guarantee to build a team around me for the Tour."
Star quartet
Photo ©: CN

While the Tour will be Hamilton's to win, he is not the only team leader to accept an offer from Phonak. Oscar Sevilla, former best young rider in the Tour de France and consistent favourite at the Vuelta a España, was tempted away from his Kelme roots. Sevilla will add vital support to Hamilton in France, while being assured his own leadership role for his home tour in Spain.
Hints of friction at Kelme, when Sevilla was forced (often after injury) to watch teammates Aitor Gonzalez or Alejandro Valverde take centre stage at the Vuelta, will not likely be replicated at Phonak. Sevilla knows his role as both leader and supporter, and is eager to work with Hamilton.
"There won't be any problem in the Tour," he said about Hamilton's designated leadership role. "The goal is to help Tyler get the best possible result."
New talent and experienced mainstays
Other new recruits at Phonak include a number of younger riders poised to make their mark. Young Italian Daniele Bennati (ex-Domina Vacanze) will help head the team's increased focus on the classics, while also providing valuable support and taking his own chances when they come in the grand tours. Nicolas Jalabert, who along with Hamilton moves from CSC to Phonak, is steadily maturing and should prove a valuable member of the team.
Alexandre Usov and Uros Murn have each proven their sprinting talent in top international competitions, while Oscar Pereiro will help give Hamilton and Sevilla valued help in the mountains. Pereiro himself was one of Phonak's best performers in 2003, his season highlight being the Tour of Switzerland where he won a stage and finished third overall. Riders like Santiago Perez, Santos Gonzalez, and Gonzalo Bayarri help round out a growing Spanish wing within the team, solidified and given new focus with Sevilla's arrival.
Swiss-made
Photo ©: CN
Martin Elmiger, Alexandre Moos, Niki Aebersold, and Swiss national champion Daniel Schnider are the foundation of the domestique contingent, backing former world champions (road and time trial) Oscar Camenzind and Alex Zülle. In his 14th year as a professional, Zülle knows his own days as leader for the grand tours are past, but back with Phonak after contemplating retirement last year, he hopes to reclaim some of his past glory.
"I do have personal objectives for this season, but I also know we have Tyler Hamilton, Oscar Sevilla, and Oscar Camenzind," Zülle explained. "As far as the Tour is concerned... If you're in top shape, you don't say no to riding the Tour. I've gotten to know Tyler very well at our training camps, and I would be pleased to work for him in the Tour. But more water will pass under the bridge, so I'll have to wait and see."
Camenzind too is looking to rediscover his best form after several seasons of misfortune and injury. The 1998 world champion is pleased to have Hamilton and Sevilla on board as leaders for the tours, knowing his own talent lies in a different kind of racing.
"There's no change for me, fundamentally, since my strengths are in the one day races" he said, responding to questions about a possible loss of 'leader' status in the team. "Tyler and Oscar are strong in the tours. This may even be better for me because I'll get more chances to focus on my own strengths. I have no problems working for those two when necessary."
Diversity in motion
Phonak CEO Andy Rihs
Photo ©: CN

Phonak, based outside of Zurich in Swiss-German speaking region of the country, will face the growing pains and challenges of an increasingly diverse team, with no fewer than five languages spoken among its riders. As team manager Urs Freuler explained, most of his team's members speak two languages, but often in the wrong combinations. The most prevalent languages spoken within the team have become French and Spanish. Swiss veteran Alex Zülle quite often speaks to his teammates- even the Swiss ones- in Spanish during a race.
Finally, when asked to clarify his unequivocal statement that Phonak would be selected for this year's Tour de France, Rihs would offer no more specifics of just how he believed this was a certainty. Still, he did explain a certain change in mentality within the team, with respect to last year when the Tour bid was the driving factor behind early season efforts.
"I feel no pressure [this year]," Rihs concluded. "Last season we put more pressure on ourselves... This is not the same team we had last year. This is a first class team."
Photography
Images by Chris Henry/Cyclingnews
Images by AFP Photo
Images by Lars Ronbog/Picturesport.com