Road Season Preview 2004
January 19, 2004
T-Mobile Team
Ullrich back with 'best' T-Mobile
Ullrich back in magenta
Photo ©: AFP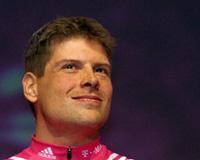 The newly dubbed T-Mobile Team (former Team Telekom) was presented Monday in Luc Mayor on the Spanish island of Mallorca, with former Tour de France winner Jan Ullrich back in the fold after a year with Teams Coast and Bianchi. On paper the team appears one of the strongest for 2004, and Ullrich himself called the 25 man team the best he's known.
"If all of us are in top form at the start of the 2004 Tour de France, we'll be Lance Armstrong's principal rivals," Ullrich said. "When I look at my teammates, I see that they're all very motivated. Each rider knows his mission."
Alexandre Vinokourov, who on top of an enormously successful 2003 finished third overall in the Tour, with a stage win, is ostensibly ready to work for Ullrich. Nonetheless, the gritty Kazakh rider noted his own confidence to carry a leadership role.
"The best rider will be the leader, and I'm ready to assume that role," Vinokourov commented. Downplaying any sense of competition within the team, he welcomed back the man who has built his career in the Telekom ranks.
"I'm happy to have Ullrich back in the team because we're good friends," Vinokourov added.
Australian Cadel Evans, who suffered a string of repeat collarbone injuries in 2003, is no less motivated, but does not count on his own fight for the general classification in the Tour. Noting that his body is on the mend once again and "reinforced with titanium," Evans downplayed his own personal ambitions.
"I'm going to help Jan get to the first step (of the podium), then we'll look at the rest after that," Evans said modestly.
Power trio
Photo ©: AFP

In the big tours, T-Mobile is also hoping the likes of Santiago Botero and Paolo Savoldelli find their best form and remain injury-free after the two passed through 2003 without results. The team is clearly banking on the potential of a Tour de France team including Ullrich, Vinokourov, Savoldelli, Evans, and Botero... a combination even US Postal might find hard to beat.
T-Mobile boasts a reinvigorated team for the classics, which will led primarily by Steffen Wesemann and Daniele Nardello, as Erik Zabel will race a reduced schedule in the early season. Nardello and Wesemann can count on new recruits Serguei Ivanov (ex-Fassa Bortolo) in races like Paris-Roubaix and the Tour of Flanders, while former Flèche Wallonne winner Mario Aerts will remain a man for the Ardennes classics.
Zabel himself will target Milan-San Remo, which he has won four times already, but opt out of Flanders and Paris-Roubaix. The green jersey in the Tour de France, another staple of his summer wardrobe, will remain a top goal in 2004.
"I won't ride as many classics this year, because that cost me too much energy last season," Zabel said. "I'll skip Paris-Roubaix and the Tour of Flanders so that I can be in top shape for the Tour."
With a name change and reinstatement of team leader Jan Ullrich, the team also undergoes cosmetic and equipment changes for 2004. Uniforms will still feature the team's trademark magenta, but white sleeves will lighten the look. On the equipment side, longtime bicycle sponsor Pinarello has been replaced by Giant, which previously provided frames to ONCE-Eroski. Shimano also steps in as component supplier after Telekom's long run with Campagnolo.
The team will continue its pre-season training camps in Mallorca, where different factions are preparing for different starts to the season. Team management will soon decide which riders will begin the season at the Tour of Qatar on February 2 and which will remain on the island for traditional Mallorca season openers. Ullrich himself is expected to begin racing at the Vuelta a Murcia in early March.
Images by AFP
More photos of the T-Mobile launch