Road Season Preview 2004
January 17, 2004
Fassa Bortolo
Fassa Bortolo 2004: Super Silver Team awaits another big year
By Tim Maloney, European Editor
The "Silver Team", ready for more in '04
Photo ©: Olympia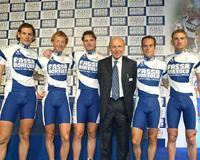 With an impressive hi-tech multimedia presentation on a rainy, windy morning in Treviso, Italy, the world's #1 ranked cycling team Fassa Bortolo unveiled its impressive 2004 squad Saturday, January 17th. Nicknamed the "Silver Team", Fassa Bortolo returns as the UCI's top ranked team on two wheels and unlike 2003, this January, the mood was decidedly brighter.
Just two days before last year's FB team presentation, 32 year old team member Denis Zanette died of an undiagnosed heart defect, casting a funereal pall over the proceedings. Paolo Fassa, the owner of the Italian building products firm, opened the '04 presentation with a moment of silence for Zanette, then moved on to explain proudly that "our return to #1 shows our strength as a team and confirms our original objectives when we started the team four years ago." Fassa went on to thank 24 race winner Alessandro Petacchi and the entire team for their performances in 2003, noting that as the cycling team had grown, Fassa Bortolo had also doubled its turnover since 2000 to 200 million euros in 2003.
Following Mr. Fassa, master of ceremonies Fabrizio Frizzi and RAI-TV's superb cycling colour commentator Davide Cassani introduced FB's indefatigable team manager Giancarlo Ferretti, nicknamed "Ferron" for his well-known will of iron.
"It will be hard to top 2003's 51 wins," the modest Ferretti explained. But I believe we should be as good as last year. We have a host of good new, young riders. We don't have a specific program as to which races we want to win; our program is to win and win big races. Every time we start a race, we believe we can win."
Despite the departure of Ivan Basso, Michele Bartoli and Serguei Ivanov, Ferron believes that his 2004 squad is better than ever. Ferretti has added experienced directeur sportif Alessandro Giannelli from Mercatone Uno to his technical staff of Roberto Damiani, Alberto Volpi and Stefano Zanatta.
Petacchi speaks
Photo ©: Sirotti

Super-sprinter Alessandro Petacchi, who accounted for 47% of Fassa Bortolo's wins last year, modestly explained that "I have to give 90% of my wins to my teammates... I couldn't do it without them since I'm somewhat afraid in the sprints." The 30 year old Petacchi especially thanked his key support riders Tosatto, Velo and Trenti and said that despite his big year, he hasn't changed.
"I'm still the same guy with my teammates." Petacchi was most proud of his accomplishment of winning 15 stages in three grand tours, declaring that "no matter what, (my) record will be remembered in the history of cycling because no other rider has achieved this."
Petacchi was happy to note the arrival of reinforcements for his leadout train like Ongarato and Sacchi, and the speedster from La Spezia still wants a World Cup win after his mistimed sprint in last year's Paris-Tours. "Of course, my main objective will be Milano-San Remo and I hope to have another good Giro d'Italia and Tour de France."
Guido Trenti holds dual Italian-American citizenship and has represented the USA at the last two World Championships. Since joining Fassa Bortolo in 2003, Trenti has become the most valuable teammate for Petacchi, the last man in his leadout train.
"I have a lot of satisfaction from what we accomplished last season," Trenti told Cyclingnews. Like a blocking fullback for a speedy halfback in American football, Trenti sets up Petacchi to unleash his supersprint. "I hope we can have the same kind of year this year as we did last year," smiled Trenti, who also hopes to wear the Stars & Stripes jersey again in 2004.
Stage race riders Dario Frigo and Aitor Gonzalez will represent Fassa Bortolo's ambitions in the grand tours in 2004. A fit looking Frigo, who had six wins last season after returning to Fassa Bortolo explained that "I'm hoping for more consistency (in 2004). Last year after a good start, I made some bad choices in the races I rode. Paris-Nice and Liège-Bastogne-Liège will be my early season goals, while the Giro d'Italia might not be for my characteristics, but I'll be there."
Frigo may be a candidate for the Olympic TT in Athens, but the fair skinned rider from Biella does not ride well in the heat, so the cooler Verona, Italy World's might suit him better.
2002 Vuelta a España winner Aitor Gonzalez had a year he wants to forget in 2003. After finally overcoming a contract wrangle with Domina Vacanze, the talented Gonzalez did almost nothing last season to justify his big contract. "I don't know what happened to me last season so I want to turn the page and move on." Gonzalez will be Fassa's man for the 2004 Tour de France.
Superboy Pozzato
Photo ©: Sirotti

At 22, Filippo Pozzato already has 19 pro wins, including the 2003 Tirreno-Adriatico. Last season, Pippo unluckily crashed out of Milano-San Remo but the handsome rider from Sandrigo, near Vicenza already has 4,500 km in his legs this year and is ready for even bigger things in the classics for 2004. Not just a sprinter, Pozzato is also an excellent time trialist and could surprise in Athens should he be selected to the Italian Olympic squad.
Joining Pozzato in Fassa's quest for the classics will be the enigmatic Frank Vandenbroucke. At 29 years of age, the unquestionable talent of VDB has never truly come to fruition from a variety of mishaps and missteps. VDB was dumped by Quick.Step-Davitamon and signed a small, low-risk contract with Fassa Bortolo with big win bonuses.
"After the last three difficult years in my career, it's time for me to show myself," Vandenbroucke explained."With Ferretti behind me, I know I can come back and win." VDB told Cyclingnews that "2004 will be a tough year for me with the Classics, Tour and Olympics, but I'm 'pronto e bene' (ready and good)." Before winning on the road, VBD must clear another legal hurdle on January 27th in Belgium in the case pertaining to his arrest in early 2002 for possession of illegal substances.
Fassa Bortolo newcomer Juan-Antonio Flecha (from iBanesto) is a Spanish rider who, uncharacteristically, excels in one day races. Flecha had a tremendous stage win in last year's Tour de France in Toulouse and is excited to be on the world's #1 team.
"To be on Fassa Bortolo will really help my ambitions in the classics," the likeable Flecha told Cyclingnews in his excellent English.
After winning Paris-Brussels last season, 25 year old Kim Kirchen from Luxembourg knows that 2004 is his moment of truth. "Now that I've reached this age, it's really time to do something", declared Kirchen. Swiss time trial specialist Fabian Cancellara won three prologues last year, but told Cyclingnews that "I want to win in other circumstances than time trials this year."
Among Fassa's eight new arrivals is the highly touted American climber Tom Danielson. Danielson, who has a marketing degree from Ft. Lewis College, was somewhat embarrassed but held his own when emcee Frizzi tried to get him to invent a marketing slogan for Fassa Bortolo. Giancarlo Ferretti praised Danielson, saying that "he is a new rider to Europe, but we believe he can do something good soon. We're looking forward to big results from him."
Danielson, who is living in Lugo, Italy near FB the team headquarters, will now join his new Fassa Bortolo teammates for a total immersion in Italian cycling culture as he heads down to an intense team training camp in Tuscany, Fassa Bortolo will make their 2004 debut in the Tour of Qatar on 31 January.
Fassa Bortolo 2004 team roster
Photography
Images by Olympia
Images by Fotoreporter Sirotti