Team TIAA-CREF - 2006
Team Journal Entry - June 9, 2006, by Peter Stetina
Another hairy tale
I have a new and legitimate theory…the Mullet is a mistake yet to be fixed.
Peter Stetina
Photo ©: Beth Seliga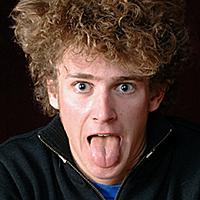 I was recently at the Ronde de l'Isard U23 race in the Pyrenees. It was really hot and humid. I figured that since I'll already be climbing a tonne in the heat, my hair, which was getting long, had to get shorter. The only problem was that I was in a French hotel with the team…so I did it myself.
That's right, I pulled out some big everyday paper scissors and went to town. Saved 15 bucks too. How's that for beating the system? I didn't do too bad either, just a couple of bald patches here and there - I comfortably did the front and sides, anyway. Alyssa, our team soigneur, helped me with the back. There was a two-hour gap, however, in between the do-it-yourself and the help. So for two hours, I had a mullet.
This is how my new idea came to creation. In some of these towns, US and Europe alike, there exist people who are too poor to get a haircut, or there isn't a barber. Anyway just like my recent actions, they have to cut their own hair. They do pretty damn well at getting the front, but they cant see the back in the mirror, so it gets neglected. It is from this neglect that a fashion (dare I call it that) arose. The mullet is a mistake that has survived beyond its time. It is a mistake, which hasn't yet been fixed. That's my take on it.
On another note, the season has been going pretty well so far. I spent a couple weeks in California, and then traveled over to France for my first ever European pro stage race, the Tour de Bretagne. I did pretty well, was able to attack, follow moves, etc. On stage 6, I got in the long break of the day and it ended up being the stage-winning break - I got a top 20 that day.
I saw this as a great result considering I was the youngest rider in the race and was racing against guys who have done the Tour before. I had to fly home right after Brittany to take a big test at school. Yah, I'm just now finishing high school (next year I'll have the pleasure of attending Colorado State University in the fall and then playing bike racer full time in the spring).
Ten days after I got home, I had to fly back out to France for L'Isard. I know it sounds a pain, but it was the only way. So I have now done two trans-Atlantic flights in a month. L'Isard went ok. I really wanted to do well because those are big mountains and I usually excel at those more than the flat.
I botched the first two days however; I was involved in a 20-rider crash on the first day. It was raining and we were on a descent and I think there was some oil in a corner, but we all slid out one by one at 60kph. So I slid on my arse for a little while down the mountain, chased for 20k and finished with the group. I started the next day and I was feeling a little off, but I just passed it off as the crash until I noticed that my cleat had been knocked out of place in the crash the day before, my left leg got tired real fast.
The stage finished on a mountaintop climb and I lost some time. The next two days went well for me though; I turned in a good TT for myself and did well the final day. The last day had two cat 1 Tour de France climbs in it. I did really well and suffered a lot but I made it over the first climb with the yellow jersey! Only 15 guys did that, so I'm glad I can hold my own with these older guys. Then the leaders were literally coasting down the descent, I got into a break leading into the second climb.
As soon as the road turned up however, my legs stopped working. I usually don't bonk like this but I went SLOW up that thing and let me tell you that it took an eternity. Ouch. (Maybe my excuse can be that the excess travel hurt my endurance…would y'all believe that?) Rule #76: No Excuses, play like a champion! (Wedding Crashers). Anyway, I ended up 20th on GC and showed myself that I can climb well with the best European Espoirs when I'm on. Anyhow, I'm back in the States now and I'm graduating! High school is done and the summer is all systems go!