Team TIAA-CREF - 2006
Team Journal Entry - March 30, 2006, by Craig Lewis
Early season action
Craig Lewis
Photo ©: Beth Seliga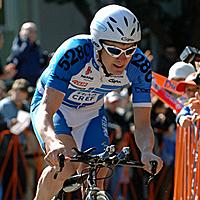 Since I last wrote in a lot has happened. I have already been across the pond and back. I did my first race, GP Marseillaise, at the end of January. Then, I followed that up with Etoile Besseges. Those went well, considering how early in the season it was. Then I headed back to the US for the Tour of California. California was awesome! It was run so well, you would have thought that the US has been putting on bike races longer than the guys over in Europe.
I think everyone was impressed with the crowds and the level of racing. We were really lucky with the weather as well. Sunny everyday, but I think it has been raining there ever since we left. It was also a little different racing with my team there. I was the only one there that had been on the team the year before, so it was like riding for a completely different crew. It was fun though, and everyone rode awesome - we were one of the most aggressive teams there.
It took me a few weeks to get going again after racing so hard in California.
Jason Lewis gets his podium kiss
Photo ©: Beth Seliga

Now I am back, and getting ready for Tour of Georgia, my biggest goal of the year. I have just been enjoying time at home. It has been like a mini-vacation for me. Not to say I haven't been training - quite the opposite - I've been getting in good miles during the week and racing really hard on the weekends. This past weekend I finally got my first win of the year! It was a circuit race down in Georgia. Circuit races are not really my thing, but since it was so windy it turned out to be a hard race. I ended up riding the last 25 miles solo for a hard earned victory. It was a pretty cool day, because my brother, Jason, got his first win ever just a few hours before my race!
So there are just three weeks left until the start of Georgia. I am feeling the best I have felt in a long time, so I'm just going to do everything possible to hold my fitness until then. Wish me luck!
Craig
Photography
For a thumbnail gallery of these images, click here
Images by Beth Seliga/