They don't teach this at night school...
Redlands Bicycle Classic, Redlands, California, March 23-28, 2004
By Jonathan Vaughters
JV rounds up his troops
Photo ©: Beth Seliga

Have you ever thought about the skills it takes to be a team director? I don't think they offer this course at night school, and I can now tell you that racing for a few years as a pro doesn't qualify you either.
All of this came tumbling to my attention about 20 minutes before the first stage of Redlands. I was truly dazed and confused as to what on earth I was supposed to be doing. I mean, where do the race radios come from? And what number goes on the car? Most importantly. what on earth do I tell these kids before the race? "Go get 'em?"
I loosely cobbled together a race strategy, based on how I would have raced at 19 years old and a bit scared. Or I should say based on the mistakes I made at 19 years old. Hearing the words "there will be crosswinds, stay at the front" coming out of my mouth almost made me pee myself laughing. I never was able to stay at the front in crosswinds too well, and wanted to strangle the director when I heard those words. Well, now here I am.
The "Turbo Bottle".
Photo ©: Beth Seliga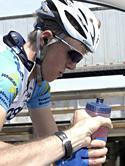 I thing I know for sure is that I need to start up a winter weightlifting routine for my left arm. Giving many a rider what's known as the 'Turbo Bottle' (you get a bottle from the car, I hold on tight and drag you by us, mutually holding on to the bottle) left my arm in severe need of medical attention after day one. And they say doping is for riders. Left arm steroids for me. It seems that the guys who most needed the 'Turbo Bottle' were the heaviest guys on out team too. I can't imagine what Tour de Georgia will be like for my arm.
One time, I called two boys back to get a feed for our GC men right before a climb. Oops, poor kids got spit out the pipe like grandpa's tobacco. Anyhow, feeling guilty, I batted my eyelashes seductively at the commissaires, and pulled both of them up a 2 km climb with the same bottle. The top couldn't come soon enough for me, as motorpacing them down the other side was so much easier. 200 Swiss francs less in my wallet (guess the commissaires didn't like my 'look') and two kids safely back in the bunch is how it ended up. Too bad they forgot the bottles they needed to bring up to their teammates and I had to call them back again.
Anyhow, with the help of the trusty team-mate, Subaru, the boys all stayed in contact with the field, and were ready to battle another day.
JV
Photography
Images by Beth Seliga/www.3catsphoto.com
Stage 1 - March 24: Crestline Road Race, 85.5/138.2km
Stage 2 - March 25: Redlands Ford Oak Glen Road Race, 129/171.7km
Stage 3 - March 26: The Sun Panorama Point Road Race, 67.6/97.6km
Stage 4 - March 27: Salton Criterium, 60/90mins
Stage 5 - March 28: Redlands Business Center Sunset Road Race, 99.5/142km