Viatcheslav Ekimov
The Russian
By Sergey Kurdukov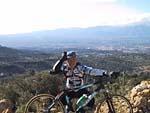 Reflection
Photo: © V.Ekimov (archive)
"Slava" is Russian for "glory". The name fits him like a glove. His career is full of glorious moments, ranging from winning a Junior track championship in the mid-eighties to two Olympic gold medals, in the team pursuit in Seoul (1988) and in the road ITT in Sydney (2000). 12 years apart.
Those years were certainly not fruitless: The Tour du Pont and several stages in Grand Tours, famous one-day races like the Meisterschaft von Zurich or GP Eddy Merckx, and a World 5,000 m Record on the track.
Such incredible versatility, and it would be more than enough to simply enjoy your slava. But Ekimov is still here. And he means business. Johan Bruyneel was sure of that when he offered him a contract for at least two more years with U.S. Postal Service. If Eki opts to continue, the team will be happy. Just like his fans in all quarters of the world.
He started in his hometown of Vyborg near St Petersburg when he was 12 years old. It was a typical bicycle school affiliated with the famous centre of Alexander Kuznetsov, a forge of track Olympians. Slava was one of many at the time, he showed some promise on the road and was invited to the main school. Although many talented boys got nowhere, this was not the case with Ekimov. Kuznetsov remembers that Ekimov progressed gradually and steadily, just the way the coach still likes.
A Slava to training
Photo: © V.Ekimov (archive)
He's always been quite serious, even scrupulous about his training. Today Viatcheslav is sure that 1986 was the best in his career. Not for victories, but because not a single day passed without a workout. "Fame is a double-edged sword," sighed Ekimov when he came to Moscow in January 2001 to receive The Best Russian Cyclist of the Century award, "You take part in many ceremonies. Of course, it is pleasant and flattering, but what about your training schedule? This November I allowed myself to do nothing for a couple of days on end, and climbed on a bike only when my body burned for it. Don't talk about holidays. One shouldn't let up so much, it's easy to form a habit!" Slava offers no excuse for himself, just makes a point of making up for lost kilometres.
In 1988, he won the Vuelta a Tachira, and that victory marked the passing of an acid test. Almost 20 years later in 1999, he'd return to Venezuela as a top pro at the beginning of his most chequered season with Amica Chips, and would ride strongly although not gaining the overall victory. It looked like the framing of an enormously successful sporting career. But life is not beer and skittles even for double Olympic champions.
Eki started in 10 Tours de France and made it to Paris in all of them. At present, no pro can boast similar success. And yet he failed to make the top three in any of the Tours. He has what it takes to do that, but his biorhythms dictate their terms, making him most competitive in spring and autumn. Now he is philosophical about it, just like about many other things.
Ekimov likes good cars, but makes no fetishes out of them. "When I was younger, I bought a Volvo as it's 'a nice car', in a word. But now I see it's also a fuel consuming battle-wagon. A car is a car, and no more than that."

With wife Irina
Photo: © V.Ekimov (archive)
He counts money more like an American, but don't get misled by that. He has to count money as he is a family man. His wife Irina is no sportswoman, yet he met her thanks to sport while in a training camp in Southern Russia. His son Slava is 8 and is already a good rider (in contrast to his mama, whom papa dares not to let on the road), but Viatcheslav is not sure whether Slava the Junior will follow his footsteps. "No, I won't keep him from taking up competitive cycling, I see nothing wrong with it. But when the time comes to make his mind, he'll have to select between pro cycling and education. And that is not an easy choice."
Ekimov drove his BMW to his son's school when a horrible accident occurred. It was just a day before Viatcheslav's 32nd birthday. On a road crossing under a blinking yellow, a Spanish guy with a girl aboard his Nissan hit Eki's car like a torpedo. Slava gripped the wheel (an old habit of a roadie when he sees a mass crash before him) and that saved his life. The limo turned into a heap of scrap metal.
As to cycling crashes and injuries, Ekimov is never willing to discuss the topic. "I always say: everything is OK with me at the moment, thank God. And no more. Ours is a very risky sport."
The 1999 season was rather frustrating. From a purely sporting point of view it was fruitful, as Ekimov had never raced so much in all his life. There were stage victories in the Tour de Suisse and la Vuelta. From a financial point of view it was all but an absolute failure. "I got just 2 months salary and I'm still waiting for the rest. Or, rather, gave up waiting. Life goes on, it's no use crying over spilt milk. But the lesson I learned from the year spent in Amica Chips is that I shouldn't experiment with Italian teams anymore."
Geographic factors have played an important role in his career. "I don't know what forces are behind it," Slava says. "But the fact is that I am most successful when racing overseas. It doesn't matter which seas. Tour du Pont, Sydney Olympics. I feel uplifted in a way out there."
Who knows, perhaps that season helped form his future success at the Olympics?

With Postal teammates
Photo: © V.Ekimov (archive)
People were definitely surprised to find him in a second division team, which definitely didn't aim very high. He cleared up the question. When the option of re-signing with Postal arose at the end of 1998 season, he was offered too moderate a contract. "Yes, the season was over, and it hadn't been victorious. But the class of a rider should count in some situations. I couldn't sell myself cheap, it would have been the beginning of my degradation as a pro."
When his contract negotiations came to a complete deadlock, Ekimov sent out faxes to various teams headquarters. Yet he wasn't in great demand then. The only realistic offer was from the Italians. "Life is full of change," remember? Not so many people believed in him then. His friends in Russia, and Lance who was categoric at the end of 1999: "Eki MUST be with us!"
And he was. Sometimes, when he was given the freedom of maneuver, he was not 'with' but ahead of everyone. For example, in Driedaagse de Panne. "USPS is democratic enough to let its riders attack everywhere. If you are ready to take up leadership - do that, and the rest of the boys will help you. The only exception is the Tour. There, everything is mapped out. This year (2000), for instance, everything went according to plan to the minutest detail. When it was necessary, Armstrong stayed behind. Then he came to the fore and neither of us gave up after that."
"The Tour 2000 was rather a new experience to me. For the first time in my life I was 100% gregario. Oh, it is a very hard job. But, you know, in retrospect it looks rewarding too. Even if you win a stage of the Tour (and that is akin to winning a classic, not one bit easier, I know what I'm talking about), it is no more than a flattering episode. But when you are an integral part of the team that won the whole of the superrace, no one will forget that. I feel it every time, when they shout in America as I ride by: "Look, he is a Postal!!" Moreover. I see nothing wrong in working for others. I simply don't understand those riders who never help their teammates just because they've got a leader's status at the beginning of the season. Even if they don't live up to this status."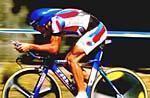 Going for gold
Photo: © Tom Balks
Many fans are curious as to what a proven team time trialist thinks about the return of TTT to the Tour de France. Ekimov is rather critical about it. "In the first place, it's not the best idea to make nine men ride a TTT. Too many, and it's dangerous. On the other hand, today's pro's have got out of the habit of riding this sort of competition. They don't have time to do as much special training as amateurs did in the 80's, so they look worse than national teams 10 years ago. It's so different on the track. Like a clockwork: up-down-up-down. An amazing feeling!"
Perhaps deep down in himself he wouldn't mind experiencing this feeling once more. But he is realistic here as well. "I still like track riding, but I am unlikely to be back there. Although I am regularly invited by race bosses, November 2000 is the freshest example. But I'll never get out only for money. If you start, you have to fight for top places. I don't feel I'll be able to do it again on a velodrome."
On February 4, he turned 35. Is that too old these days? But remember Tchmil, Ugrumov, Podenzana, de Wilde... Eki is a boy in comparison with some of the top names. "Physically there is nothing preventing me to keep on trying until, say, forty," he says, "But there is one necessary condition for that. I need not only a manager but a shadow of mine who can sort out a lot of affairs, most of which have little to do with cycling. Computer failure, paperwork, taxes and so on. I am used to giving my all for my primary work. All these "small things of life" utterly kill me, they sap precious energy bit by bit."
Remember his three day long running around Moscow at the expense of training, and all to no end?. What is keeping such a prosperous rider from hiring an agent that he needs? It's not money that matters. He needs a person who knows cycling from A to Z, who is communicable, fluent in foreign languages and capable of making decisions. Such persons are in short supply, unfortunately. So Slava is most likely to go on only until 2004. Including the Olympics, we all hope.

Snow
Photo: © V.Ekimov (archive)
He doesn't feel like leaving the best of his career behind. There are still things he is ambitious to accomplish. Winning a Spring Classic, for example. He is well known as a man who is always in the leading group as far as spring World Cup racing season is concerned. And yet his best results here are 4th in Paris-Roubaix in 1995 and 4th in Tour of Flanders a year later. These two are his two favourites among one-day contests. "Routes to hell" covered with century-old cobblestones suit his abilities almost perfectly.
"With only one reservation - I need dry weather in Roubaix. Otherwise it turns into a lottery. Punctures, crashes etc. I see all pros and cons. My experience is my strength. I know perfectly well when and where I should be at every moment of the race so as not to get dropped from the leading pack. It takes some very special skills to ride along cobbles. You should be able to easily change your position on the bike, holding the upper part of the handlebars yet minding the brake levers. I've mastered these tricks."
"As to the weather, especially in Flanders - yes, it's really cold. A couple of years ago near-freezing temperature was no problem for me, although I suffered in the heat. Today it's almost vice versa: I can stand the blazing heat but feel uncomfortable on a cold day. I think it's related to the weight rather than to the age. In the mid-90's I weighed about 72, now it's 68."
Although of a lighter stature, he is a person whose every word weighs much with Russian cyclists. The younger generation of Russian cycling talents wants him back to his homeland. And he promises to be back when his remarkable career is over. "In more than a decade I've had enough of living abroad. It feels comfortable, but you seek something else for your soul. And, strange as it is, you find it here in Russia, despite the innumerable problems that you are up against."
Ekimov keeps his Russian passport and he knows it is going to be of use. He wishes a lot of luck to the newly born ITERA team , Alexander Kuznetsov, the head of it, and the sponsor, a large gas producing company with so many former cycling champions in its staff. If the project proves successful, Slava will dearly like to be part of it as manager or director sportif. During his long and impressive career, Ekimov has formed a clear idea of what his pro team would look like.

Medals
Photo: © V.Ekimov (archive)
Some people even in his homeland see his Olympic success as the agony of post-Soviet cycling, but he is not ready to agree. There seems to be a bridge between previous and modern generations in the process of setting up. Evgeny Petrov is only one of the "bricks" at the base of this bridge. "For boys who just step on the road to pro cycling, I look like some creature from another planet. They need riders from their ranks, of the same age, to believe they can follow them to the top. And I hope I'll be able to open up the gate."
He realizes perfectly that everything is much more difficult to materialize over here than elsewhere in the world, but he doesn't mind. Patriotism? Eki calls it just "mentality". It's Russian mentality that drives him to ransacking St Petersburg's CD stores in search of his favourite songs and tunes. Russian chansone is the style Viatcheslav likes best of all. It is not like the French one. More masculine, perhaps. For real men.
As a real man, he doesn't jump to decisions. For instance, where to live, when he calls it a day. "A cottage at the Baltic sea shore will be nice. You should see the place - it's fairytale-like. But I don't feel like buying what is already built. I want to build my future house myself." As a real man.
Editor's note: Sergey Kurdukov commentates for Russian Eurosport TV