Mari Holden: Disappointments fuel success
By John Alsedek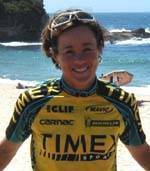 Mari Holden Down Under
Photo: © Cyclingnews
Mari Holden is one of America's top female riders, with many domestic and international victories to her credit. She was a strong competitor in this year's Tour de Snowy and has just won the Tour of Willamette back home. John Alsedek traces her history for cyclingnews.
For many, the disbelief in their abilities by other people is a negative, something that wears upon them till they end up believing it themselves. However for others, it can be a positive, a motivator, driving them on to far greater successes. Timex's Mari Holden is a prime example of the latter, using her disappointments in cycling to fan her competitive fires in a bid to make the 2000 Sydney Olympics team, among other goals.
Born March 30th, 1971 in Ventura, CA, Mari's childhood proved ideal training for the 'suitcase' lifestyle of the cyclist - her father was in the military, and the Holdens lived in Italy for several years, giving her a taste of Europe at an early age. As a youngster though, she had no particular interest in bicycling, and her role model wouldn't have been Beryl Burton but Jacquetta Hawkes - she was fascinated by the science of archaeology. In fact, Mari's interest in riding of any sort wouldn't bloom until after the family had returned to Ventura, and she was attending private school in nearby Ojai. Even then, it didn't involve bicycles but horses. Her school had stables, and 12 year-old Mari worked in them and took part in riding competitions till she graduated from high school.
It was during this time that she discovered that cycling was more than a way of getting from point A to point B. She bought her first racing bike in 10th grade and rode with a cycling club at school. She even took out a racing license, but never raced. Instead, she and her friends would go on 'epic' five-hour rides, and then go back to her house to bake cookies. Mari graduated from the Ojai Valley School in 1988, and soon found a way to sate her competitive urges in a sport that involved two wheels: triathlon.
Mari did her first triathlon in 1990, and proved to be a natural. One year later, she placed 7th in the World Junior Triathlon Championships and was voted the Junior Triathlete of the Year. In 1992, she turned professional and moved to Colorado, where she began training with the US National Cycling Team in an effort to improve that facet of her triathlon skills...but soon found that she really enjoyed just riding her bike.
The following year, Mari dove headfirst into bicycle racing, and it proved to be a difficult but promising year of learning and adjustment to her 'new' sport. Strong early season performances earned her rides with the National Team in both the PowerBar International Women's Challenge (now sponsored by Hewlett-Packard) and the Tour Feminin, where she placed a surprising 30th. Combined with her rides at the Nationals - 6th in the time trial, 16th in both the road race and criterium - Mari had high hopes for the '94 season, particularly as she had just joined the Timex racing team. However, those hopes were to be put on hold: after winning the prologue in the Tour of Bisbee, Mari crashed and suffered a compression fracture that caused her to miss much of the season. She returned in time for the Nationals, where she again placed 6th in the time trial, and began preparations for her 1995 campaign. This proved to be a great success, though it was also very nearly the end of her cycling career.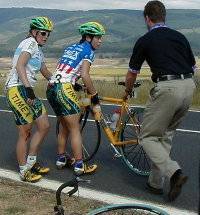 Holden has bike trouble during the Tour de Snowy
Photo: © Cyclingnews

After placing 3rd in the Redlands Classic and winning the John Stenner Memorial Time Trial, Mari traveled with the National Team to Europe for a series of races that included the prestigious Tour de l'Aude. It was not a good experience: she was sick going into the Tour de l'Aude, and was dropped during every stage. It wasn't just her body that was suffering: "None of my teammates wanted to be near me because I was sick, and I felt very isolated. I came home from that trip ready to quit."

She very nearly did, however, after discussing it with her coach/partner Dean Golich, Mari decided that her time and effort spent training was not worth throwing away. She decided to race through the National Championships, and it was a good thing she did. She ended up winning the National Time Trial, then rode to a fine 3rd overall in the PowerBar event, winning a stage along the way. These performances earned her a slot on the squad headed to Colombia for the World's. Oddly though, she was not racing the time trial, but just the road race: 'lack of experience' was the reason given by the selectors.

Upset by their decision, Mari headed to Moriarty, New Mexico after Worlds and showed that her supposed lack of experience wasn't enough to keep her from setting a new National 40km record of 51:36 - a result that ended her season on a high. She hoped that these results would be the precursor to a place on the Atlanta Olympic Team the following year, but it was not to be. She started off '96 like gangbusters, winning the 89er Stage Race and time trials in several other events. By the time the Nationals/Olympic Trials rolled around in late May, she had great form, and it showed. Mari won both time trials, including her second consecutive national title, and seemed to have the inside track to an automatic Olympic selection. However, a pair of pack finishes in the road events put her in 6th overall on points, and she was left off the Olympic squad because she wasn't seen as a true 'road racer'. Fueled by her disappointment, Mari went to Europe with the National Team and proceeded to show the selectors that they were wrong, and that she could, indeed compete on the road. She took two stage wins and 5th overall in the Bohemia Crystal Tour; 2nd overall in the London-based Can/Pro Cycling Series; 5th in the Bundeslege Finals; and an eventual 31st in the Tour Feminin, where she placed 6th in two stages. Mari finished off the season with 11th in the Worlds Time Trial, but her results of the previous few months were just the precursor to an odyssey that would lead her all over Europe during the next three years.

With a lack of quality racing opportunities in the U.S., Mari signed with the German squad Bund Deutscher Radfahrer for the '97 season. From a financial standpoint, it was a step backward as Mari received expense money only, and had to pay her own way overseas. However, it was a chance for her to race against the world's best for longer than just two weeks here or there, and that was enough. After competing in the Redlands Classic (5th overall, 2nd to eventual winner Linda Jackson in the time trial) and New Zealand's Street Skills Tour (9th place), Mari headed over to Germany to join her new teammates. It didn't take her long to adapt, as she began placing in the top ten of such events as the Rund am Henninger Turm and the Gracia Tour.

In May, she linked up with the National Team to again compete in the Tour de l'Aude. Despite suffering throughout the race, she would have finished save for a last stage crash caused by an errant moped rider. In June, Mari returned to the States to silence her skeptics of the previous year by placing 2nd in the National Road Race, also placing 4th in the time trial. A month later, it was back to Europe for the Giro d'Italia Femminile (26th overall, four top-ten finishes), the Tour Feminin (50th place), and the Etoile Vosgiennes (12th place, second and third in stages). Combined with a fine 7th in the Worlds Time Trial, Mari vaulted to 30th place in the UCI world rankings.

Her results also garnered the attention of other teams, and she was picked up by the top German squad, The Greenery-Hawk Team for 1998. It didn't take long for Mari to prove her worth to her new teammates - not only did she win both the Street Skills Tour and Redlands, but she also rode to a respectable 22nd in the Fleche Wallonne, after leading a four-rider break that included her new German teammate, Hanka Kupfernagel. After a spring campaign that included some highs (a stage win and 2nd overall in the Tour of Mallorca) and one all-too-familiar low (another DNF in the Tour de l'Aude), Mari returned to the US to take the Mountains prize at the Hewlett-Packard International Women's Challenge, as well as a third National Time Trial Championship.

In July, she linked up with the American Saeco-Timex team to ride the Giro d'Italia Femminile again (29th overall), and then rode to a fine 12th in the Tour de Suisse Feminin. She finished off her season with a pair of fine time trial performances: 3rd in the Grand Prix des Nations and another 7th in the Worlds. Mari then received an offer to join the Italian-based Acca Due O, an all-star lineup that included reigning World Champion Diana Ziliute. It was an offer she couldn't refuse, so Mari left Germany to join the 'Dream Team' in sunny Italy for what was to be one of the best experiences of her cycling career.

Life with Acca Due O proved to be a novel experience for Mari: the team was accompanied by a large group of volunteers who took care of them at races, doing everything from massages and mechanical work to all the cooking and cleaning up, allowing the riders to concentrate solely on racing. "It was all very professional, and it's what I imagine it would be like to ride for a men's team. People had realistic expectations, and everyone knew what they were supposed to do."

It was the ideal environment in which for Mari to develop as a cyclist, and it showed in her results. She started off the season in Oceania, winning the Talbingo time trial and finishing 7th overall in the Tour de Snowy, as well as taking 4th in the Street Skills event and making the top 20 in both Women's World Cup races 'down under'. After a quiet spring in Europe, the highlight of which was 8th in the gruelling Fleche Wallonne, she returned to the States for the month of June to compete in the Montreal and Philadelphia World Cup events, the Hewlett-Packard race, and Nationals. After solid if unspectacular rides in support of her Acca Due O teammates during the World Cup events, she came up with a fine performance in Idaho, winning Stage 3 and the Queen of the Mountains on her way to 2nd overall.

Then came the moment Mari had been waiting since 1996 for: she won the National Road Race (along with yet another time trial title), quieting for good what few 'Mari isn't a true road racer' naysayers remained. It was a highly satisfying moment for Mari, but not her only one of the summer. When she returned to Europe in July to ride La Grande Boucle (the former Tour Feminin), not only did she have a great performance of her own (8th overall), but she was instrumental in the overall victory of teammate Ziliute. It was a new lesson for Mari: "I never realized that I could feel so good from having a teammate win a race."

It was also a swan song of sorts for Mari's European racing days, as she decided to return to the States for 2000 as the leader of the newly restructured Timex Sports team. "I decided to ride for Timex because my focus for this year is the Olympics. First, to make the team, and then to win a medal. Timex has given me an incredible opportunity to be able to schedule my season with only that goal in mind." Timex has also given her a new road manager, Norm Alvis, whose years of international experience with the Motorola and Saturn teams should be invaluable.

So does this mean that Mari Holden has abandoned Europe for good? Unlikely. While she is focusing on the Olympics for 2000, her long-term goals include performing well in, or perhaps even winning, La Grand Boucle and the Giro d'Italia Femminile. She still has an open invitation to return to Acca Due O, and may even be training with her former teammates at various points during the season. But for now, Mari's goal is to make up for the disappointment of 1996...and perhaps even add a bit of precious metal to her collection that some future Jacquetta Hawkes would be proud to find.

For more information, as well as updates on how Mari is doing during the 2000 season, please visit her website at www.mariholden.com.