Sea Otter win kicks off Drew's new start with Mercury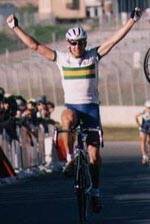 Jamie Drew: Wins the road race at Sea Otter
Photo: © psychlists.com
With his win in the Sea Otter Classic in the US this month, Jamie Drew has been enjoying a good deal of success in the star-studded Mercury team. Cyclingnews caught up with him just after his Sea Otter triumph and prior to the team leaving for their European campaign, where they have already made an impact.
Drew has recently come into form and hit a huge purple patch. Since the end of last year on the Australian domestic scene, he has taken out every major one-day event. Starting with the Grafton-Inverell, then the Melbourne to Warrnambool, the Australian Road Title, and finally the Melbourne to Sorrento in a dead heat with Credit Agricole's Stuart O'Grady.
He has tasted success overseas as well, winning the amateur Vuelta a Valencia in Spain in 1995. In addition, he has spent several years racing at an amateur level in Italy. Jamie Drew is certainly ready to make a professional career for himself, hence the progression to Selle Italia.
He joined the team in 1999 as a neo-pro, and spent some time finding his feet there. He was offered a contract for this year and took it, however, he was not totally happy with his program there, as the team had placed a large stake in getting invited to the Giro d'Italia in May.
If they failed, then the team - and Drew - would not have a great deal of racing after April. This was obviously dissatisfying to Drew who has dreams of an Olympic road berth this year, as well as being able to continue his job as a professional road racer.
His chance came in the Tour de Langkawi in February while he was racing with the team. Wearing his recently acquired national champion's jersey, Drew won stage two of the race in a very close sprint from Liquigas rider, Daniele Contrini. In doing so, he attracted the attention of one of the biggest US teams who were racing there: Mercury. Fellow Australian, Henk Vogels was riding for the team and suggested he contact manager John Wordin as they were looking for another rider.
Things progressed from there and Selle Italia were actually quite happy about letting him go. Mercury had gained a very strong rider to enhance their already powerful squad which has so far had the upper hand in the US racing scene. Drew has already shown his worth, winning America's highest UCI ranked stage race, the Sea Otter Classic. However, as he says, "you're only as good as your last race, so it's important to keep building on what I have started".
Prior to Sea Otter, he had not done a great deal of racing in the US, but had experience racing against Americans in the Sun Tour. He knew they were strong, but also was confident that his good form would help him at Sea Otter, and it certainly did that. "Most of the hills on the road course were short and steep and favoured power riders, which suited me," he says.
When he won the stage three, it wasn't part of a set team plan, as the team held the Yellow Jersey with Gordon Fraser. However, the deciding break came on the second last of 5 laps, and Mercury had 3 out of 10 in it. "Also it meant that we had the yellow jersey on the road with Henk. Over the radios came the orders for myself to attack if I have the legs, but it had to be solo, I couldn't afford to take anyone else with me. When I went, one rider came with me but I managed to drop him on the first of two hard climbs near the finish. Scott Moninger, my other team mate in the break then soloed in for second only 5 seconds behind me," recalls Drew.
With one stage to go, a 65 kilometre circuit race, all the team had to do was to protect him for 90-odd minutes, covering all the dangerous moves. The team was easily strong enough to do this, as well as setting up their main man, Gord Fraser for the win, something which he is rather good at.
Again, Drew gives credit to his team: "Having such a strong team took a lot of pressure off me, I knew that there were only two or three riders I had to cover myself, anyone else I could let go and know that the team could easily ride them back when the time was right."
The Mercury team headed over to France after Sea Otter for the Criterium International, where (in addition to Fraser's win) Chris Horner placed 8th overall after finishing 3rd in the final time trial, just two seconds behind the time of overall winner Abraham Olano. They now will ride the GP Rennes and GP Pino Cerami which should suit Drew's style of racing, as there are no huge mountains but plenty of undulations.
They are angling for a Vuelta a Espaņa start, and will do some Spanish races (Vueltas of Rioja and Asturias) in May. They will return home to the US for one of their major goals, the US Pro title on June 4 in Philidelphia. "I think that my race program up till then should have me in very good form for that race and it is very important for our sponsors this year. After this I will also know about the Olympics. It would be absolutely awesome riding that race in front of a home crowd with the best riders in the world all there," said Drew.
As to his style of racing, Drew prefers "one day races or shorter three, four day tours. They seem to suit me best. I always seem to have one bad day in tours over five or six days long which usually knocks me out of GC. I like the idea of just giving it everything on one day. Sometimes it's very stressful riding for GC day after day."
Jamie is quite positive when asked about the current crop of young Australian riders who are making names for themselves. He credits national coach, Shayne Bannan for this recent success. Bannan takes the development squad over to Italy each year for an introduction to road racing Euro-style. "Racing in Italy is definitely the most difficult place and it doesn't suit everybody, but doing that style of racing is a very good education," Drew added.
As far as he's concerned, his year is looking a lot healthier than when he started. With his current form, he may be selected for the five-man Australian road squad when it is named in July. There would be more than one person that would be happy to see him there in Sydney.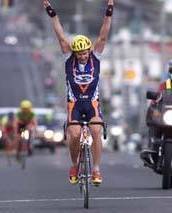 Drew winning the 1999 Melbourne to Warrnambool
Photo: © Warrnambool Standard
Palmares and bio
Born: 7 December, 1973
Height/weight: 176cm/72kg
Professional since: 1999
Major wins:
1995
Vuelta Valencia (amateur)
1999
Grafton-Inverell
Melbourne-Warrnambool
2000
Melbourne-Sorrento (equal)
Australian Championship (2nd to Jeremy Hunt)
Stage, Tour de Langkawi
Stage + Overall, Sea Otter Classic
First bike:
A 25 inch frame Repco Superlite: "I had to save up some money I received for Christmas and my birthday (A bonus for having a birthday in December) to buy it."
First race:
A 16km handicap with the Camperdown cycling club in Victoria. "They had racing every Thursday night and one of my friends, Eric Gestrein, raced and talked me into coming along. I managed to win as well riding off limit."
Pre race ritual:
"In Italy there is an unwritten rule that you have to eat pasta three hours before racing, in 1996 while riding with an amateur team we did some races that started at 7:00am so we were woken at 4:00am to eat the pasta. Since then I haven't been able to look at pasta at least before lunch time. Now I prefer a good bowl of cereal and maybe a coffee."
Favourite rider/Inspiration:
"I think my biggest inspiration and support has come from my fiancée Annabelle Vowels. We actually met at a bike race and have been together for five and a half years. In that time I have had some great times with wins and things, Vuelta Valencia, 1995, Melbourne-Warrnambool 1999 and the National Title 2000."
"I have also had some bad moments being diagnosed with a bulging disc in my lower back 1995 and then crashing and losing teeth and consciousness the day after I won a one day race in Italy in 1998. Annabelle has been there every time I have felt down, she has often been the one to convince me to keep on going when things seemed too difficult. We have had some great times together but also with our careers, (Annabelle is a landscape architect in Perth, WA, and a fine racer) we are apart for a large part of each year."
"Dave Sanders has also been the single most influential person on my career. We started working together in 1994 and I speak to him all the time whenever I have any questions with my training."
Favourite CD/Book/Film:
CD: Alanis Morrissette - Jagged little pill.
Book: How to be a man - Given to me as a Christmas present by my future mother-in-law!
Film: So I Married an Axe Murderer - It is a cult film for a group of us. Every line is recited perfectly, "HELLO!"