Andrei Tchmil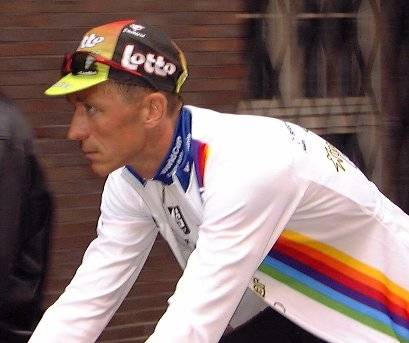 Andrei Tchmil at the HEW Cyclcassics 1999
Photo courtesy of Andreas Kahl
By Tomas Nilsson
Andrei Tchmil is a man of many nations. He was born 1963 in Khabarovsk in the eastern part of Siberia. His family moved to the Ukraine where he started cycling and showed enough talent to be moved to a cycling school in Moldovia.
He made his professional debut in 1989 with the Alfa Lum team. As a result of glasnost, the new openness in the Soviet system, the whole national cycling team were allowed to move to the west and try their luck as professionals for Alfa Lum. Dimitrij Konyschev and Piotr Ugrumov were others on the team. After the dissolution of the Soviet Union in 1992, Tchmil represented Moldovia where he lived in the Soviet Union. In 1995 he started riding with a Ukranian nationality and last year became a naturalized Belgian although he lives in Italy. When asked, he considers himself a Russian.
His career started modestly but in 1991 he was ranked among the top 100 for the first time and then bit by bit he made it to twelfth in 1994, his breakthrough season, when he won his first World Cup race, Paris-Roubaix . Right now he is ranked fourth, his best placing ever. So far.
Other WC wins: Paris-Tours in 1997 and Milan-San Remo this year and he is often at his best in the flatter classics. He has had some good performances in lesser stage races but with his lack of climbing skills, he is not a man for the grand tours, not even on single stages, although he often takes part in them. A second place in a stage of the Giro is his best so far and a top ten in a couple of stages are his standard performances. For some reason, he has never played a major role in the World Championships, except in Oslo 1993 when he came in sixth.
Palmares:

1989:
2nd G.P di Prato 

1990:
2nd G.P Cerami

1991 (ranked 81):
1st G.P Pino Cerami 
3rd Tour du Nord-Ouest/Berne 
3rd New Hampshire Pro Omnium 
1st Soviet Championships
3rd Coppa Bernocchi/Legnano 
1st Trittico premondiale/Conegliano 
1st Paris-Bourges 

1992 (72):
3rd Trittico premondiale 1/Conegliano 
3rd Tour of Ireland/Nissan classic 
2nd Coppa Sabatini 

1993 (39):
3rd Giro di Campania 
2nd Tirreno-Adriatico 
3rd Brabantse Pijl 
2nd Druivenkoers
2nd Championnat des Flandres

1994 (12):
1st Stage 2, 3 jours de La Panne
3rd Ronde Van Vlaanderen 
1st Paris-Roubaix 
1st G.P E3 Harelbeke 
3rd 4 jours de Dunkerque 
1st Stage 4, Vuelta a Burgos 
1st Stage 3b, Kellog's Tour of Britain 
1st G.P de Plouay/Ouest-France 
3rd World Cup overall

1995 (10):
2nd Etoile de Bessèges 
3rd Omloop Het Volk 
3rd Ronde van Vlaanderen 
2nd Paris-Roubaix 
1st Paris-Camembert 
1st Stage 1, Critérium du Dauphiné-Libéré 
1st Stage 1, Vuelta a Burgos 
1st Tour du Limousin, overall
1st Stage 1, Tour du Limousin 
2nd Paris-Tours 
2nd World Cup overall

1996 (15):
3rd Prix d'ouverture "La Marseillaise" 
1st Stage 6, Paris-Nice
1st Stage 2, Les 3 jours de La Panne 
3rd Prix d'ouverture "La Marseillaise" 
1st Veenendaal-Veenendaal 
3rd Amsterdam Derny race 
1st Stage 4. Tour de Luxembourg 
2nd Vuelta a Galicia, overall
1st Stage 1, Vuelta a Galicia 
1st Stage 2, Vuelta a Galicia 
3rd G.P Plouay - Ouest France 

1997 (6):
1st Dwars door Belgie 
2nd Gent - Wevelgem 
2nd Grand Prix de L'Escaut 
2nd G.P Kanton Aargau 
1 st G.P Rik Van Steenbergen 
1st Druivenkoers
2nd Paris - Bruxelles 
1st Paris - Tours

1998 (11):
1st Trofeo Luis Puig 
3rd Omloop Het Volk 
1st Kuurne-Brussel-Kuurne 
1st Stage 6, Paris-Nice 
1st Stage 7, Paris-Nice 
3rd Dwars door Belgie 
3rd Ronde van Vlaanderen 
2nd G.P Rik Van Steenbergen
1st Stage 5, Vuelta a Burgos 

1999 (4):
3rd Etoile de Bessèges 
3rd Kuurne-Bruxelles-Kuurne 
1st Stage 2, Paris-Nice 
1st Milan-San Remo 
2nd G.P E3 Harelbeke 
2nd G.P Villafranca de Ordizia 
3rd Tour de la région wallonne, overall
1st Stage 4, Tour de la région wallonne 
3rd Grand Prix Suisse/Zurich 
2nd Paris-Bourges 
1st World Cup overall

Other profiles