Team Mercury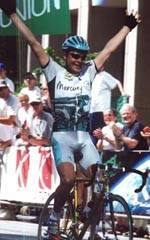 Jesus Zarate wins the Christiana Care Cup, 1999
By John Alsedek
Ever hear of the saying "an overnight success that was years in the making"? Well, if any cliché sums up the Mercury Cycling Team, that particular one would do nicely. In just two seasons, Mercury has established itself as the premiere domestic-based squad, and is now preparing to launch its first full-season campaign on the Continent. An 'overnight success' if ever there was one. Yet, this high-profile, multi-national team can trace its roots back nearly a decade to the humblest of beginnings, and to the tireless efforts of its team director, John Wordin.
That John Wordin even became involved in cycling was somewhat coincidental. A former college football player, Wordin was encouraged by his brother to do triathlons. He soon found that, while he didn't like to swim or run, he rather liked cycling, and became a competitive Southern California regional racer during the late 1980's. Following a two-year stint in Europe racing as an amateur, he returned to California and ended up racing for the nascent L.A. Sheriffs team in 1991. The LA Sheriffs soon became one of the top U.S. teams and they were perhaps best known for their team victory in the '93 Tour DuPont. However it was without Wordin, who, after helping in the club's formation, was released at the end of the season.
After racing largely unsupported through much of 1992, he decided to form his own team with long-time U.S. standout Thurlow Rogers, who was returning to the sport after a several year sabbatical. Wordin landed them a local supermarket, "Mrs. Gooches", as a sponsor for the rest of the season, and took on the additional role of team manager: "There were only two of us, so it was easy." He took his new role very seriously - after a considerable amount of time and effort, he acquired a new sponsor for 1993: the Miller Brewing Co., who agreed to field a team under the Lite Beer brand. The additional funding allowed Wordin to bring on promising amateurs Chris Horner, John Peters, and Kirk Willett, and the team finished second in the '93 National Racing Series.
Prospects looked good for 1994 ("I thought we were set"), but at the last minute, Miller decided to put its money into World Cup sponsorship, and the team was left without a sponsor shortly after the Redlands Classic in March. However, instead of letting the team disband, Wordin went in search of a new sponsor, and found one thanks to his old benefactor, Mrs. Gooches. At the Los Angeles Natural Foods Show, they introduced him to representatives of Nutra-Fig, the primary product of the San Joaquin Fig Company. Wordin had soon convinced San Joaquin president Keith Jura to finance his team. With Nutra-Fig as a stable base to build around (they still sponsor a professional team today), Wordin brought in the Colorado Cyclist mail-order company as a co-sponsor, and helped develop the core group of riders that he'd brought from the Lite Beer team.
In 1996, the Nutra-Fig/Colorado Cyclist team had a breakout season. Early season wins in events like the 89'er Stage Race and the Athens Twilight Criterium, combined with Wordin's hard work behind the scenes, convinced Robert Seaman (CEO of the non-profit Millennium Foundation) to front the Nutra-Fig team additional funding that would allow it to compete in the Tour DuPont. Pleased with the results that followed, Chris Horner won a stage, as well as the CoreStates Invitational and the first race of the Olympic Trials, Seaman agreed to take over sponsorship of the team in 1997 under the auspices of his Comptel Data Systems company. This gave Wordin a significant increase in budget while Nutra-Fig continued to sponsor his developmental program. While the team lost rising star Horner to the French La Francaise des Jeux squad, Wordin and his charges had every reason to look at the '97 season with hope. Little did they know that things would go most unexpectedly awry.
The Comptel/Colorado Cyclist team included Nutra-Fig holdovers Peters, Rogers, Willett, and Chris Walker, plus two other riders with strong connections to Wordin: David Clinger, whom Wordin had known since his early racing days, and Trent Klasna, a former teammate with the LA Sheriffs. To this group, he added neo-pro Levi Leipheimer, cagey Brit Malcolm Elliott, and a pair of young riders with European experience: Jonathan Vaughters, who was returning to the States after two years with the Spanish Santa Clara team, and Clark Sheehan, a former DuPont stage winner who was looking to rebound from a disappointing '96 season with U.S. Postal Service. In this very young lineup, veteran Thurlow Rogers took on the role of road captain. After juggling racing and a career for several years, Rogers came back full-time in '97, and was a good influence on his youthful teammates.
The season started promisingly enough at the Redlands Classic, where Vaughters won a stage and the team had three riders in the top ten. Vaughters continued his good early-season form by duplicating Chris Horner's victory in the 89'er Stage Race. In May, the Comptel squad headed over to Europe to contest a series of races in Belgium and the Netherlands, topped off by the nine-day Olympia Tour. While the team garnered little in the way of results, the expectation was that the hard, fast Northern European racing would give them the fitness to be a major factor in the upcoming CoreStates racing series.
However, things just didn't work out. Leipheimer finished ninth in the first event, Atlanta's First Union Grand Prix, but things went steadily downhill from there. Early-season top dog, Vaughters was the team's top finisher in the Thrift Drug Classic, finishing twelfth. In the CoreStates Invitational, where Chris Horner had outsped two U.S. Postal riders for the win in '96, Comptel riders Vaughters and Klasna were beaten by Saturn's Chann McRae in a three-up sprint. Then, to make matters worse, the team lost $50,000 worth of bikes and other supplies when their equipment trailer was broken into the night before the CoreStates Classic. Riding on borrowed bikes, their best performer was sixteenth-placed Malcolm Elliott. Finally, in America's premiere racing event, the CoreStates U.S. Professional Championship, they once again came up short, as Vaughters finished tenth.
The Comptel team soon redeemed itself though: Vaughters won two stages in the overall at the Tour de Beauce, Peters did the same at the Fitchburg-Longsjo Classic, and Klasna had a series of solid GC performances, capped off with a second overall in the Herald-Sun Tour. But behind the scenes, the bottom had dropped out of the Comptel team: Comptel reneged on its financial responsibilities, leaving John Wordin with a ton of debt and the task of keeping the team together regardless. It was during this time that rider loyalty to Wordin was tested: "Most of the riders were great and they stuck with me. Some were jerks and were kicked off the team." Those who remained were rewarded when Wordin's persistence paid off, and he lured a brand-new sponsor into the sport for 1998: Mercury Automobiles.
Of course, no one knew that right away. While it was common knowledge that Wordin had acquired a big-bucks sponsor, it wasn't formally announced until an auto industry event in February. It proved to be worth the wait, as Wordin unveiled what he considered to be his best team yet. True to his philosophy of developing young talent, he replaced his departed riders with promising Canadians Matt Anand and Mark Walters, New Zealand sprint ace Julian Dean, homegrown prospect Michael Sayers (from Nutra-Fig), and two other very interesting signings: Roy Knickman and Gord Fraser.
Knickman had been a junior wunderkind in the early 80's, quickly earning the tag of "the next LeMond". However, it proved to be an albatross around his neck. When it turned out that he was merely a very good pro, and not "the next LeMond", he left the European scene and came back to the U.S., first to race, and then, from 1995-97, to coach the U.S. National Team. Coming out of retirement, Knickman brought experience, strength, and a great attitude to the fledgling Mercury squad.
As for Fraser...he was a powerhouse sprinter whose abilities had never quite been used fully during his Continental stints with La Mutuelle de Seine et Marne and Motorola. Wordin looked to him to get the team immediate results, and Fraser didn't disappoint: he won two stages of the Redlands Classic and a stage of the Sea Otter Classic, and combined with Kiwi Dean to form a deadly one-two punch.
During the first half of the season, Mercury appeared to win at will: besides Fraser's victories, they won both races in the Sequoia Cycling Classic (Peters and Dean), two stages (Knickman and Willett) and the overall (Willett) at the Tour of Willamette, and best of all, the Outdoor Life Network Grand Prix, where Julian Dean eclipsed a top-notch field that included the U.S. Postal Service team. While Postal management groused afterwards that Wordin's boys were "an American team made for American races" that wouldn't make the grade overseas, Mercury soon put the lie to that.
During a trip to Spain in May, the team proved that they could be competitive against the world's best. Comeback kid Knickman won the Sprints Jersey in the Clasica Alcobendas, rookie Sayers wore the Intermediate Sprints Jersey in the Tour of the Asturias, and Gord Fraser won the second stage of the Asturias race, outsprinting future world champion Oscar Freire in the process. It was a vindication of Wordin's program, and of the Mercury riders, and they went home full of hope for the four-race series that culminated in the U.S. Professional Championship. Unfortunately, it once again proved to be a disappointing week for John Wordin - the best Mercury performance was Kirk Willett's fourteenth in the championship race. As in '97, his team followed up a sub-par performance there by riding well in the Tour de Beauce (two stage wins and fourth overall) and the Fitchburg-Longsjo Classic (two stage wins).
Then in July, longtime Wordin protégé David Clinger came to the fore. He finished third overall to Lance Armstrong in Oregon's Cascade Classic, and took two stages on his way to fourth on GC in the Tour de 'Toona. But these performances were to be just a prelude, as he shone for the Mercury team in the "young rider's Tour de France", the prestigious Tour de l'Avenir. He made the crucial split in stage four, and moved up to twelfth overall, and took a solid fourth place in the next day's stage. By placing fourteenth in the stage six time trial, he vaulted all the way up to seventh place, where he hovered for the next two days. However, the final stage was held in atrocious weather conditions that eliminated over half the field (sprinter Dean showed great character by simply finishing); Clinger lost 46 minutes to stage winner, and overall victor Christophe Rinero, but still finished a fine fifteenth overall. It was a result that boded well for the 1999 season.
John Wordin spent the winter of 1998 tweaking the lineup: Dean, Walters, and later, Anand moved on, to be replaced by Derek Bouchard-Hall (ex-Shaklee), Scott Moninger (ex-Navigators), and a trio of rookies: Mexicans Christian Valenzuela and Jesus Zarate, and former mountain biker Floyd Landis. As in 1998, they got off to a fast start, as Thurlow Rogers won the Tour of Willamette and Gord Fraser took the Tour LeFleur. Also as in '98, they had a successful racing trip abroad: Peters won the Sprint Jersey, and Moninger placed twelfth overall in the Tour of Rioja. Fraser sprinted to two top-five stage finishes in the Tour of the Asturias, and Clinger continued his development by winning the Meta Volante in the Clasica Alcobendas, and strong performances in the Rioja and Asturias events.
However, where Mercury's '99 season separated itself from the past was at the First Union Series, which had been so difficult for Wordin's riders in years past. They placed two riders in the top ten at the First Union Invitational (Mercury hadn't even had a finisher in '98), Fraser was seventh in the First Union Classic (their top placing in '98 was twentieth), and had a more active, if not more successful, ride at the U.S. Professional Championship. The highlight of the week for Mercury was at the Christiana Care Cup. Against a field including the likes of Mapei, Saeco, and the U.S. Postal Service, Mercury placed three riders in the decisive twelve-man break; Zarate and Clinger made it a 1-2 finish for the 'Green Wave'.
Coming off those strong performances, the '98/'99 comparison resumed, as again a young Mercury rider began to turn promise into results. This time, it was Floyd Landis, who cranked off an excellent series of rides, such as fourth overall in the Tour de Beauce, and a stage win and second overall in the Cascade Classic. Combined with Clinger's good form - he'd taken the Tour de 'Toona and taken third in Mercury's 1-2-3 sweep at Cascades (Scott Moninger won), Mercury was extremely optimistic going into the Tour de l'Avenir. That optimism was to be highly rewarded: Landis made a race-shaping four-man break in Stage Four and, three days later, took the race lead after some very aggressive riding on the Cote de Cieutat. While he lost the yellow jersey the next day to the Banesto tag team of David Latasa and Unai Osa (the eventual winner, who'd also taken the Classique Des Alpes in May), he was the best of the rest in third, 3:06 down. Combined with Clinger's good stage performances - he made the top ten on four occasions, the Mercury team placed third on team GC, and gained a new level of respect from the European pros.
Speaking of respect, while the Tour de l'Avenir was going on, Gord Fraser was garnering some of his own. When Euro-teams such as Mapei, Vini Caldirola, and La Francaise Des Jeux came to North America in September to contest the ten-day Tour Trans-Canada, it was undoubtedly with the intent of walking off with the lion's share of the stages. Unfortunately for them, Fraser was on fire, winning five of the ten stages. He would end the season with 27 victories which was unofficially the world's highest. These September successes would set the stage for Wordin's next move - to Europe for the 2000 season.
For the 2000 season, Mercury is planning an ambitious campaign that will hopefully include, in addition to a full docket of North American races, such events as Paris-Nice, several spring classics, the Tour of Switzerland and perhaps, September's Tour of Spain. With that in mind, John Wordin has added several new riders, as well as one familiar face: Chris Horner. Back from three seasons in Europe, Horner is excited to be racing in Europe with a U.S. team ("This team speaks my language!"). He will be joined by Jan Bratkowski, a double stage winner in this year's Tour of Luxembourg; Swiss neo-pro Steve Zampieri; and, best of all, highly-touted Henk Vogels. Vogels, who passed on offers from such teams as Rabobank and Credit Agricole, will be looked to as the team's big gun in races like the one that has always eluded them, the First Union U.S. Pro Championship in Philadelphia. Vogels is equally enthused about his new team: "John has done a great job bringing this program along. I feel that the Tour (de France) is in our future."
The one negative about the upcoming season is the loss of David Clinger, who got "an offer he couldn't refuse" from Festina. Wordin was sorry to see him go, but not bitter: "We have known each other since he was 15, I think he should have stayed, but he wanted to go. He left on good terms." Whether he'll return at some point, like Chris Horner remains to be seen, but Wordin has almost always gotten that sort of loyalty from his riders. Of that 1993 Lite Beer team, all five members are with the Mercury team, which says a lot about the way Wordin treats his riders: "I treat them the way I would like to be treated if I were a rider. Since I do ride, I keep close to what's important to them."
He also keeps close to what's important for the future, as he has continued his long-standing support for young racers by setting up Mercury junior and under-23 racing teams. The goal is to have riders start with the junior team, and then work their way up through the ranks: "Now that Mercury is involved, they see the importance of developing riders."
He projects first year senior Will Frischkorn as being the first one to work his way up through the new system. He won't be the last though because, even as John Wordin and the Mercury Cycling Team are looking into the near future at a possible Tour de France start, they're also looking further ahead at developing the riders that may someday win the Tour.
2000 Mercury Professional Roster
Derek Bouchard-Hall
Jan Bratkowski
Gord Fraser
Chris Horner
Roy Knickman
Floyd Landis
Scott Moninger
John Peters
Thurlow Rogers
Michael Sayers
Henk Vogels
Kirk Willett
Steve Zampieri
Jesus Zarate
2000 Mercury Under-23 Amateur Team
Will Frischkorn
Ernie Lechuga
Justin Spinelli
Derek Wilkerson
2000 Mercury-Fuji Junior Team
Rahsaan Bahati
Sterling Magnell
Jon Retseck
Angetti Sheldrake
Team Sponsors
Athletes Village.com
Biotone
Bolle
Camelback
Chris King
Easton
Elite
Selle Italia
Fuji
Gita (Giordana & Diadora)
LiMar
Kore Products
Off The Front
Paceline Products
Park Tool
Pedro's
Performance
Powerbar
Powertap
Reynolds
Shimano
Speedplay
Spinergy
Vision Tech
Yakima