Ken Harkin
The winner of the custom built Cannondale CAAD4 frame in the Cannondale, Giro D'Italia competition is Ken Harkin from Manhattan, Kansas.
Ken is already a proud Cannondale owner but can't wait to get his new CAAD4 frame in time for the State Road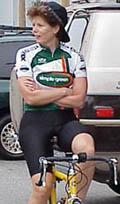 Diana Miller
Championships. Ken has been racing for 15 years and competes in Senior 3 and Masters 35+ categories. Well Done Ken.
The 2nd prize for the Mario signed Saeco-Valli&Valli Cannondale team jersey has been won by Diana Miller from Pasadena, California.
Diana also rides a Cannondale, uses a Saeco coffee maker and hopes her new Mario signed Saeco jersey will provide an edge in her next race. Watch out for Diana in here new jersey around Pasedena.
The 3rd prize for the Saeco-Valli&Valli Cannondale team bib shorts has been won by David Evans from London.

David's new Saeco bib shorts have come just at the right time as his cycling shorts were one wash away from being thrown out. David will now be the best dressed cyclist when he rides to work along the Old Kent Rd.


The correct answers were:
Question 1
Mario Cipollini recently recorded his 150th professional victory. In which race and on what stage did this occur?
Answer:
The first stage of the Tour de Romandie ended in a bunch sprint with Mario Cipollini (Saeco) first over the line.. This was a double jubilee for the Italian, it was his 150th victory, criteriums included, since his debut in 1989, and also his 10th in the Tour de Romandie.
Source


Cannondale has had 16 years of experience, hand-welding 6000 series alluminium. They are known as "the Aluminium Experts."

Question 2
How many frame and colour variations are possible with the Custom Cannondale CAAD4 Road Frame Program?
Answer:
Our Custom Cannondale frame program lets you choose from 8 million possible frame and color variations of our super-light, super-fast CAAD4 aluminum road racing frame.
Source
Thank you to all the readers who entered the competition during the 3 weeks of the Giro. The response was overwhelming. We'd also like to thank Cannondale for their support, and for providing the great prizes. If you'd like more information on Cannondale products, click here to sign up for their Chain Gang mailing list."
Watch out for our next exciting competition coming soon!
Keep riding... The team @ cyclingnews.com
Gerard, Jeff, Adrian,Holly and John.