A big spray for the 42nd stage win
Photo: © Sirotti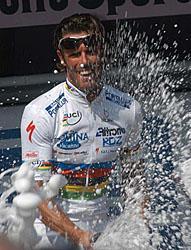 NEWSFLASH! Cipo has finally done it!
In stage 9 of the 86th Giro d'Italia, with his 185th career win, Cipollini established a new stage win record with 42 Giro stage victories, finally beating Alfredo Binda's record in front of a huge home crowd.
And the winner is...
Our happy winner

A brand new Specialized S-works E5 Domina Vacanze replica will soon be on its way to Canada following the draw of the main prize in the recent Specialized/Cyclingnews Giro d'Italia competition held earlier this month.
The winner of the bike is Patrick Brick, 35, from Vancouver, Canada. Patrick correctly selected stages 8 and 9 for Cipo to tie and then beat, respectively, the long-standing record of most Giro wins held by the legendary Alfredo Binda.
Patrick came within 32 seconds of nominating the correct stage time for stage 9, when Cipo broke the record in a tight sprint finish against Robbie McEwen. Patrick's entry of stage 8 to tie and stage 9 to win, with a time of 3:42.30 (Cipo won stage 9 in 3.41.58 (43.249 km/h) was one of over 6000 entries received in this competition. In fact, there were a dozen entries which were within minutes of selecting the stage time for the crucial, record-breaking stage.
As for Patrick, he is a keen cyclist who is a fan of Super Mario. He told us: "I am returning to racing after six years away pursuing an accounting designation. I am a category 4 racing cyclist. I am racing my first race in June, and I am riding about 200 to 300 miles per week. I ride hills twice a week and use intervals as the basis of my training. Mario Cipollini is my favourite cyclist."
Congratulations to Patrick and thanks to Specialized for sponsoring this great competition. We'd also like to thank everyone who entered and of course, congratulations to the man himself for fulfilling yet another of his dreams. Bravo Cipo.
About the competition:
A World Champion's bike from Specialized and Super Mario
Roaring home for numero 40
Photo: © Sirotti

After six stage victories in the 2002 Giro d'Italia, super-sprinter Mario Cipollini had a total of 40 stage wins to his credit in Italy's Grand Tour. He stood on the verge of equalling and breaking one of the longest-standing records in cycling - that of Alfredo Binda's record of the most stage wins ever in the Giro.
In anticipation of this remarkable achievement, Specialized and Cyclingnews had on offer a genuine Domina Vacanze - Elitron Team replica S-Works E5 Road bike as the major prize.
Entrants had to nominate the correct stages Cipo would equal and then break the record, and also nominate the stage time for the stage when Cipo broke the record. The winner was decided from all correct entries with the closest time for the historic stage win when Cipo broke the record.