A Cyclingnews special sponsorship feature
Inside Orbea: Spain's co-operative bike company
Where are they?
Photo: © Cyclingnews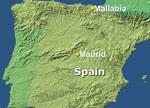 In the last few years Spanish bike maker Orbea has grown from a small regional manufacturer to a challenger on the world stage. Under the Euskaltel-Euskadi team Orbea bikes have been ridden to Tour stage victories, while Spanish MTB icon Marga Fullana landed three rounds of last year's World Cup on Orbea. Chris Henry took a stroll around the Orbea factory.
The Orbea bicycle company has been a consistent leader in Europe's top level road and mountain bike markets, and now the company is set to spread its success around the world. The Spanish company has made a name for itself supplying frames to international pro teams such as Euskaltel-Euskadi, Milanezza-MSS, CCC-Polsat, and the Orbea mountain bike team, in addition to regional teams around the world. Beginning in 2003, Orbea has also become the bike sponsor for the US-based Jelly Belly cycling team.
Orbea is the number one bike manufacturer in Spain, and thanks to its acquisition of the Zeus and Veneto brands and growing market position of the original Orbea name, the company has become the second biggest in France.
While the European market is set for steady but relatively slow growth, sales are exploding around the world. Major markets are emerging for Orbea in the United States, Australia, and South Africa, where Orbea sales were up 30 percent in the last year, according to export manager Maria Retegi. The company sells 200,000 bicycles a year, with an annual revenue of 33.5 million euros.
Tried and tested
Photo: © Chris Henry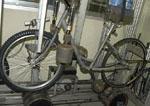 One third of Orbea's bikes are sold in Spain, one third in France, and the remaining third in other markets. Outside of Spain and France, Germany accounts for the highest sales, ahead of the United States. Some of the fastest growth can be found in the United States. Orbea USA was created as a company-owned subsidiary of Orbea Bicycles in 2002, working with the US and Canadian markets.
Business at Orbea has expanded through the acquisition of several companies, most notably the Veneto bicycle brand from France and Spanish component maker Zeus, which provided Orbea with valuable image recognition. Now the Orbea brand name is being increasingly applied to products in all markets, while the company uses the Zeus brand for high end Orbea components, including carbon forks and rear triangles.
The company is an interesting study, run as part of a larger co-operative. As such, all Orbea employees have a vested interest in the success of the company and enjoy a more familial atmosphere. Employees are provided with all information pertaining to company sales, and three times per year the general manager provides an overview of profits and budgets. The company includes an executive board of seven members, and a nine member administrative council (to which employees are voted). Feedback to each of these groups is generally provided up through the chain of command. The co-operative model has proven successful for Orbea, as employees are able - and encouraged - to speak openly and frequently about issues in the company.
Customization & collaboration
Pipes R Us
Photo: © Chris Henry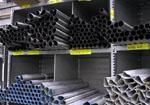 One of Orbea's greatest attributes is the near limitless number of options when ordering a new bicycle. Before even considering custom geometry for an Orbea frame, customers have an extensive choice of components for each bicycle model. Each Orbea bike is sold with an appropriate selection of components, but the company permits buyers to make changes from the standard setups to best meet their needs.
This willingness to meet individual needs also means responding to the different concerns of various markets around the world. This challenge is embraced by Xabier Irizar, Product Manager at Orbea. Irizar explained to Cyclingnews that Orbea does not follow the model of many framebuilders, where frame styles and geometries follow the philosophies of one or two chief designers.
External collaborators work with Orbea on frame design, in conjunction with the company's Product Development department, but final design decisions are made by Orbea's Product Committee, a group which brings together Product Development, Production Management, Purchasing Management, Logistics, and the domestic and export Sales Managers. This collaborative approach to design underlines the company's desire to incorporate feedback and meet the needs of its varied markets.
Charting its own course
EE boys on Columbus tubing
Photo: © Sirotti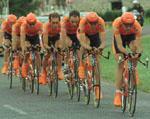 Orbea isn't content to rest on its current successes. The company is eager to develop more proprietary frames, lessening its dependency on materials and tubing suppliers (Columbus, Dedaccai). Company designers are currently in the midst of the development of a new full carbon frame, and Orbea has also begun to design its own tubing.
The company's Lobular triple-butted aluminum tubes were designed in-house and are currently manufactured by Columbus. The tubing is made of 6000 series aluminum, designed to maximize benefit for a cost geared toward recreational cycling. The tubing is designed with four edges in the center of the down tube which permit a pre-determined amount of flex, thereby reducing road shock while at the same time providing the rigidity necessary to maintain performance.
Testing new equipment is an important part of any design and manufacturing process, and Orbea-sponsored riders, as well as employees and selected dealers typically play a part in field-testing new equipment.
A tour of the factory
You're in Basque country now
Photo: © Sirotti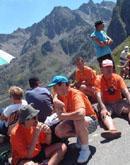 The Orbea factory, located in Mallabia in the heart of the Basque region of Spain, has been producing bikes for some 60 years. The Orbea company began as a weapons factory before WWII, and retooled after the war for more peaceful pursuits. The modern factory, located about 5 kilometres from the original Orbea plant, handles all aspects of bicycle production from tube sizing to painting and final assembly. Many of the company's low cost bikes are produced in Portugal, while the Mallabia factory builds the entire range from children's bikes to the top level racing machines.
The factory also includes an extensive testing facility, part of an ongoing commitment to quality manufacturing. A tour of the testing facility revealed the comprehensive nature of Orbea's equipment tests. Tubing and frame materials are subjected to both stress tests and corrosion tests. Corrosion tests involve placing tubing in a sealed container of 100 percent humidity and a 5 percent salt content for a minimum of 1,000 hours. Orbea is working in conjunction with other manufacturers to develop standards for testing in Europe.
Orbea tests not only its own frames and forks, but all third party components with which it outfits its bicycles. Items such as seat posts or rims may not carry the Orbea name, but the company must have confidence in their quality before installing on an Orbea frame. For example, rims are tested to see how they will hold up after a flat tire. Components for higher end bicycles are, not surprisingly, tested to more rigorous standards. In this case that means testing a wheel with a flat tire under load for 50 hours on a mass-market bike, versus 150 hours for bikes destined to more discerning consumers.
MTB prototype
Photo: © Chris Henry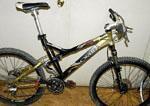 Orbea has invested heavily in its Mallabia factory, expanding its size and refurbishing the building to provide a cleaner, brighter working environment. The result is easy to appreciate, and the facility is efficient and well maintained. One of the key components of the Orbea operation is the oven. The first bicycle company in Europe to invest in this critical piece of equipment, Orbea has become one of the leaders in the heat treatment process with an oven on-site for heat treating frames of 6000 series aluminum.
Prior to the installation of the giant oven in Mallabia, Orbea sent its frames to a plant in Italy for heat treating. This plant, however, was not specifically designed for bicycles, and as a result Orbea faced long delivery times and a lower quality or inconsistent product. Having taken the heat treating process into its own hands, Orbea can assure higher quality while at the same time cutting its production time in half, from two months to one.
Another part of Orbea's dedication to quality is the Biomechanical Design Concept (BMD), a custom body geometry program which allows prospective buyers to determine their ideal frame dimensions. The BMD begins with a system for body measurements, the results of which are input in a computer simulator to develop a rough frame size. Refinements are made based on the customer's preferences for position (more aero, more upright, and so on) and riding style. Orbea understands that racing cyclists have different needs in bike geometry than casual recreational riders. Finally, the end result of the computer simulation is passed directly to the manufacturing floor, where tubes can be cut at precisely the right angles to ensure perfect fit in a frame with custom dimensions.
Milazena-MSS team bike
Photo: © Mike Papageorge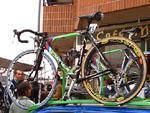 The paint shop in Orbea's factory gives another glimpse of the company's desire to meet the needs of a wide customer base. A total of 21 different paint schemes are available for the various bicycle categories: Roadsport, Roadstar, ProRoad, Nominal, Touring, and Racing (Racing models are available only in Euskaltel team colors). All painting is done within the facility prior to final fitting of components and preparation for shipping.
From concept to construction, Orbea is able to provide a personalised product to a wide range of customers. With a proven track record in the professional racing ranks, as well as dependable sales in the recreational markets, the company's world-wide exposure is set to increase dramatically as it wins over more markets around the globe.
Photos
Images by Chris Henry / Cyclingnews
For more information see: