A Cyclingnews special sponsorship feature
The genesis of LeMond titanium
The LeMond Tete de la Course titanium
Photo: © LeMond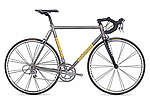 Legendary Tour de France winner Greg LeMond has always been a believer in titanium. LeMond rode a titanium frame in the 1991 Tour at a time when titanium seemed to be the Next Big Thing but the material faded into the background as others - notably aluminium and carbon fiber - moved to the fore.
The material's promise has never gone away, though, and last year LeMond Racing Cycles introduced titanium frames that can justifiably claim to be among the best in the world.
It starts with the tubing. All good bicycle tubing is butted - thicker at the ends to handle stress and the loss of strength caused by welding, and thinner in the middle where weight isn't needed. Titanium is tricky stuff to work into tubes and other manufacturers take shortcuts like welding the tubes from sheet metal and chemically etching away areas to form a butted tube. But tubes made in this way do not offer the strength and fatigue resistance of drawn, seamless tubing that has been butted by pulling it through a die with a solid mandrel inside.
Raced by Saturn in 2002
Photo: © Rob Karman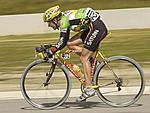 The company that invented butted tubing, Reynolds, supplies the mechanically butted tubes used in LeMond's frames. These 3Al/2.5V seamless titanium tubes are drawn and butted the same way as the Reynolds 753 and 853 steel tubes that were LeMondŐs choices during his career. Mind you, the machines have to be at least five times the size of ones used to butt steel tubes, but Reynolds made the investment.
Special shapes present similarly daunting challenges, but Reynolds was up to that task as well, even down to the smallest details. For instance, only Reynolds produces tapered titanium seatstays and chainstays that are domed and slotted at the dropouts – elegant touches reminiscent of the gorgeous steel frames of yesteryear.
Once you have tubes, you need to join them, and for this LeMond turns to manufacturing partner Trek Bicycles. In effect, there is a LeMond factory inside the mighty Trek facility in Waterloo Wisconsin. Trek has a wealth of production know-how and state-of-the-art machinery; LeMond has the deep background in bike racing. Only one more thing was needed: vast titanium expertise. Enter Gary Helfrich, titanium pioneer and bike industry maverick.
Gary Helfrich's last hurrah
Many of us didn't even notice at the time, but March 2001 saw the departure from the bike industry of one of its most colourful characters. Gary Helfrich, one of the founders of the first company to make commercially viable, rideable titanium bikes, and subsequently the head honch of framebuilding tool company Arctos Machine sold up and set out on a new life.
"It is true, Arctos Machine is no more," Helfrich told us in an email. "I legally killed it last March, closed down the accounts, and sold most of the machinery and all of the titanium tubes that were cluttering up the yard. I'm at Sonoma State University working on a degree in environmental planning. My current project is getting a 12.8 million dollar grant to build a state of the art wastewater treatment facility for our area. So much for the current entertainment agenda (Although it is vastly more satisfying than arguing the fine points of head tube angles)."
Consulting for LeMond on the company's titanium bikes project was pretty much the last thing Helfrich did that was bike related before departing the industry. "As a final project, it is something I am proud of, and I feel it was a good closure. The skill of the production workers at Trek is first rate."
A closer look at Ardnt's frame
Photo: © Tom Balks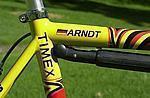 Helfrich credits the skill of his hand-picked team of welders as the key factor that makes the LeMond titanium frames a great example of the breed. "Remember than there are hundreds of welders employed at Trek, and I got to pick the six best ones for the titanium project. Most of these guys and gals have personally welded more frames than the entire output of even a big titanium specialist. This is the real secret to why the LeMond bikes are so good. It is the people who are making them."
However, it doesn't hurt that within Trek's facility the LeMond team has access to the kind of equipment that's hard to just pick up for pennies if you're a framebuilder starting out in titanium. "Trek also has an advantage in their vertical integration. They have their own CNC shop. They have their own machinery for butting and swaging tubes. They are being smart and using their resources to make this a great product."
But even with these advantages it's not all plain sailing. "Titanium still requires the builder to be more heads up and aware of quality issues than steel or aluminum construction. It is a fussy material."
Now that he's outside the trenches of the bike industry's ongoing Battle of the Frame Materials, does Helfrich still think titanium is the best material for bike frames? Remember, this is a man whose many postings to the usenet rec.bicycles.tech forum over the years included several references to "carpet fiber" and "glue and hair" when talking about composite frames.
"I still hold that [titanium] is superior to aluminum, but some of the composite stuff I saw in the prototype area at Trek makes me think twice about composites."
In typical forthright style, Helfrich still thinks the most important thing is to get out and ride.
"I still ride my same old steel bike I built umpteen years ago (I am tempted be like Tom Ritchey and contend it was constructed prenatal). At this point I care far more that I can get out and ride rather than having a frigging nerdfest over frame materials. The worst frame material is the one that creates a need to purchase a SUV and never take the bike off the rack."
Nuff said.
What do the riders think?
Eric Wohlberg
Photo: © Saturn

We asked Saturn team riders Harm Jansen and Eric Wohlberg to give us the lowdown on their new rides. Both riders had not ridden titanium bikes before Saturn picked up LeMond as a bike sponsor for 2002.
Wohlberg emailled us to say, "This is the first titanium frame I've ridden and I am very happy with it. I find the bike to be very lightweight and stiff, yet yielding on bad road surfaces. I think these attributes are due to the 3/2.5 mechanically butted Reynolds tubing that our frames are made of."
As well as liking the ride, Wohlberg bears testament to the frame's toughness. "I can also testify to the strength of these frames as I have had mine tangled in steel barricades on more than one occasion and it's still straight as an arrow."
Did he think titanium was making a comeback in the pro peloton? "I think that we're seeing more titanium frames in the peloton because innovative frame manufacturers such as LeMond are using the best materials available to make a high quality, yet affordable product."
Harm Jansen
Photo: © Rob Karman
Jansen is also impressed. "I was expecting a flexible frame but was pleasantly surprised by its stiffness. Aluminum is a little stiffer but too harsh for the long rides. Carbon doesn't absorb much of the shocks and steel is often too heavy. Before my choice was aluminum but titanium has made up its ground."
Another fan is Saturn women's team rider Kristy Scymgeour who recently wrote about her bike in Australia's Ride Cycling Review magazine. "I love this bike! The titanium gives it a really good feel especially in relation to descending and cornering which are the important technical parts of riding. This bike has a slightly longer rear end that the aluminium frames we used in 2001 (41.5cm instead of 40.9cm) . It's only fractionally different but there's a real diffference in handling. I can't say if it's the material or the measurements, but the Tete de Course is just that little bit more stable. The titanium - for want of a better word - 'gives' a little more."
Team mechanics tend to be fans of titanium frames too, because they're so durable and reliable. As he told us a few months ago when we first looked at Saturn's bikes, Saturn mechanic Ian Sherburne is highly impressed with the work LeMond has done for the team.
"LeMond trained its top welders to build these bikes, and they are the highest quality," says Sherburne. "Reynolds has a tremendous history of making competitive tubesets, and has created a cutting-edge titanium tubeset. If I could get you to take a test ride, you'd realize why riders like Jay Sweet say these LeMond bikes are the best they've ever ridden."
The last word, though has to go to Wohlberg: "Who doesn't want to be on a light-weight, responsive and durable frame?"