A Cyclingnews special sponsorship feature, April 2005
First Endurance & Cyclingnews Levi Contest
First Endurance and Cyclingnews are happy to offer yet another opportunity to win some great new gear. Up for grabs is a Gerolsteiner jersey signed by Levi Leipheimer and a plethora of First Endurance product including E3, Optygen and Ultragen. * For details on these products see below
"Optygen is great for hard training. There is no question I can complete all my workouts without overtraining and fatigue"- Levi Leipheimer
Photo ©: BikeZen.com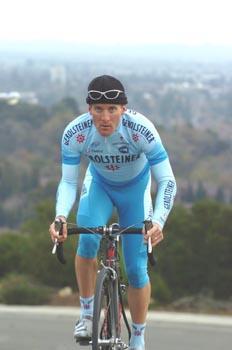 1st Place: One Gerolsteiner jersey signed by Levi Leipheimer, 1 Optygen, 1 container Ultragen, 1 E3, First Endurance hat, First Endurance Visor, First Endurance t-shirt, Five First Endurance water bottles
2nd Place: 2 Optygen, 2 Ultragen, 2 E3, First Endurance t-shirt & water bottle
3rd Place: 2 Optygen, 1 Ultragen, 2 E3, First Endurance t-shirt & water bottle
4th Place: 1 Optygen, 2 Ultragen, First Endurance t-shirt & water bottle
5th Place: 1 Optygen, 1 Ultragen, First Endurance t-shirt & water bottle
6th Place: 1 Optygen, 1 E3, First Endurance t-shirt & water bottle
7th Place: 1 Ultragen, 1 E3, First Endurance t-shirt & water bottle
8th Place: 1 Ultragen, First Endurance t-shirt & water bottle
9th Place: 2 E3, First Endurance t-shirt & water bottle
10th Place: 1 E3, First Endurance t-shirt & water bottle
We're sorry - this competition closed at the end of the Spring Classics in 2005!
First Endurance products
First EnduranceTM offers safe, legal and stimulant-free products that are developed to help endurance athletes optimize performance. At First Endurance, we have researched, studied and experienced, firsthand, the dramatic impact specific ingredients can have on endurance and performance. We believe the best way to test new product prototypes is by getting them in the hands of the athletes. We solicit constant feedback from our athletes and use this feedback to stay at the forefront of endurance performance. This collaboration allows our Research and Development team to continue to push the limits of endurance. The result: breakthrough endurance nutrition that's second to none. With First Endurance, you'll be able to race harder and recover faster than ever before. There's also a 100% guarantee.
E3 is an energy drink at the forefront of endurance nutrition that combines the latest clinical research with input from elite endurance athletes. Containing an ideal blend of simple and complex carbohydrates, amino acids, antioxidants and electrolytes, E3 provides the nutrients you need to fuel working muscles and increase endurance during exercise. Available in two great flavors: Tangerine and Lemon-Lime
Optygen is a legal, safe and stimulant-free formula that's designed specifically to optimize performance for endurance athletes. Optygen delivers the levels of nutrients that have been shown in clinical research to improve oxygen utilization, reduce lactic acid and allow the body to adapt to high levels of physical stress. Because of this, Optygen was ranked the #1 Endurance Supplement for the last two years in a row*. 100% performance guarantee-Patent pending.
Ultragen is a cutting-edge recovery formula that delivers all the critical ingredients you need to be your best for the next day of racing or training. Each serving delivers clinically effective doses of the most advanced proteins available, the fastest-acting carbohydrates, glutamine, BCAAs, antioxidants, vitamins, minerals and electrolytes. Ultragen integrates the latest nutritional technology in order to maximize recovery and provide the right nutrients to the right place during the 30-minute 'Window of Opportunity' following exercise.