A Cyclingnews special sponsorship feature
Campagnolo 2004: Changes across the board
By Cyclingnews staff
Campagnolo has made some exciting changes to its range for 2004. Cyclingnews recently met with the Vicenza, Italy firm's new communication manager Piero Da Rin at the Eurobike show to learn more.
A work of art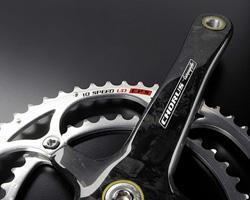 Record and Chorus carbon cranksets
"Campagnolo has added two new carbon cranksets to our range for 2004, Record and Chorus," explained Da Rin. "These new products have been developed using Unidirectional Carbon Fibre, a new composite material technology that originated in the aerospace industry." For 2004, this replaces Campagnolo's previous 90-degree carbon fibre lay-up for cranksets. This new technology distributes carbon fibre in all directions to produce mechanical resistance in any direction. Furthermore, Campagnolo's Unidirectional Carbon Fibre has been placed to further enhance the already outstanding performance of the Record and Chorus cranksets.
Da Rin added, "The results are amazing. Last year's Record crankset was vastly superior to our competition and with our Carbon Fibre, the 2004 Record and Chorus Carbon cranksets simply outclass the rest."
Light, strong, beautiful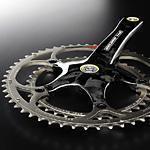 Some of the key points that Campagnolo's Da Rin outlined about the 2004 Record and Chorus Carbon crankset are:
Record and Chorus Carbon cranksets weigh 500 grams
Record and Chorus cranksets have greater resistance to static load, fatigue and torsion than previous Campagnolo models.
"The innovative result is that our new Carbon Fibre technology has enabled Campagnolo to create an industrial process that eliminates the erratic results and performance of a manual process. Until now, the carbon fibre lay-up of the cranksets was exclusively done by hand," explained Da Rin.
"Because of this, results and performance within the same component could differ widely. But now, by industrializing the process via our new Carbon Fibre technology, Campagnolo has finally been able to obtain components that are all of the same consistent quality." The 2004 Record and Chorus cranksets have a new shape and a unique new marbled look. In addition, the 2004 Record Carbon fibre crankset has a special new design that further increases its rigidity. Chainring bolts are in a new light alloy and the chainrings have a special surface treatment to limit wear and tear.
Fancy a drink?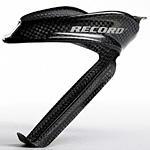 Among many other new features in Campagnolo's Record group for 2004 are carbon fibre cages for all three Record derailleurs, and a carbon external cage for the Record front derailleur that brings the weight of the braze-on version to only 69 grams! And Campagnolo has an elegant new carbon fibre bottle cage as well.
Centaur groupset
A hommage to Record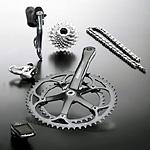 Piero Da Rin showed us Campagolo's attractive Centaur groupset, with a new Century Grey colour as well as the classic anodized aluminium version. "Our Centaur groupset starts our top range and for 2004 we've decided to create two different colours. Our new Century Grey finish, with its sober and elegant look, pays homage to our renowned Record Century groupset of 1990. But we still offer Centaur in the classic anodized aluminium finish." Da Rin explained why Campagnolo chose to run with two colours, saying, "This new initiative was because Campagnolo wants to offer a wider range of colours to its customers so that they could find an ideal match for their frames."
Centaur 2004 has a new Hiddenset integrated headset, only available in 1 1/8in. The Hiddenset top cup is made of a lightweight, durable composite material with Record class bearings.
Centaur 2004's seatpost, available only in 27.2mm, offers a new, lighter aluminium tube that Campy says weighs in at only 220 grams. The Centaur rear derailleur also gets a makeover for 2004, with the rear derailleur body now made from forged aluminium, the same process used for the Record and Chorus models.
Veloce groupset
Veloce goes 10-speed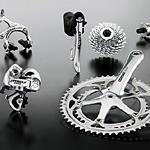 Da Rin took us through the new 2004 Veloce groupset. "Our entry-level group is now available in ten-speed, but it's also still available in the popular nine-speed version. We developed the Veloce ten-speed drivetrain from our Record groupset, and the initial response to features like the close-ratio sprockets, new rear derailleur geometry, front derailleur, chain and crankset have been very positive. These new features make for faster, more accurate and silent shifting in the 2004 Veloce groupset."
Campagnolo's Veloce ten-speed crankset shares geometry and chainrings with both the Record and Chorus groups. For example, in the three sections of the Veloce chainring, there are six pins and grooves that make it easier for the chain to move up the big chainring. There are also two set points where Campagnolo's specially designed chainring teeth make it easier for the chain to drop down onto the smaller chainring.
As for all Campagnolo groups, the Veloce rear derailleur is available in three versions; short, medium or long cage. This flexibility enables a rider to get the most out of his or her crankset and sprocket combo. The short cage Veloce ten-speed rear derailleur is used for a double crankset, while the medium cage rear derailleur goes with the double crankset and a 13-29 sprocket set or even a triple crankset with 13-26 sprockets. Finally, the Veloce long cage rear derailleur is recommended for a triple crankset with a 13-29 sprocket set.
The Veloce ten-speed front derailleur is based on the Centaur 2003 model, with a lightened cage and a technopolymer insert to reduce weight and make the shifting faster and quieter. Another upgrade for Veloce is the chain: a Record C10. Made in-house, this uses Campagnolo's Ultra-Drive geometry, Floating Link Action and a special Chrome-Nickel-PTFE surface treatment to increase durability and performance. Only 6mm wide and 279 grams, the Record C10 chain is closed by the Campagnolo HD-Link system.
Veloce ten-speed's new sprocket has steel sprockets with a nickel-chrome finish for greater resistance to wear and Campagnolo's smooth shifting Ultra-Drive tooth geometry to ensure fast, precise shifts. For 2004, Veloce offers a new 14-23 sprocket set, for younger riders or people who want a straight cog progression. (14-15-16-17-18-19-20-21-22-23)
For 2004, there is also a new Veloce front hub, with high quality sealed, adjustable industrial bearings for improved smoothness and reduced maintenance.
Hyperon
New Hyperon hoops
Campagnolo's Hyperon wheels are finally available in a clincher version, after being introduced for tubulars two years ago. Campagnolo has worked hard to create a clincher version of the incredible Hyperon wheels. Da Rin told Cyclingnews that to adapt carbon rims to clincher tires turned out to "a lot more complicated than we expected. The engineers had to design an entirely new rim. For clinchers, resistance to pressure, temperature and shock are different than the tubular wheels."
Da Rin continued, explaining, "That's why we designed a rim made from special carbon fibre material that could withstand high pressure, high temperatures from braking and the shocks that come from clinchers."
A close look at the Hyperon rim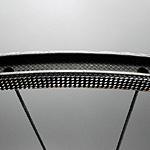 Campagnolo has also addressed carbon fibre clincher braking with a new braking surface with specially designed brake pads. Hyperon clinchers are available in two versions; Hyperon Ultra, with a unique carbon fibre Ultra hub featuring ceramic ball bearings and elastic shock-absorbing points. Campagnolo claims that these ceramic bearings have "rolling capacity over time that is four times greater than that of steel ball bearings and at the same time they are harder wearing." Hyperon is also available with a Record-class black anodized aluminium hub. The Vicenza firm didn't tell us price or availability for Hyperon clinchers, so bear in mind that this is a product for 2004, and check Campagnolo's website for details.
Vento G3 wheels
Entry-level Vento G3 wheels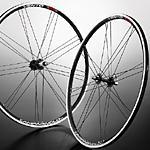 For 2004, Campagnolo's Vento G3 wheels are an exciting new affordable wheelset.
The entry-level wheels have Campagnolo's unique G3 spoke pattern on the rear wheel, while the Vento rim has a 24mm medium profile, with machined sides for better braking. Plus, Vento's rim has eyelet holes for greater resistance to spoke tension.
Both Vento hubs are flanged, and have sealed bearings for improved smoothness and reduced maintenance.