A Cyclingnews special sponsorship feature
Campagnolo 2004: Improving the Middle Ground
By Cyclingnews staff
What does Campagnolo have in store for 2004? Lots of improvements to Record and Chorus are rumoured, but Campagnolo's designers haven't forgotten the less exalted areas of the range.
Centaur, now in stylish grey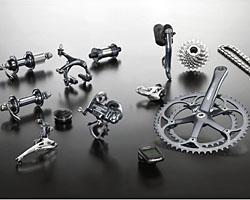 The performance of Campagnolo's top groups, Record and Chorus is legendary, and the attention that gets paid to the advanced pro-quality end of the range sometimes makes people forget the rest of Campagnolo's components even exist. That's a shame, because the rest of Campy's lineup contains some real gems that are often overlooked.
Also in aluminium

For 2004, Campagnolo has made some very significant improvements to the middle-tier parts. If you just peer beneath the large shadow of Record and Chorus you'll find some amazing deals, proof that you can get near-Record performance without having to break the bank.
Of Campagnolo's mid-level components, Veloce has attracted the lion's share of attention from the engineers in Vicenza, as the 10-speed range expands down to Veloce level. A 9-speed version will continue to be offered, and both 9- and 10-speed cassettes can be paired with double- and triple-chainring cranks for plenty of gearing options. Veloce 10-speed is slightly more expensive than 9-speed, but does provide a broader gearing spread with smaller jumps between cogs.
Centaur Hiddenset

In order to stack that additional cog onto the alloy freehub body, 10-speed Veloce gets a new front derailleur with a slightly narrowed cage, 10-speed chainrings that are spaced a little closer together, and a new rear derailleur. The rear shifter gets reworked for 10 clicks instead of 9, and like all Campy Ergopower levers the front shifter is already triple-ring ready.
All-aluminium Centaur post

Following Campy's long tradition of trickle-down technology, the new Veloce rear derailleur bears obvious resemblance to its Centaur equivalent (and which, in turn, looks a lot like Chorus and Record). Veloce 10 shares Record's 10-speed chain and cog spacing, making it fully compatible with 10-speed Centaur, Chorus and Record.
Centaur rear deraulleurs

Veloce also receives a new front hub, with sealed bearings that offer a new level of smoothness and reliability at this price level.
Centaur gets a minor facelift for 2004, with a new, optional Century finish, a dark gray that looks meaner and leaner than the customary bright silver polish. There are new graphics for Centaur, mirroring the new look of all the 2004 componentry, the most apparent difference being the combined Centaur/Campagnolo lettering on the crankarms, and the new script on the rear derailleur.
Veloce goes up to 10

The most visually obvious change to '04 Centaur is the new all-aluminum seatpost, which uses an carefully-designed one-bolt head for easy adjustability and a secure hold. Additionally, Centaur also receives a new Hiddenset, which follows the design of Campagnolo's other integrated headsets by using loose balls with a drop-in steel race.
Veloce's redesigned derailleurs

A less obvious change for Centaur in 2004 is the use of new, forged body parts in the rear derailleur. It's significant because this brings Centaur one step closer to Chorus and Record, which also employ forged bodies. The forged parts' additional stiffness results in more precise shifts, with a very direct, positive feel.
Mirage: none more black

Mirage also gets a facelift, with a new black finish, but the functional difference is a new sealed bearing front hub that should give added smoothness and require less maintenance.
On the wheel front, Campagnolo resurrects the old Vento name with a new wheelset. The new Ventos use Mirage-level hubs and the G3 lacing pattern from the medium-profile wheels for a strong, lightweight build that expands Campy's already-large wheel line down to a new, more accessible price level. The front wheel features eight clusters of three spokes, for a total of 24 wires. The rear uses 27 spokes arranged in nine groups of three, with two drive-side spokes for every left-side spoke, for more evenly distributed tension.
Go like the wind

As to what's in store for Record and Chorus, we'll just have to wait until September when those components are released. But in the meantime, these new improvements to the rest of the Campy line mean there's more reason than ever to consider Campagnolo's mid-level components.
Take a look inside the Campagnolo factory.
Photos
Images by Campagnolo