US 100/10 Classic - NE
USA, September 3, 2007
Abraham victorious in Atlanta; Health Net claims the NRC
By Kirsten Robbins
Karl Menzies (Health Net) and Emile Abraham (Priority Health-Bissell)
Photo ©: Kurt Jambretz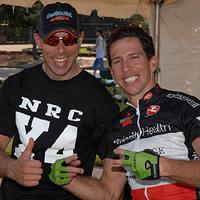 As the penultimate event on the NRC calendar, domestic teams lined up on the US 100 Classic's start line to vie for a last shot at a nationally ranked victory and for a the opportunity to gain ranking points for the NRC standings. Sprinter Emile Abraham's (Priority Health) landed a hometown win over Australia's Karl Menzies (Health Net-Maxxis) and Dave McCook (Kelly Benefits' Strategies).
Abraham has been consistently sprinting amongst the fastest in the United States and has proven in the past to be the toughest competitor of the US 100k Classic, having won the event in 2006. "It is a big race for me being a resident of Atlanta," said Abraham a native of Trinidad. "I had the team and we worked really well together. I tried to position myself not too near the front because it's all about timing and I've learned it really well in the last years. I picked my line and timing to perfection and so it was the biggest margin I've won a race by."
Health Net-Maxxis finalised its team's NRC victory over Toyota-Untied while its new-comer Rory Southerland gained the necessary points to take a marginal win over Priority Health's stage race talent Ben Jacques-Maynes in the Professional Men's standings. Menzies, who is no stranger to the US podium, said Health Net-Maxxis team's NRC was a result of trying to win each race individually.
A small break goes up the road
Photo ©: Kurt Jambretz

"We don't usually go for points as a goal, we always go for a win," said Menzies. "The result of it is that we got the team NRC. It's great for Rory to win the overall because it is his first year here. It's really just an extension of the team's work and the team has been awesome this year - the whole team effort. No one really cares who wins as long as we do."
The men's 100 kilometre event started at the Cumberland Mall where they were taken out to complete a rolling nine-kilometre circuit. "The field was really aggressive during the first few laps and there were a lot of breaks that gained between twenty and thirty seconds," Abraham noted. "I went into a break with eight laps to go but it was caught after two laps and I decided to conserve my energy for the finish when I saw the field start to slow down."
The most significant break of the race contained approximately 15 riders that included Abraham and his teammate Graham Howard along with heavy hitters Doug Ollerenshaw and Karl Menzies (Health Net-Maxxis), Trent Wilson and Jeff Hopkins (Jittery Joes), Tiago Bepaula (Lowe's-Mortgage), Bobby Lee and Ivan Stevic (Toyota-United) and Brady Rogers (Myogenesis).
There was a ton of action from the peloton
Photo ©: Kurt Jambretz

The large break reunited with the peleton with six laps to go. A second threatening break included Ricardo Escuela (Successfulliving) slipped off the front with three laps to go but there was no stopping the chasing peleton in pursuit of the Classic's notorious down hill field sprint.
Both Kelly Benefits and Toyota-United attempted attacks as a last ditch effort to disrupt the opposing team trains that had already begun and perhaps steal a win. But the speed of five teams driving the pace was too fast for any single rider to escape. "My team, Jittery Joes, Toyota-United and Health Net were all driving it at the front to the finish," Abraham said. "Menzies and McCook were leading down the hill and I came around them for the win."
"It would have been nice to win," noted Menzies. "But you can't take it all. We wanted to win the race today especially since we raced conservative the week before at Chris Thater because we were out numbered there. This time we had a full team and I was going to try to win it but Abraham was on me at the finish. He was quicker in the end, has raced it before and knew exactly what to do. He came passed me and was just plain faster."
Pic wins the dash for cash
Sprinter Tina Pic (Colavita/Sutter Home) took the to prize in the 'dash for cash' over Rebecca Larson (Aaron) and Kacey Manderfield (Verducci).
"It is always a tricky race because it is so short," said Pic. "It was really aggressive because there is so much money on the line. I waited until 150 metres to go to come around Rebecca."
The women started at the Cumberland Mall into a 10-kilometre straight shot over the rollers of Cobb's Parkway. Robin Farina (TargetTraining) was the first to start a flurry of attacks before the first of three difficult hills. "A lot of teams were boxed in but Robin Farina and Debbie Milne (ProBike) were both really active and strong today," Pic said.
There were two primes located at the top of the first two hills along route. Pic covered an attack set off by Debbie Milne and the two gained a sizeable lead over the peloton coming into the first prime. "I pulled on the down hill and she was so strong on the up hill toward the prime," Pic said. "I figured I should red flag myself too early incase it came back together for the finish."
Farina set off the last attack on the descent to the finish line when Larson countered her from the left side. "Rebecca came around the outside and floored it down the hill," said Pic. "It is such a fast down hill that it tends to swarm so I waited to see what would happen. It didn't swarm so I waited on Rebecca's wheel until the last second and came around her."
"It is so short and you really have to measure your efforts," Pic said. "It is really technical too, it is hard because it is so hilly but there is that reprieve knowing it is so short."
Photography
For a thumbnail gallery of these images, click here
Images by Kurt Jambretz/www.actionimages.cc
Results
Elite Men (100km)

1 Emile Abraham (Priority Health / Bissell)              2.21.53
2 Karl Menzies (Health Net presented by Maxxis)                 
3 Dave McCook (Kelly Benefit Strategies/Medifa)                 
4 Emilio Asconeguy (Lwe's mortage-roswell bycicles)             
5 Yosvany Falcon (AEG-TOSHIBA-JetNetwork)                       
6 Jeff Hopkins (Jittery Joe's)                                  
7 Ivan Stevic (Toyota-United Pro Cycling Team)                  
8 Rory Sutherland (Health Net presented by Maxxis)              
9 Frank Travieso (AEG-TOSHIBA-JetNetwork)                       
10 Dan Bowman (Kelly Benefit Strategies/Medifa)                 
11 Ricardo Escuela (Successful Living Presented By )            
12 Robert Giannini (CRCA/Sakonnet Technologies)                 
13 TIAGO DEPAULA (Lowe's Mortgage-Roswell Bike )                
14 David Guttenplan (CRCA/Sakonnet Technology U25)              
15 Oscar Henao (UCL)                                            
16 Frank Pipp (Health Net presented by Maxxis)                  
17 Daniel Holt (Nerac Pro Cycling)                              
18 Bobby Lea (Toyota-United Pro Cycling Team)                   
19 Jonathan Sundt (Kelly Benefit Strategies/Medifa)             
20 Todd Henriksen (AEG-TOSHIBA-JetNetwork)                      
21 Richard Harper (A&F Pro Development Cycling Tea)             
22 Jonathan Atkins (Myogenesis.com p/b Landmark Dod)            
23 Keith Norris (AEG-TOSHIBA-JetNetwork)                        
24 Ryan Barnett (Blue Bikes)                                    
25 Bill Elliston (Rite Aid Pro Cycling)                         
26 Seth Hansley (Loco's Grill and Pub)                          
27 Thomas Brown (Myogenesis.com p/b Landmark Dod)               
28 DIEGO GRAVITO (LOWE'S MORGTAGE-ROSWEL BIKE CYL)              
29 Brett Miller (Naples Cyclery)                                
30 Benjamin Jaques-Maynes (Priority Health / Bissell)           
31 Tim Henry (Jittery Joe's)                                    
32 Casey Magner (Myogenesis.com p/b Landmark Dod)               
33 Cody Stevenson (Jittery Joe's)                               
34 Karel Sumbal (Gearlink Team)                                 
35 Predrag Prokic (AEG-TOSHIBA-JetNetwork)                      
36 Dirk Pohlmann (Team Krystal - SCV)                           
37 Jaime Gandara (A&F Pro Development Cycling Tea)              
38 Joe Eldridge (Team Type 1 monitored by Freest)               
39 Richard England (Priority Health / Bissell)                  
40 Sean Weddell (Ryobi / Carolina Triathlon)                    
41 Chris Jones (Nerac Pro Cycling)                              
42 Micheal Grabinger (Successful Living Presented By )          
43 Heath Blackgrove (Toyota-United Pro Cycling Team)            
44 Tyler Jewell (Compliance Depot)                              
45 Robbie King (Priority Health / Bissell)                      
46 Geri Mewett (Hincapie / DASANI)                              
47 Clayton Barrows (Rite Aid Pro Cycling)                       
48 Travis Sherman (Myogenesis.com p/b Landmark Dod)             
49 Scott Chris (Loco's Grill and Pub)                           
50 Jeremy Hutchison-Krupat (Blue Ridge Capital p/b Peachtre)    
51 Christopher Judy (US Armed Forces)                           
52 Bruce Humphries (Hincapie Bianchi Dasani)                    
53 Ivan Dominguez (Toyota-United Pro Cycling Team)              
54 Robert McConville (Capri Foundation)                         
55 Sebastian Sinisterra (Reality Bikes)                         
56 Curtis Gunn (Successful Living Presented By )                
57 Winston David (AEG-TOSHIBA-JetNetwork)                       
58 Edward Fagan (Reality Bikes)                                 
59 Aidan Charles (Nerac Pro Cycling)                            
60 Andy Baker (TIME Factory Development Team)                   
61 Robert Sweeting (AEG-TOSHIBA-JetNetwork)                     
62 Todd Yezefski (Nerac Pro Cycling)                            
63 Whit Clifford (Reality Bikes)                                
64 Garrett Peltonen (Priority Health / Bissell)                 
65 Joseph Coddington (Manulife)                                 
66 Scott Zwizanski (Priority Health / Bissell)                  
67 Justin England (Toyota-United Pro Cycling Team)              
68 Neil Shirley (Jittery Joe's)                                 
69 Chris Knetche (Hincapie / DASANI)                            
70 Owen Nielsen (Manulife)                                      
71 Gustavo Carrillo (Colavita)                                  
72 Scottie Weiss (AEG-TOSHIBA-JetNetwork)                       
73 Daniel Asbury (AXA Cycling Team)                             
74 Kirk O'Bee (Health Net presented by Maxxis)                  
75 Doug Ollerenshaw (Health Net presented by Maxxis)            
76 Hugh Moran (Manulife)                                        
77 Nathan Griffith (Manulife)                                   
78 Darren Comer (Pacesetter Steel Service)                      
79 Cleve Blackwell (Myogenesis.com p/b Landmark Dod)            
80 Blair Craig (Hincapie / DASANI Cycling)                      
81 Tony Scott (Team 1/Memorial Health)                          
82 Chris Baldwin (Toyota-United Pro Cycling Team)               
83 Matt Shechtman (Pacesetter Steel Service)                    
84 Morgan Schmitt (Priority Health / Bissell)                   
85 Chris Monteleone (TIME Factory Development Team)             
86 Jered Gruber (TIME Factory Development Team)                 
87 Jose Garcia (Toyota-United Pro Cycling Team)                 
88 richard fuqua (peachtree bikes/blue capital)                 
89 Chris Sheehan (Sledghammer Charlie)                          
90 Jonathan moss (Manulife)                                     
91 Jason Seaver (Blue Ridge Capital p/b Peachtre)               
92 Ryan DeWald (Rite Aid Pro Cycling)                           
93 Martin Gilbert (Kelly Benefit Strategies/Medifa)             
94 Chad Madan (Pacesetter Steel Service)                        
95 Jonathan Mumford (Kelly Benefit Strategies/Medifa)           
96 Jose Drapeau (United BMW Pro Cycling Team)                   
97 Phil Southerland (Team Type 1 monitored by Freest)           
98 Chris Wherry (Toyota-United Pro Cycling Team)                
99 Andrew Olson (Manulife)                                      
100 Matt Seagrave (Compliance Depot)                            
101 Matt Hansley (Loco's Grill and Pub)                         
102 Matt Crane (Health Net presented by Maxxis)                 
103 Mike Norton (Rite Aid Pro Cycling)                          
104 Andrew Applegate (A&F Pro Development Cycling Tea)          
105 Matt McCarthy (Reality Bikes)                               
106 John Murphy (Health Net presented by Maxxis)                
107 Charles Rossignol (Pacesetter Steel Service)                
108 Dan Moss (Blue Bikes)                                       
109 Tyler Grahovec (Pacesetter Steel Service)                   
110 Josh Whitmore (Ryobi / Carolina Triathlon)                  
111 Omer Ken (Priority Health / Bissell)                        
112 Michael Lanham (Myogenesis.com p/b Landmark Dod)            
113 Anuthee Huffstetter (Compliance Depot)                      
114 Tommy Nankervis (Jittery Joe's)                             
115 Douglas Pomeranz (Tristar / Boo Koo)                        
116 Unknown                                                     
117 Charles Eller (audi/salsarita's)                            
118 Matt Shriver (Jittery Joe's)                                
119 Scott Kuppersmith (Herring Gas Cycling Team)                
120 Daryl Reynolds (Myogenesis.com p/b Landmark Dod)            
121 Shane Martin (Hincapie Bianchi Dasani)                      
122 Jay Wansley (Blue Ridge Capital P/B Peachtre)               
123 Richard Saunders (Blue Ridge Capital p/b Peachtre)          
124 AJ Meyer (Hincapie / DASANI)                                
125 Jason Ward (Capri Foundation)                               
126 Marc Anderson (Loco's Grill and Pub)                        
127 Nathan Rogut (Compliance Depot)                             
128 Matt Lee (Capri Foundation)                                 
129 Rodney Dender (Ryobi / Carolina Triathlon)                  
130 Chris Harkey (Hincapie / DASANI Cycling)                    
131 Scott Hilburn (AXA Cycling)                                 
132 Michael Wolf (Navigators Insurance)                         
133 Charles Coyle (Successful Living Presented By )             
134 Adam Baskin (TREK Team 19)                                  
135 David Duncan (TIME Factory Development Team)                
136 Eric Keim (AEG-TOSHIBA-JetNetwork)                          
137 jeff critser (madison cycles)                               
138 Brady Rogers (Myogenesis.com p/b Landmark Dod)              
139 Brian Bibens (Loco's Grill and Pub)                     0.29
140 Trent Wilson (Jittery Joe's)                                
141 Chris Chotas (Pacesetter Steel Service)                 0.35
142 Creed Sewell (Loco's Grill and Pub)                         
143 Daniel Ramsey (Successful Living Presented By )         0.37
144 Glen Edridge (AXA Cycling)                                  
145 Wes Parrish (Pacesetter Steel Service)                      
146 Tom Zirbel (Priority Health / Bissell)                      
147 Todd Muller (Reality Bikes)                             0.49
148 Stuart Lamp (Memphis Motorwerks)                        0.54
149 Tom Soladay (Kelly Benefit Strategies/Medifa)           2.22
150 Shaun Bonavita (Compliance Depot)                       2.26
 
Elite women (10km)

1 Tina Pic (Colavita/Sutter Home)                          16.08
2 Rebecca Larson (Aaron's Corporate Furnishings P)              
3 Kacey Manderfield (Verducci Breakaway Racing)                 
4 Christina DeKraay (Harris Teeter Naturals)                    
5 Iona Wynter Parks (Colavita Sutter)           
6 Sarah Carravella (Aaron's Corporate Furnishings P)            
7 Leigh Valletti (Targetraining)                                
8 Elizabeth Morse-Hill (H-T Naturals)                           
9 Shannon Hutchison-Krupat (Aaron's Corporate Furnishings P)    
10 Claudia Castano (Union Ciclista/UCL)                         
11 Debbie Milne (ProBike/ First Choice Medical)                 
12 allison carter (team kenda tire)                             
13 Robin Farina (Target Training)                               
14 Sarah Heaton (Cycleworks p/b Lowe's Mortgage)                
15 Lauren Trull (Hincapie / DASANI)                             
16 Kim Sawyer (BMW-Bianchi)                                     
17 Kim Foland (BMW Bianchi)                                     
18 gina voci (team kenda tire)                                  
19 Kirsten Davis (Sorella Cycling/Allegiance Stra)              
20 Katie Reynolds (Cycleworks)                                  
21 Asbury Lee Anne (Aaron's Corporate Furnishings)              
22 Cheryl Fuller (Reality Bikes)                                
23 Molly Freeman (Team Cycleworks pb Lowe's Mortg)              
24 Shannon Kock (Compliance Depot)                          0.14
25 Kitty Wickes (Cycleworks)                                    
26 Ellen Carroll (Team Cycleworks p/b Lowes Mortg)              
27 Kari Bradley (Blue Competition Cycles)                   1.57
28 Sarah Crawford (Sorella Cycling/Allegiance Stra)         2.15
29 Jackie Soladay (Land Rover/BriarRose/FFCC)               2.15
30 Gillis Rowston (Land Rover/BriarRose/FFCC)               2.19
31 Christi-An Hansley (Team Kenda Tire)                     2.49