Tour of Elk Grove - NE
USA, August 12-13, 2006
Clarke and Heal cash-in at Elk Grove
by Mark Zalewski, North American Editor in Elk Grove Village, IL
Clarke's win gives Navigators $50K in 7 days
Hilton Clarke (Navigators Insurance)
Photo ©: Mark Zalewski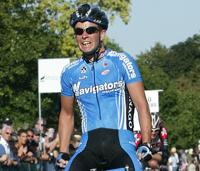 The two richest races of the year happened within a week of each other, and Navigators Insurance took the twenty-five thousand dollar top prize at each -- first in Charlotte last weekend with a win by Sean Milne out of a break, and again in Elk Grove with a win out of a break by Aussie Hilton Clarke just ahead of Christian Vande Velde (Team CSC).
"The team this year is just really exciting," said Clarke. "We have really come together and show that even without a superstar rider we can still win the big races."
Clarke and Vande Velde were two of a four rider break that also included Ivan Stevic (Toyota-United) and Dave McCook (Jelly Belly). Vande Velde was the most motivated to win as he is from a nearby town and had numerous family members out cheering him on. "I was just giving everything I had, giving it my all," said Vande Velde. "I really wanted to win in front of my home crowd. Hilton was really good in the break, and so was Ivan. McCook just sat on, I don't know why."
The group of four had a comfortable lead that was cut in half late in the race by teams such as Colavita-Sutter Home, KodakGallery-Sierra Nevada and Health Net-Maxxis. "I pulled the last eleven laps, but It's hard with only three guys," said Health Net's Tim Johnson. "Teams just would not commit and it was frustrating because I knew could Gord could get it."
Teams were limited to only fiver riders each due to the narrow roads of the 2.2 mile course. "It is definitely a strange course and dangerous in the bunch."
Chris Horner's rules
Photo ©: Mark Zalewski

Along with Vande Velde, two other ProTour Americans made appearances including CSC teammate Dave Zabriskie and Chris Horner (Davitamon-Lotto). Horner was active on the front all day, but mostly in an effort to stay out of the numerous crashes that at one point resulted in every Mavic neutral service bike out on the course. "There is no way I was going to be in back," said Horner. "I never heard any of the crashes and that was fine with me!"
As the laps counted down, so did the gap to the break, and it looked to be just a matter of time. But the peloton just could not close the door, which was surprising to Horner. "Colavita and Kodak really made a mistake in the last prime sprint by not keeping it rolling through. That would have brought the break back, but they just gapped their two guys off the front instead."
With the disorganization behind, Clarke and Vande Velde decided to drop the other two break riders. "With eight to go our lead was half. I talked to Vande Velde and said, 'Let's drill it and have a go!' If nothing else I would stay out to save my sprinters for a few more laps before the field sprint. From eight to six-to-go I just buried myself."
Stevic and McCook hung on for awhile, but eventually Vande Velde rolled a gap off the front that only Clarke could reach.
Dan Schmatz (KodakGallery-Sierra Nevada)
Photo ©: Mark Zalewski

Into the final lap, Vande Velde and Clarke were still rolling through, making sure not to get caught by the field. "It was a little cat-and-mouse, but it's so much money for both first and second and we didn't want to give it away," said Clarke. "Into the last turn we both just kept it rolling to make sure the bunch didn't catch us. I felt I was the faster of the two of us and jumped him at 200 meters."
Bringing in the field was Gord Fraser (Health Net-Maxxis) back up to speed in his last season. "It's been a while since I won a field sprint that wasn't for the win," joked Fraser after the race. "I'm trying to end on a high note, but it's been hard to find the motivation. But third place here really boosts the morale."
With his racing days numbered, Fraser says he is not focusing on wins for himself as he his for his teammates. "I just want to be a contributor to the team -- I don't have a huge desire to go out on a win, especially with the team so capable right now."
But the most capable team of late seems to be Navigators Insurance, with two bug money wins as well as the overall at the Tour de Toona last month and strong performances at the Tour of Utah this week.
Rachel Heal (Victory Brewing)
Photo ©: Mark Zalewski
Heal's 'training' nets a win
Rachel Heal (Victory Brewing) is ramping up her workouts these days to be focused on the world championships for Great Britain. To that end, she decided to take a solo flyer in today's Tour of Elk Grove. After three laps off the front alone, she returned to the field and proceeded to ride on the front for more 'training.' In the final lap, Heal attacked the field again and held her lead all the way to line to pocket the biggest share of the $6,500 purse - making training pay for itself.
"I'm back in a heavy training phase to get ready for worlds," said Heal. "Parts of the course were pretty windy, but I used my SRM to measure my wattage."
Victory Brewing clearly had the upper hand with the largest team representation today, with only Cheerwine and Aaron's Corprate Furnishings sending full squads. Victory Brewing rode their advantage in a textbook fashion, putting a rider into every move and cleaning up on the primes.
Illinois native Meredith Miller
Photo ©: Mark Zalewski

The team also had multiple options to play into the final lap, with sprinters Brenda Lyons who won the Tour de Toona criterium as well as Laura Yoisten. But team director Mike Tamayo wanted to win in convincing fashion, which meant off the front.
Enter Rachel Heal.
"I went in the last turn," said Heal. "I came from about half-way back so I had a lot of speed and when I heard I had seven seconds on the final stretch I felt confident."
Photography
For a thumbnail gallery of these images, click here
Images by Mark Zalewski/Cyclingnews.com
Results

USCF Alexian Brothers Men's International Pro Race (Cat 1)
 
1 Hilton Clarke (Aus) Navigators Insurance            2.08.05
2 Christian Vande Velde (USA) CSC                            
3 Gord Fraser (Can) Health Net Maxxis                        
4 Alex Candelario (USA) Jelly Belly                          
5 Alejanoro Acton (Arg) Targetraining                        
6 Antonio Cruz (USA) Toyota-United Pro                       
7 Chris Horner (USA) Davitamon-Lotto                         
8 Brad Huff (USA) Team TIAA-Cref                             
9 Steve Tilford (USA) Trek/Shimano                           
10 Dan Schmatz (USA) Kodakgallery.com/Sie                    
11 Siro Camponogara (Ita) Navigators Insurance               
12 Tommy Nankervis (USA) Priority Health                     
13 Jonathan Page (USA) Colavita Olive Oil - Sutter Home      
14 Rahsaan Bahati (USA) Team TIAA-Cref                       
15 Alberto Tiberio (Swi) Health Net Maxxis                   
16 Vassili Davidenko (USA) Navigators Insurance              
17 Frank Travieso (Cub) AEG-Toshiba-JetNet                   
18 Emile Abraham (Tri) AEG-Toshiba-JetNet                    
19 Jeff Hopkins (USA) Jittery Joes                           
20 Kayle Leogrande (USA) Kahala La Grange                    
21 Oleg Grishkin (Rus) Navigators Insurance                  
22 Todd Henriksen (USA) VMG Racing                           
23 Rudy Robaina (USA) VMG Racing                             
24 Ivan Stevic (USA) Toyota-United Pro                       
25 Dan Holt (USA) Nerac\Outdoorlights.com                    
26 Adam Myerson (USA) Nerac\Outdoorlights.com                
27 Zach Bell (Can) Rite Aid Pro Cycling                      
28 Paul Martin (USA) Texas Roadhouse                         
29 Martin Gilbert (Can) Kodakgallery.com/Sie                 
30 Reid Mumford (USA) ABD Cycling Team                       
31 Johnson Kenneth (USA) Rockville                           
32 Shawn Milne (USA) Navigators Insurance                    
33 Gustavo Artacho (Arg) Colavita Olive Oil - Sutter Home    
34 Bryan Smith (USA) Team TIAA-Cref                          
35 Bobby Lea (USA) Toyota-United Pro                         
36 Frank Pipp (USA) Targetraining                            
37 Mark Hekman (USA) Abercrombie and Fitch                   
38 Viktor Laza SER Serbian National Team                     
39 Daniel Holloway (USA) PICat                               
40 Jackson Stewart (USA) Kodakgallery.com/Sie                
41 Jeffery Schroetlin (USA) Mesa Cycles Racing               
42 Chad Nikolz (USA) Broad Mark / Hagens                     
43 Rich Harper (USA) Abercrombie and Fitch                   
44 Jaime Gandara (USA) Richardson Bikemart                   
45 David Gutlenplan (USA) Subaru Cycling Team                
46 Stephen Spencer (USA) Mesa Cycles Racing                  
47 Ben Raby (USA) Sram                                       
48 Paul Ellis (USA) Bianchi/Grand                            
49 Frank Dierking (USA) ABD Cycling Team                     
50 Mark Mccormack (USA) Colavita Olive Oil - Sutter Home     
51 Ryan Mckenzie (Can) Volkwagen/Trek                        
52 Jonny Sundt (USA) Priority Health                         
53 Dustin Macburme (Can) Targetraining                       
54 Nebojsa Jovanovic (SCG) AEG-Toshiba-JetNet                
55 Kevin Attkisson (USA) Texas Roadhouse                     
56 Shawn Willard (USA) Wheel and Sprocket                    
57 Michael Kehberg (USA) DogFish Cycling                     
58 Wes Hartman (USA) Targetraining                           
59 Morten Christiansen (Den) Glud & Marstrand                
60 Troy Wells (USA) Team TIAA-Cref                           
61 Robbie King (USA) Priority Health                         
62 Derek Witte (USA) WMCR                                    
63 Proki Predra (Slo) Slovenia                               
64 Jared Facizsewski (USA) VMG Racing                        
65 Hayden Godfrey (NZl) Monex                                
66 Charles Crouse (USA) DogFish Cycling                      
67 Ryan Dewald (USA) Rite Aid Pro Cycling                    
68 Mike Ebert (USA) ABD Cycling Team                         
69 Yosvani Falcon (Cub) AEG-Toshiba-JetNet                   
70 Jacob Nielsen (Den) Glud & Marstrand                      
71 Rob Kelley (USA) Training Bible                           
72 Glenn Fant (USA) Monex                                    
73 David Sachs (USA) Vision Quest                            
74 Todd Yezefski (USA) Nerac\Outdoorlights.com               
75 Tyler Wren (Blr) Colavita Olive Oil - Sutter Home         
76 Andrew Crater (USA) Wheel and Sprocket                    
77 Joshua Carter (USA) Mesa Cycles Racing                    
78 Bill Elliston (USA) Targetraining                         
79 Davide Frattini (Ita) Colavita Olive Oil - Sutter Home    
                    
Hot Sprint Winner
 
1 Brad Huff (USA) Team TIAA Cref                               
 
Pro Women Cat 1/2/3
 
1 Rachel Heal (GBr)                                   1.32.11
2 Mackenzie Dickey (USA) Aaron's Corp.                       
3 Christina Dekraay (USA) TEAM FUJI/ Bolt                    
4 Brenda Lyons (USA)                                         
5 Natalie Klemko (USA) America's Dairyland                   
6 Brooke O'connor (USA) Hub Racing                           
7 Shannon Hutchinson-Krupat (USA) Aaron's Corp Furn          
8 Meredith Miller (USA) TEAm Lipton                          
9 Laura Yoisten (Can)                                        
10 Kacy Mandafield (USA) Wolverine                           
11 Courtenay Brown (USA) McGuire Cycling                     
12 Clara Beard (USA) Cheerwine                               
13 Bri Kovac (USA) Texas Roadhouse                           
14 Mathilde Hupin Debeurme (USA) Sportif Bromont-Pearl       
15 Kelly Benjamin (USA) Cheerwine                            
16 Laura Charameda (USA) McGuire Cycling                     
17 Andrea Meyers (USA) Kenda Tire                            
18 Anne Meyer (USA) Mercy Specialized                        
19 Debbie Dust (USA) Team Kenda Tire                         
20 Sarah Tillotson (USA) Colavita/Cooking                    
21 Sheba Farrin (USA) Hub Racing                             
22 Kate Sherwin (USA)                                        
23 Sherri Stedje (USA) BBC                                   
24 Kristin Sanders (USA) Cheerwine                           
25 June Upshaw (USA) Kenda Tire                              
26 Laura Bowles (USA)                                        
27 Lauren Frangles (USA)                                     
28 Sarah Uhl (USA) Serotta/Home Depot                        
29 Chrissy Ruiter (USA)                                      
30 Catherine Walberg (USA) Team Kenda Tire                   
31 Jessica Cole (USA) C-U Racing                             
32 Sharon Monahan (USA) Best of the Bay Cyclist              
33 Kathryn Clark (USA) TEAM FUJI/ Bolt                       
34 Candice Blickem (USA) Aaron's Corp.                       
35 Catherine Powers (USA) Aaron's Corp.                      
 
Men Cat 3
 
1 Mike Sherer (Pony Shop)                                      
2 Casey Masterson (Velo Trocadero)                             
3 Andrew Daley (Team Clif Bar Midwest)                         
 
Men Cat 2
 
1 Robert White (PCW Cycling)                                   
2 Dave Stone (Delta/Indy Velo)                                 
3 John Meyers (Turin Bicycle)                                  
 
Men Cat 4
 
1 Edward Amstulz (XXX Athletics)                               
2 David Berger (Vision Quest)                                  
3 Ansgar Graw (XXX Racing/Athletico Chicago)                   
 
Junior, 12-14
 
1 Mike James (Nova Iscorp)                                     
2 James Bird (Smart Cycling)                                   
3 Jessica Prinmer (Athletes By Design)                         
 
Junior Men, 15-18
 
1 Adam Kosela (Nova FS Corp)                                   
2 Aloo Bolden (Dekalb)                                         
3 Miwest Novak Matt Clif Bar (South Holland)                   
 
Men Cat 5
 
1 Reed Oliff (LOT POLISH)                                      
2 Jeff Holland (XXX Racing -)                                  
3 Craig Hansen (Alberto's Sport)