Komen Central Georgia Cycle for the Cure - NE
Macon, GA, USA, April 18, 2006
Aaron's Cycling takes top two
By Kirsten Robbins in Macon Georgia
Shannon Hutchinson (Aaron's Cycling Team)
Photo ©: Matthew Moses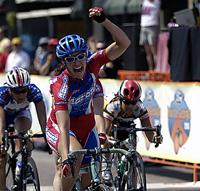 The Aaron's Cycling Team claimed the top two spots in the second year of the Komen Central Georgia Cycle for the Cure, with Shannon Hutchinson taking the win. The race is held in conjunction with the Tour De Georgia and is also closely connected with the Georgia Cancer Coalition. Teams that registered for the pro women's race were attached to a fundraiser on the race website. Fans in the cycling community were able to search for their favorite pro cyclists and donate funds in their name. The funds were then donated to the Georgia Cancer Coalition. Many teams including Team Aaron, Victory Brewing, BBC and Cheerwine took part in the fundraiser for the Cure.
The women's race took place in Macon, Georgia on a shortened circuit to the finish of the men's race arriving two hours later. The women raced a total of 45 minutes plus five laps. "It was a great course with lots of sweeping turns and a very fast pace," said winner Shannon Hutchinson from the Aaron's Cycling Team. "It is also great to be apart of the Tour de Georgia and the organization has put on such a wonderful bike race here."
The criterium was held together until the final lap by Team Aaron's. "There were several attacks but the race stayed together for the finish," said Victory Brewing's Lauren Franges. "On the final lap Katherine Powers from Team Aaron's attacked up the climb and got a gap. I knew we had to close that so I chased with Laura Yoisten on my wheel. Once I made contact we were coming into the final corner and I started the sprint."
The bell lap
Photo ©: Matthew Moses

From the final corner to the finish line was approximately 400 meters. "I came around Lauren Franges after she started her sprint and I had Mackenzie on my wheel," said Hutchinson. "It was a long sprint and a strong headwind. We were able to take first and second place." Laura Yoisten from Victory Brewing was third.
Results
1 Shannon Hutchinson (Aaron's Cycling Team)
2 Mackenzie Dickey (Aaron's Cycling Team)
3 Laura Yoisten (Victory Brewing)