65th Giro dell'Appennino - 1.2
Italy, April 25, 2004
2003 Results Results Past winners
Fourth win for Cunego in six days
Damiano Cunego (Saeco)
Photo ©: Olympia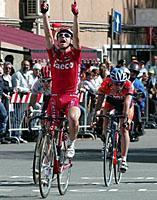 Damiano Cunego (Saeco) has won his fourth race in six days, taking the Giro dell'Appennino one day race after winning two stages and the overall classification at the Giro del Trentino. Cunego beat Giuliano Figueras (Panaria) and Rinaldo Nocentini (Acqua & Sapone) in a four man sprint at the end of the tough 195 km race.
The 22 year old talent led by 35 seconds over the top of the decisive climb of Bocchetta, not far from the finish. On the descent, he was caught by a small group of riders, including his teammates Gilberto Simoni and Andrea Tonti as well as Figueras, Nocentini and Luis Felipe Laverde (Colombia-Selle Italia). Cunego then went with the final breakaway containing Figueras, Nocentini and Laverde, and was able to win the sprint.
"It's a fantastic moment for me," he said. "I've got great form and thanks to the work of the team everything is coming easily. I know it won't always be like that but I'm happy because I'll start the Giro d'Italia with incredible enthusiasm."
A lot is expected from Cunego at the Giro d'Italia and he could perhaps even be joint team leader for the Giro with Gilberto Simoni ­ who showed yet again that he is progressing rapidly ready for the Giro. However Cunego is keeping his feet on the ground. "Simoni is the Saeco team leader for the Giro d'Italia and there's no question about that. My objective is to help Gilberto win the maglia rosa, learn as much as I can and perhaps gets some results myself. That's enough for now."
Photography
Images by Olympia Photo
Images by Fotoreporter Sirotti
Results, 195 km
1 Damiano Cunego (Ita) Saeco                                 5.13.37 (37.307 km/h)
2 Giuliano Figueras (Ita) Ceramiche Panaria - Margres
3 Rinaldo Nocentini (Ita) Acqua & Sapone
4 Luis Felipe Laverde Jimenez (Col) Formaggi Pinzolo Fiavé
5 Gilberto Simoni (Ita) Saeco                                   0.15
6 Juan Miguel Mercado Martin (Spa) Quick Step-Davitamon
7 Luca Mazzanti (Ita) Ceramiche Panaria - Margres
8 Pavel Tonkov (Rus) Vini Caldirola
9 Tomasz Brozyna (Pol) Action-ATI
10 Andrea Tonti (Ita) Saeco
11 Jure Golcer (Slo) Formaggi Pinzolo Fiavé
12 Mikhaylo Khalilov (Ukr) Team ICET                            0.46
13 Igor Pugaci (Mda) De Nardi
14 Tiaan Kannemeyer (RSA) Team Barloworld - Androni Giocattol
15 Giuseppe Di Grande (Ita) Formaggi Pinzolo Fiavé
16 Gerhard Trampusch (Aut) Acqua & Sapone
17 Ryan Cox (RSA) Team Barloworld - Androni Giocattoli
18 Stefano Boggia (Ita) Team ICET
19 Freddy Excelino Gonzalez Martinez (Col) Colombia - Selle Italia
20 Charles Wegelius (GBr) De Nardi                              0.56
21 Jamie Burrow (GBr) Amore & Vita - Beretta                    2.22
22 Emanuele Sella (Ita) Ceramiche Panaria - Margres
23 Mauro Santambrogio (Ita) Team LPR                            4.37
24 Mauro Gerosa (Ita) Vini Caldirola
25 Richard Virenque (Fra) Quick Step-Davitamon
26 Przemyslaw Niemec (Pol) Miche
27 Marek Galinski (Pol) Hoop CCC - Polsat
28 Gianluca Sironi (Ita) Vini Caldirola
29 Roberto Sgambelluri (Ita) Vini Caldirola
30 Alejandro Alberto Borrajo (Arg) Ceramiche Panaria - Margre
31 Giuseppe Palumbo (Ita) Acqua & Sapone
32 Kristjan Fajt (Slo) Tenax
33 Giancarlo Ginestri (Ita) Tenax
34 Pasquale Muto (Ita) Miche
35 Maurizio Carta (Ita) Miche
36 Alessandro Vanotti (Ita) De Nardi
37 Radoslav Rogina (Cro) Tenax
38 Leonardo Giordani (Ita) De Nardi
39 Domenico Passuello (Ita) Amore & Vita - Beretta              8.25
40 Oleg Zhukov (Rus) Team Nippo                                 9.45
41 Aliaksandr Kuchynski (Blr) Amore & Vita - Beretta
42 Piotr Chmielewski (Pol) Action-ATI
43 Frédéric Amorison (Bel) Quick Step-Davitamon
44 Marlon Alirio Perez Arango (Col) Colombia - Selle Italia
45 Philippe Schnyder (Swi) Colombia - Selle Italia
46 Leonardo Scarselli (Ita) Colombia - Selle Italia
47 Darren Lill (RSA) Team Barloworld - Androni Giocattoli      16.00
48 Daniele Balestri (Ita) Team ICET                            18.05
49 Rodney Green (RSA) Team Barloworld - Androni Giocattoli
50 Russel Van Hout (Aus) Colombia - Selle Italia
51 Lukas Fus (Cze) Team Nippo
52 Mikhail Teteriouk (Kaz) Team Nippo
53 Krzysztof Krzywy (Pol) Action-ATI

112 starters

Courtesy of U.S. Pontedecimo Sezione Ciclismo
Past winners
2003 Gilberto Simoni (Ita) Saeco
2002 Giuliano Figueras (Ita) Ceramiche Panaria-Fiordo
2001 Aleksander Shefer (Kaz) Alessio
2000 Mauro Zanetti (Ita) Vini Caldirola
1999 Simone Borgheresi (Ita)
1998 Pavel Tonkov (Rus)
1997 Pavel Tonkov (Rus)
1996 Wladimir Belli (Ita)
1995 Francesco Casagrande (Ita)
1994 Evgeni Berzin (Rus)
1993 Giuseppe Calcaterra (Ita)
1992 Claudio Chiappucci (Ita)
1991 Dirk De Wolf (Bel)
1990 Flavio Giupponi (Ita)
1989 Moreno Argentin (Ita)
1988 Gianni Bugno (Ita)
1987 Gianni Bugno (Ita)
1986 Gianni Bugno (Ita)
1985 Francesco Moser (Ita)
1984 Mario Beccia (Ita)
1983 Marino Lejarreta (Spa)
1982 Giam Baronchelli (Ita)
1981 Giam Baronchelli (Ita)
1980 Giam Baronchelli (Ita)
1979 Giam Baronchelli (Ita)
1978 Giam Baronchelli (Ita)
1977 Giambattista Baronchelli (Ita)
1976 Francesco Moser (Ita)
1975 Fabrizio Fabbri (Ita)
1974 Giovanni Battaglin (Ita)
1973 Italo Zilioli (Ita)
1972 Felice Gimondi (Ita)
1971 Gösta Pettersson (Swe)
1970 Gianni Motta (Ita)
1969 Felice Gimondi (Ita)
1968 Gianni Motta (Ita)
1967 Michele Dancelli (Ita)
1966 Michele Dancelli (Ita)
1965 Michele Dancelli (Ita)
1964 Franco Cribiori (Ita)
1963 Italo Zilioli (Ita)
1962 Franco Balmamion (Ita)
1961 Adriano Zamboni (Ita)
1960 Emile Daems (Bel)
1959 Silvano Ciampi (Ita)
1958 Cleto Maule (Ita)
1957 Aurello Cestari (Ita)
1956 Cleto Maule (Ita)
1955 Fausto Coppi (Ita)
1954 Giorgio Albani (Ita)
1953 Angelo Conterno (Ita)
1952 Giorgio Albani (Ita)
1951 Rinaldi Moresco (Ita)
1950 Renzo Soldani (Ita)
1949 Dino Rossi (Ita)
1948 SettimioSimonini (Ita)
1947 Alfredo Martini (Ita)
1946 Enrico Mollo (Ita)
1939 Lorenzo Mazzarello (Ita)
1938 Luigi Ferrando (Ita)
1937 Cino Cinelli (Ita)
1936 Settimio Simonini (Ita)
1935 Augusto Como (Ita)
1934 Augusto Como (Ita)

Past winners courtesy of Mario Stiehl, www.world-of-cycling.com