Redlands Classic - NE
California, USA, April 1-6, 2003
Main Page Results Next Stage Kim Bruckner diary
Prologue - April 1: Mt Rubidoux ITT, 5km
Jeanson & O'Neill storm to TT wins
By Chris Baldwin
Genevieve Jeanson
Photo: © Rob Karman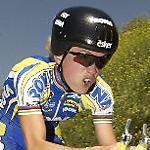 Genevieve Jeanson of Rona-Esker and Saturn's Nathan O'Neill won the prologue time trials at the Redlands Classic today under favorable skies and a light wind.
Jeanson was a full 15 seconds faster than her closest rival, T-Mobile's Kim Bruckner, and was strongest at the hilltop finish by far. Amber Neben of T-Mobile set the early standard on the 5k course in 10:06.
Nathan O'Neill
Photo: © Rob Karman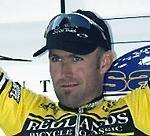 In the men's race it was Saturn 1-2-3, with Chris Horner and Tom Danielson filling up the rest of the podium. Horner caught his 30 second man Jonathan Vaughters of Prime Alliance, and could have finished faster.
"Vaughters caught his 30 second man too," said Horner. "So at about 250 meters from the finish I had to slow down and then accelerate again."
Tomorrow is the Highland Circuit Race and should see the men's field set a fast pace on the relatively flat course. In the women's race it's T-Mobile's international squad in support of Solano Classic winner Kim Bruckner as she squares off against a strong Saturn.
Photography
Images by Rob Karman/www.roadbikephotos.com
Results
Men
  
1 Nathan O'Neill (Aus) Saturn Cycling Team                   8.29
2 Chris Horner (USA) Saturn Cycling Team                     0.02
3 Tom Danielson (USA) Saturn Cycling Team                    0.18
4 Danny Pate (USA) Prime Alliance                            0.32
5 Jonathan Vaughters (USA) Prime Alliance                    0.35
6 Matt Decanio (USA) Prime Alliance                          0.37
7 Trent Klasna (USA) Saturn Cycling Team
8 Steve Larson (USA) Monax                                   0.38
9 Roland Green (Can) Trek-VW All Stars
10 Eric Wohlberg (Can) Saturn Cycling Team                   0.39
11 Jacob Erker (USA) Schroeder Iron Pro Cycling              0.43
12 Russell Stevenson (USA) Health Net Cycling Team           0.44
13 Glen Mitchell (USA) Navigators Cycling                    0.45
14 Oliver Beckinsale (GBr) Great Britain                     0.46
15 Svein Tuft (USA) Prime Alliance                           0.47
16 Chris Sheppard (Can) Canada                               0.48
17 Will Frischkorn (USA) Saturn Cycling Team
18 Michael Creed (USA) Prime Alliance
19 Matt Toulouse (Can) Canada                                0.49
20 Drew Miller (USA) Trek-VW All Stars
21 Chris Fisher (USA) Jelly Belly/Carlsbad Clothing          0.51
22 Phil Zajicek (USA) Saturn Cycling Team                    0.52
23 Greg Henderson (USA) 7Up/Maxxis
24 Andreas Hestler (Can) Canada                              0.54
25 Ben Brooks (Aus) Jelly Belly/Carlsbad Clothing            0.55
26 Matt Usborne (USA) Morati-Honeywell
27 Burke Swindlehurst (USA) Navigators Cycling               0.57
28 Michael Jones (USA) Team West Virginia                    0.58
29 John Lieswyn (USA) 7Up/Maxxis                             0.59
30 Liam Killeen (GBr) Great Britain
31 Adrian Laidler (USA) LeMond Fitness/Cra-Z Soap            1.01
32 Gordon Fraser (USA) Health Net Cycling Team
33 Eugini Seniushkin (USA) Health Net Cycling Team           1.03
34 Michael Sayers (USA) Health Net Cycling Team              1.04
35 Brent Dawson (Aus) Jelly Belly/Carlsbad Clothing
36 Adam Livingston (USA) Schroeder Iron Pro Cycling          1.05
37 Andy Jacques-Maynes (USA) Sierra Nevada/Clif Bar
38 Jason Bausch (USA) Schroeder Iron Pro Cycling             1.06
39 Mariano Frieoicu (USA) Jelly Belly/Carlsbad Clothing      1.07
40 Troy White (USA) Sierra Nevada/Clif Bar
41 Christian Walker (USA) Morati-Honeywell
42 Christophe Sauser (Swi) Great Britain
43 John Peters (USA) Prime Alliance                          1.08
44 Aaron Olsen (USA) Schroeder Iron Pro Cycling              1.10
45 Nic Brown (Aus) LeMond Fitness/Cra-Z Soap                 1.11
46 Dane Jankowiak (USA) Schroeder Iron Pro Cycling           1.12
47 Jonathan Hamblen (USA) Team West Virginia
48 Wes Seigler (USA) Team West Virginia                      1.13
49 Doug Ziewacz (USA) 7Up/Maxxis
50 Peter Knudson (USA) Schroeder Iron Pro Cycling            1.14
51 Jeff Hartmann (USA) Trek-VW All Stars
52 Leigh Palmer (USA) LeMond Fitness/Cra-Z Soap              1.15
53 Jason McCartney (USA) 7Up/Maxxis
54 Frank Mapel (USA) Green Mountain Sports
55 Chris Pic (USA) 7Up/Maxxis                                1.16
56 Walker Ferguson (USA) Trek-VW All Stars
57 Hugh Moran (USA) Morati-Honeywell                         1.17
58 Christopher Mcgovern (USA) Health Net Cycling Team        1.18
59 Kevin Monahan (USA) 7Up/Maxxis
60 Larry Perera (USA) Sportsbook.com                         1.19
61 Chris Mcdonald (USA) Squadra                              1.20
62 Jacob Fetty (USA) Team West Virginia                      1.22
63 Eddy Gragus (USA) Trek-VW All Stars
64 Ryan Guay (USA) Navigators Cycling
65 Miguel Meza (USA) Schroeder Iron Pro Cycling
66 Tim Carolan (USA) Trek-VW All Stars                       1.23
67 David Wenger (USA) Team West Virginia
68 Brice Jones (USA) 7Up/Maxxis                              1.24
69 Chann Mcrae (USA) Schroeder Iron Pro Cycling
70 Peter Mazur (USA) LeMond Fitness/Cra-Z Soap               1.25
71 Alex Candelario (USA) Prime Alliance                      1.26
72 John Hunt (USA) Health Net Cycling Team
73 Carl Decker (USA) Green Mountain Sports
74 Phil Spencer (GBr) Great Britain
75 Benjamin Sharp (USA) Team West Virginia                   1.27
76 Charles Dionne (USA) Saturn Cycling Team                  1.29
77 Derek Wilkerson (USA) Jelly Belly/Carlsbad Clothing
78 Geoffrey Rapoport (USA) MinuteMaid/Dasani/LaGrange
79 Roddi Lega (Can) Canada
80 Justin Spinelli (USA) Navigators Cycling                  1.31
81 Ricky Federau (Can) Canada
82 Nathan Russell (USA) MinuteMaid/Dasani/LaGrange
83 Jon Sundt (USA) Green Mountain Sports
84 Steve Tilford (USA) Green Mountain Sports                 1.32
85 Bill Innes (USA) LeMond Fitness/Cra-Z Soap                1.33
86 Nick Waite (USA) Green Mountain Sports
87 Phil Dixon (GBr) Great Britain                            1.34
88 Daniel Ramsey (USA) Sierra Nevada/Clif Bar                1.35
89 James Van Toever (USA) Morati-Honeywell                   1.36
90 Rusty Beall (USA) Health Net Cycling Team
91 Hovey Carter (USA) Morati-Honeywell                       1.37
92 David Clinger (USA) Prime Alliance                        1.38
93 Joe Chapman (USA) LeMond Fitness/Cra-Z Soap               1.39
94 Jason Klikna (USA) Sierra Nevada/Clif Bar                 1.41
95 Stephen Wooldridge (USA) Squadra                          1.42
96 Louie Amelburu (USA) Cyclery USA Trek VW                  1.43
97 Bill Stolte (USA) Green Mountain Sports
98 Jon Tarkington (USA) Vitamin Cottage/DEAN
99 Ben Jacques-Maynes (USA) Sierra Nevada/Clif Bar           1.44
100 Ken Toman (USA) Monax
101 William Steinbrecher (USA) Jelly Belly/Carlsbad Clothing 1.45
102 Nathaniel Faulkner (USA) Trek-VW All Stars               1.46
103 Blake Caldwell (USA) Vitamin Cottage/DEAN                1.47
104 Marty Nothstein (USA) Navigators Cycling
105 Nathan Rouse (USA) Sportsbook.com                        1.48
106 Phillip Sublette (USA) Squadra
107 Brian Forbes (USA) Jelly Belly/Carlsbad Clothing         1.49
108 Josh Horowitz (USA) MinuteMaid/Dasani/LaGrange           1.50
109 Julian Hine (Can) Canada                                 1.51
110 Victor Ayala (USA) MinuteMaid/Dasani/LaGrange            1.52
111 Matthew Svatek (USA) Sportsbook.com                      1.53
112 Matthew Bromen (USA) MinuteMaid/Dasani/LaGrange          1.54
113 Eneas Freyre (USA) LeMond Fitness/Cra-Z Soap             1.55
114 Ryan Pinkham (USA) Sportsbook.com                        1.56
115 Oscar Pineda (USA) 7Up/Maxxis
116 Karl Bordine (USA) Squadra                               1.59
117 Cody Waite (USA) Squadra
118 Scottie Weiss (USA) Team West Virginia                   2.00
119 Ross Krause (USA) Sportsbook.com                         2.01
120 Nicholas Trusty (USA) Squadra
121 Patrick Caro (USA) Squadra
122 Zak Toogood (GBr) Great Britain                          2.02
123 Charles Coyle (USA) Vitamin Cottage/DEAN                 2.04
124 Chuck Hill (USA) Vitamin Cottage/DEAN
125 Ryan Oelkers (USA) Sportsbook.com
126 Christian Cuesta (USA) Morati-Honeywell                  2.05
127 John Law (USA) Cyclery USA Trek VW                       2.07
128 Conor Hurley (USA) Team West Virginia
129 Tom Gardener (USA) Cyclery USA Trek VW                   2.08
130 Gregg Medinilla (USA) Monax                              2.09
131 Frank Overton (USA) Vitamin Cottage/DEAN
132 Drew Deters (USA) Monax
133 Chris Zukowski (USA) Cyclery USA Trek VW                 2.10
134 Adam Hodges Myerson (USA) Sportsbook.com
135 Andrew Padilla (USA) Cyclery USA Trek VW                 2.11
136 David Salomon (USA) MinuteMaid/Dasani/LaGrange           2.12
137 Todd Littlehales (USA) Sierra Nevada/Clif Bar
138 Adham Sbeih (USA) Sierra Nevada/Clif Bar                 2.13
139 Patrick Fetzer (USA) Monax                               2.18
140 Louie Amelburu (USA) Morati-Honeywell                    2.19
141 Christopher Daggs (USA) Squadra                          2.20
142 Tony Zarsadias (USA) Morati-Honeywell
143 Bartek Fidelus (USA) Cyclery USA Trek VW                 2.22
144 John Rosaasen (USA) Cyclery USA Trek VW                  2.25
145 Michael Herdman (USA) Monax                              2.27
146 Andy Crater (USA) LeMond Fitness/Cra-Z Soap              2.28
147 Adam Baskin (USA) Vitamin Cottage/DEAN                   2.34
148 Shawn Van Gassen (USA) Monax                             2.36
149 Jason Reynolds (USA) Vitamin Cottage/DEAN                2.45
150 Stuart Press (USA) MinuteMaid/Dasani/LaGrange            2.47
151 Jeffrey Galland (USA) Cyclery USA Trek VW                2.50
152 Nieko Biskner (USA) Sierra Nevada/Clif Bar               2.51
153 Roberto Gaggioli (USA) Monax                             2.55
154 Eric Drummer (USA) Vitamin Cottage/DEAN                  3.38
 
Women
 
1 Genevieve Jeanson (Can) Rona-Esker                         9.44
2 Kimberly Bruckner (USA) T-Mobile USA                       0.20
3 Amber Neben (USA) T-Mobile USA                             0.23
4 Manon Jutras (Can) Saturn Cycling
5 Lyne Bessette (Can) Saturn Cycling                         0.31
6 Alison Dunlap (USA) Luna Women's MTB Team                  0.54
7 Kirsten Robbins (Can) Victory Brewing/Amoroso's            1.01
8 Dede Barry (USA) T-Mobile USA
9 Kristin Armstrong (USA) T-Mobile USA                       1.02
10 Susan Haywood (USA)                                       1.03
11 Nicole Demars (Can) Victory Brewing/Amoroso's             1.05
12 Lynn Gaggioli (USA) Velo Bella
13 Sandy Espeseth (Can) Victory Brewing/Amoroso's            1.06
14 Karen Bockel (Ger) Rona-Esker                             1.11
15 Katherin Maher (USA)                                      1.13
16 Andrea Hannos (USA) Rona-Esker
17 Tina Mayolo-Pic (USA) Diet Rite                           1.18
18 Kelli Emmett (USA) Ford Outfitters
19 Melanie Mcquaid (Can) Ford Outfitters                     1.19
20 Mari Holden (USA) T-Mobile USA                            1.20
21 Tania Duff-Miller (NZl) Diet Rite
22 Kori Kelly (USA) Diet Rite
23 Ashley Kimmet (USA) VAN
24 Katerina Hanusova (USA) Luna Women's MTB Team             1.21
25 Trish Sinclair (Can) Canada                               1.22
26 Elizabeth Begosh (USA) Contender Bicycles
27 Kristen Lasasso (USA) Rona-Esker
28 Catherine Marsal (Fra) Rona-Esker                         1.24
29 Chrissy Redden (Can) Canada                               1.27
30 Kim Anderson (USA) T-Mobile USA                           1.28
31 Julia Whiteside (USA) Minute Maid/Dasani/LaGrange         1.30
32 Heather Mastrianni (Can) FFT                              1.31
33 Anne Samplonius (Can) TDS                                 1.32
34 Magalie Lefloch (Fra) Rona-Esker
35 Rhonda Quick (USA) VAN                                    1.33
36 Katheryn Curi (USA) LGBRC                                 1.34
37 Jennifer Stevens (USA) VAN
38 Jessica Phillips (USA) Saturn Cycling
39 Alison Sydor (Can) Canada                                 1.35
40 Jennifer Wilson (USA)                                     1.36
41 Felicia Greer (USA) Velo Bella                            1.37
42 Susy Pryde (NZl) Velo Bella
43 Christine White (USA) FFT
44 Laura Vangilder (USA) Saturn Cycling                      1.39
45 Barbara Blatter SWI Contender Bicycles                    1.42
46 Martha Meyer (USA)
47 Gina Hall (USA) Luna Women's MTB Team                     1.43
48 Julie Emmerman (USA) Ford Outfitters                      1.44
49 Joan Wilson (USA) TDS                                     1.47
50 Shonny Vanlandingham (USA) Luna Women's MTB Team
51 Meredith Miller (USA)
52 Lisa Magness (USA) ICO Intermountain Cycling
53 Sarah Konrad (USA)                                        1.50
54 Kiara Bisaro (Can) Canada                                 1.51
55 Karen Dodge (USA) Contender Bicycles                      1.53
56 Helen Kelly (Aus) TDS                                     1.54
57 Catherin Bearce (USA)                                     1.55
58 Jane Despas (USA)
59 Maren Partridge (USA)                                     1.56
60 Catherin Walberg (USA)
61 Rook Campbell (USA)
62 Kele Hulser (USA) Team Bike Doctor/Cannondale
63 Vanessa Guyton (NZl) Velo Bella
64 Becky Broeder (USA) ICO Intermountain Cycling             1.57
65 Hiroko Shimada (USA)                                      1.59
66 Katy St. Laurent (Can) Canada                             2.00
67 Nicole Freedman (USA)                                     2.03
68 Jennifer Scott (USA) Team Bike Doctor/Cannondale
69 Renee Eastman (USA)                                       2.04
70 Lauren Frances (USA) Victory Brewing/Amoroso's
71 Katie Mactier (Aus) Saturn Cycling
72 Erin Carter (Can) Canada                                  2.05
73 Eryn Hanna (USA) LGBRC
74 Gabriela Gonzales De Ferrat (Mex) Velo Bella              2.07
75 Erika Schwarz (USA) VAN                                   2.08
76 Alison Littlefield (USA) Contender Bicycles
77 Laura Weislo (USA) Team Bike Doctor/Cannondale            2.09
78 Maatje Benassi (NZl) ICO Intermountain Cycling
79 Gina Grain (Can) Victory Brewing/Amoroso's                2.11
80 Catherine Powers (USA)
81 Melissa Sanborn (USA) ICO Intermountain Cycling
82 Rachel Massey (USA) Ford Outfitters                       2.14
83 Amanda Lawrence (USA)                                     2.16
84 Shawn Heidgen (USA) TDS                                   2.18
85 Betsy Bloom (USA) VAN                                     2.19
86 Jody Koch (USA) Ford Outfitters
87 Nicole Brandt (USA) Minute Maid/Dasani/LaGrange           2.23
88 Taitt Sato (USA) LGBRC                                    2.24
89 Natalie Scott-Garrison (USA) Team Bike Doctor/Cannondale  2.27
90 Mary Kneeland (USA) ICO Intermountain Cycling             2.31
91 Carla Koehler (USA) Minute Maid/Dasani/LaGrange
92 Sophie St-Jacques (Can) Victory Brewing/Amoroso's         2.32
93 Lisa Matlock (USA) Ford Outfitters                        2.37
94 Julia Bradley (Can) FFT                                   2.40
95 Ina Teutenberg (Ger) Saturn Cycling                       2.46
96 Cindy Mcfarland (USA)                                     2.52
97 Katie Safford (USA) Minute Maid/Dasani/LaGrange           2.56
98 Jo Jo Kiesanowski (NZl) Diet Rite                         2.57
99 Desira Utzig (USA) Minute Maid/Dasani/LaGrange            3.00
100 Kirsten Kotval (USA) Contender Bicycles                  3.02
101 Laura Downey (USA) Minute Maid/Dasani/LaGrange           3.05
102 Elizabeth Morse (USA) FFT                                3.09
103 Rachel Cieslewicz (USA) Contender Bicycles               3.54