25th Tour de l'Aude - 2.2 WE
France, May 15-24, 2009
Main Page Results Overall standings Stage Details Next Stage
Prologue - May 15: Gruissan – Gruissan (ITT), 3.9km
Villumsen snatches opening prologue
Linda Villumsen (Team Columbia-Highroad Women)
Photo ©: CJ Farquharson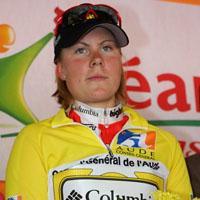 Linda Villumsen took a close win for Columbia-Highroad in the 3.9-kilometre prologue of Tour de L'Aude on Friday. On a day where strong winds made racing difficult, Villumsen finished just fractions of a second ahead of Regina Bruins (Cervelo Test Team) of Holland. The third last rider to start, Villumsen did not have a long wait before she knew she was both the stage winner and the first leader of the race.
"I only knew I'd gotten the best time when I saw a couple of race officials chasing after me when I'd crossed the finish line," Villumsen said. "I was quite surprised they told me I was the fastest, because I'd wanted to do well, but I've only ever won one prologue before. Normally I always seemed to finish somewhere in the top five without ever winning, so I told the race officials to check their times again. But when they insisted, I had to believe them!"
Regina Bruins (Cervelo Test Team) was just half a second
Photo ©: CJ Farquharson

The reigning Danish national time trial champion Villumsen said that although flat, the 3.9-kilometre course that opened up the 10-day race was never straightforward. "The course was very short and partly held on city roads and partly out in the countryside," she said. "The strong winds made it very technical. The first part was a headwind, then it turned into a tailwind. It was tricky. Fortunately we'd gone over the course a couple of times in the morning so we knew what to expect. Then when each of my teammates came in from the course they were very upbeat about all our chances. We supported each other a lot. In any case, on a course as short as that, you go out and give it everything. No real tactics are possible."
Bruins' Cervelo Test Team was happy with its riders' efforts in the opening time trial. Kristin Armstrong claimed fourth place over the 3.9 kilometre course, putting her in a strong position.
"I feel pretty well today," said Bruins, "[Sport director] Manel Lacambra told me during the race that I was 10 seconds faster than the fastest time at that moment and in the next corner I lost some important time. I will see how the next day works out. We have an incredibly strong team here and I will work for the strongest of us."
The victory was Villumsen's second win of the season and the German rider will not try to defend her leader's jersey. "I'll obviously try and defend the jersey for as long as possible, and it's good because Columbia-Highroad has more options for the general classification than just me," she said. "To start with, Ina [Teutenberg] finished fifth in the prologue. But really we'll have to wait and see until after the team time trial on Sunday. Then we'll have a much better idea of what we can do overall. This is a very tough race and it's only just begun."
Photography
For a thumbnail gallery of these images, click here
Images by CJ Farquharson/WomensCycling.net
Results
1 Linda Villumsen (Ger) Team Columbia Highroad Women                    4.52 (48.082 km/h)
2 Regina Bruins (Ned) Cervelo Test Team                                 0.01
3 Noëmie Cantele (Ita) Bigla Cycling Team                               0.01
4 Kristin Armstrong (USA) Cervelo Test Team                             0.03
5 Ina Teutenberg (Ger) Team Columbia Highroad Women                     0.03
6 Amber Neben (USA) Equipe Nurnberger Versicherung                      0.04
7 Marianne Vos (Ned) DSB Bank                                           0.05
8 Mirjam Melchers Van Poppel (Ned) Team Flexpoint                       0.07
9 Emma Johansson (Swe) Red Sun Cycling Team                             0.07
10 Trine Schmidt (Den) Team Flexpoint                                   0.08
11 Loes Gunnewijk (Ned) Team Flexpoint                                  0.10
12 Trixi Worrack (Ger) Equipe Nurnberger Versicherung                   0.12
13 Katherine Bates (Aus) Team Columbia Highroad Women                   0.12
14 Tatiana Antoshina (Rus) Gauss Rdz Ormu-Colnago                       0.12
15 Charlotte Becker (Ger) Equipe Nurnberger Versicherung                0.13
16 Claudia Hausler (Ger) Cervelo Test Team                              0.13
17 Modesta Vzesniauskaite (Ltu) Bigla Cycling Team                      0.13
18 Susanne Ljungskog (Swe) Team Flexpoint                               0.13
19 Emma Pooley (GBr) Cervelo Test Team                                  0.13
20 Madeleine Sandig (Ger) Equipe Nurnberger Versicherung                0.14
21 Liesbeth De Vocht (Bel) DSB Bank                                     0.14
22 Anne Blyth (GBr) Grande Bretagne                                     0.15
23 Chantal Beltman (Ned) Team Columbia Highroad Women                   0.15
24 Iris Slappendel (Ned) Team Flexpoint                                 0.15
25 Nicole Cooke (GBr) Vision 1 Racing                                   0.17
26 Nikki Harris (GBr) Grande Bretagne                                   0.17
27 Julia Martisova (Rus) Gauss Rdz Ormu-Colnago                         0.18
28 Denise Zuckermandel (Ger) Allemagne                                  0.18
29 Svetlana Bubnenkova (Rus) Fenixs                                     0.18
30 Vicki Whitelaw (Aus) Vision 1 Racing                                 0.19
31 Chantal Blaak (Ned) Pays Bas                                         0.20
32 Julie Beveridge (Can) Canada                                         0.21
33 Elisabeth Armitstead (GBr) Lotto-Belisol Ladiesteam                  0.22
34 Emilia Fahlin (Swe) Team Columbia Highroad Women                     0.22
35 Kaytee Boyd (NZl) Selle Italia Guezzi                                0.22
36 Pascale Jeuland (Fra) Vienne Futuroscope                             0.23
37 Eva Lutz (Ger) Equipe Nurnberger Versicherung                        0.23
38 Oxana Kozonchuk (Rus) Selle Italia Guezzi                            0.24
39 Silvia Valsecchi (Ita) Selle Italia Guezzi                           0.24
40 Sanne Van Paassen (Ned) Pays Bas                                     0.24
41 Heather Logan (Can) Canada                                           0.25
42 Natalia Boyarskaya (Rus) Fenixs                                      0.25
43 Lina-Kristin Schink (Ger) Allemagne                                  0.26
44 Katie Colclough (GBr) Grande Bretagne                                0.26
45 Monica Holler (Swe) Bigla Cycling Team                               0.26
46 Angela Hennig (Ger) DSB Bank                                         0.26
47 Paulina Brzezna (Pol) Red Sun Cycling Team                           0.27
48 Jennifer Fischer (Fra) Vienne Futuroscope                            0.28
49 Tania Belvederesi (Ita) Gauss Rdz Ormu-Colnago                       0.28
50 Patricia Schwager (Ned) Cervelo Test Team                            0.28
51 Audrey Lemieux (Can) Esgl93-Gsd Gestion                              0.29
52 Alexandra Greenfield (GBr) Grande Bretagne                           0.29
53 Saskia Elemans (Ned) Team Flexpoint                                  0.29
54 Lucy Martin (GBr) Grande Bretagne                                    0.29
55 Christel Ferrier-Bruneau (Fra) Vision 1 Racing                       0.29
56 Tina Liebig (Ger) DSB Bank                                           0.30
57 Luise Keller (Ger) Team Columbia Highroad Women                      0.30
58 Joelle Numainville (Can) Esgl93-Gsd Gestion                          0.30
59 Leda Cox (GBr) Esgl93-Gsd Gestion                                    0.31
60 Lucinda Brand (Ned) Pays Bas                                         0.31
61 Noortje Tabak (Ned) DSB Bank                                         0.32
62 Moriah Mac Gregor (Can) Canada                                       0.33
63 Bettina Kuhn (Swi) Bigla Cycling Team                                0.33
64 Helen Wyman (GBr) Vision 1 Racing                                    0.34
65 Audrey Cordon (Fra) Vienne Futuroscope                               0.34
66 Martine Bras (Ned) Selle Italia Guezzi                               0.34
67 Veronica Andreasson (Swe) Bigla Cycling Team                         0.35
68 Mascha Pijnenborg (Ned) Red Sun Cycling Team                         0.35
69 Laure Werner (Bel) Red Sun Cycling Team                              0.36
70 Janine Bubner (Ger) Allemagne                                        0.36
71 Grace Verbeke (Bel) Lotto-Belisol Ladiesteam                         0.36
72 Marlijn Binnendijk (Ned) Pays Bas                                    0.36
73 Catherine Hare Willianson (GBr) Fenixs                               0.36
74 Virginia Hennig (Ger) Allemagne                                      0.36
75 Fiona Dutriaux (Fra) Vienne Futuroscope                              0.36
76 Jenny Trew (Can) Canada                                              0.37
77 Marieke Van Wanroij (Ned) DSB Bank                                   0.37
78 Valentina Bastianelli (Ita) Gauss Rdz Ormu-Colnago                   0.38
79 Sarah Stewart (Can) Canada                                           0.38
80 Jana Schemmer (Ger) Allemagne                                        0.40
81 Jennifer Hohl (Swi) Bigla Cycling Team                               0.40
82 Ludivine Henrion (Bel) Red Sun Cycling Team                          0.41
83 Lieselot Decroix (Bel) Cervelo Test Team                             0.41
84 Thomas Béatrice (Fra) Esgl93-Gsd Gestion                             0.42
85 Karin Aune (Swe) Fenixs                                              0.43
86 Catherine Delfosse (Bel) Lotto-Belisol Ladiesteam                    0.43
87 Nadezda Vlasova (Rus) Fenixs                                         0.44
88 Emmanuelle Merlot (Fra) Vienne Futuroscope                           0.44
89 Marina Romoli (Ita) Selle Italia Guezzi                              0.44
90 Martina Corazza (Ita) Gauss Rdz Ormu-Colnago                         0.44
91 Suzanne Van Veen (Ned) Pays Bas                                      0.44
92 Lesueur Mélodie (Fra) Esgl93-Gsd Gestion                             0.45
93 Gabriella Day (GBr) Vision 1 Racing                                  0.46
94 Elise Depoorter (Bel) Lotto-Belisol Ladiesteam                       0.47
95 Petra Dijkman (Ned) Red Sun Cycling Team                             0.48
96 Veronica Alessio (Ita) Gauss Rdz Ormu-Colnago                        0.48
97 Debby Van Den Berg (Ned) Vision 1 Racing                             0.49
98 Irene Van Den Broek (Ned) Pays Bas                                   0.49
99 Bianca Puratch-Knoepfle (Ger) Equipe Nurnberger Versicherung         0.50
100 Carrie Cartmill (Can) Canada                                        0.51
101 Nathalie Jeuland (Fra) Vienne Futuroscope                           0.52
102 Jennifer Letue (Fra) Esgl93-Gsd Gestion                             0.55
103 Kim Schoonbaert (Bel) Lotto-Belisol Ladiesteam                      0.57
104 Sigrid Corneo (Slo) Selle Italia Guezzi                             0.59
105 Emma Silversides (GBr) Lotto-Belisol Ladiesteam                     1.10
106 Elena Eggl (Ger) Allemagne                                          1.11
 
General Classification after Prologue
 
1 Linda Villumsen (Ger) Team Columbia Highroad Women                    4.52
2 Regina Bruins (Ned) Cervelo Test Team                                     
3 Noëmie Cantele (Ita) Bigla Cycling Team                               0.01
4 Kristin Armstrong (USA) Cervelo Test Team                             0.03
5 Ina Teutenberg (Ger) Team Columbia Highroad Women                         
6 Amber Neben (USA) Equipe Nurnberger Versicherung                          
7 Marianne Vos (Ned) DSB Bank                                           0.04
8 Mirjam Melchers Van Poppel (Ned) Team Flexpoint                       0.07
9 Emma Johansson (Swe) Red Sun Cycling Team                                 
10 Trine Schmidt (Den) Team Flexpoint                                   0.08
11 Loes Gunnewijk (Ned) Team Flexpoint                                  0.09
12 Trixi Worrack (Ger) Equipe Nurnberger Versicherung                   0.11
13 Katherine Bates (Aus) Team Columbia Highroad Women                       
14 Tatiana Antoshina (Rus) Gauss Rdz Ormu-Colnago                       0.12
15 Charlotte Becker (Ger) Equipe Nurnberger Versicherung                    
16 Claudia Hausler (Ger) Cervelo Test Team                              0.13
17 Modesta Vzesniauskaite (Ltu) Bigla Cycling Team                          
18 Susanne Ljungskog (Swe) Team Flexpoint                                   
19 Emma Pooley (GBr) Cervelo Test Team                                      
20 Madeleine Sandig (Ger) Equipe Nurnberger Versicherung                0.14
21 Liesbeth De Vocht (Bel) DSB Bank                                         
22 Anne Blyth (GBr) Grande Bretagne                                     0.15
23 Chantal Beltman (Ned) Team Columbia Highroad Women                       
24 Iris Slappendel (Ned) Team Flexpoint                                     
25 Nicole Cooke (GBr) Vision 1 Racing                                   0.16
26 Nikki Harris (GBr) Grande Bretagne                                   0.17
27 Julia Martisova (Rus) Gauss Rdz Ormu-Colnago                             
28 Denise Zuckermandel (Ger) Allemagne                                  0.18
29 Svetlana Bubnenkova (Rus) Fenixs                                         
30 Vicki Whitelaw (Aus) Vision 1 Racing                                 0.19
31 Chantal Blaak (Ned) Pays Bas                                         0.20
32 Julie Beveridge (Can) Canada                                         0.21
33 Elisabeth Armitstead (GBr) Lotto-Belisol Ladiesteam                      
34 Emilia Fahlin (Swe) Team Columbia Highroad Women                     0.22
35 Kaytee Boyd (NZl) Selle Italia Guezzi                                    
36 Pascale Jeuland (Fra) Vienne Futuroscope                             0.23
37 Eva Lutz (Ger) Equipe Nurnberger Versicherung                            
38 Oxana Kozonchuk (Rus) Selle Italia Guezzi                                
39 Silvia Valsecchi (Ita) Selle Italia Guezzi                           0.24
40 Sanne Van Paassen (Ned) Pays Bas                                         
41 Heather Logan (Can) Canada                                           0.25
42 Natalia Boyarskaya (Rus) Fenixs                                          
43 Lina-Kristin Schink (Ger) Allemagne                                  0.26
44 Katie Colclough (GBr) Grande Bretagne                                    
45 Monica Holler (Swe) Bigla Cycling Team                                   
46 Angela Hennig (Ger) DSB Bank                                             
47 Paulina Brzezna (Pol) Red Sun Cycling Team                           0.27
48 Jennifer Fischer (Fra) Vienne Futuroscope                            0.28
49 Tania Belvederesi (Ita) Gauss Rdz Ormu-Colnago                           
50 Patricia Schwager (Ned) Cervelo Test Team                                
51 Audrey Lemieux (Can) Esgl93-Gsd Gestion                                  
52 Alexandra Greenfield (GBr) Grande Bretagne                               
53 Saskia Elemans (Ned) Team Flexpoint                                      
54 Lucy Martin (GBr) Grande Bretagne                                    0.29
55 Christel Ferrier-Bruneau (Fra) Vision 1 Racing                           
56 Tina Liebig (Ger) DSB Bank                                               
57 Luise Keller (Ger) Team Columbia Highroad Women                      0.30
58 Joelle Numainville (Can) Esgl93-Gsd Gestion                              
59 Leda Cox (GBr) Esgl93-Gsd Gestion                                    0.31
60 Lucinda Brand (Ned) Pays Bas                                             
61 Noortje Tabak (Ned) DSB Bank                                         0.32
62 Moriah Mac Gregor (Can) Canada                                           
63 Bettina Kuhn (Swi) Bigla Cycling Team                                0.33
64 Helen Wyman (GBr) Vision 1 Racing                                        
65 Audrey Cordon (Fra) Vienne Futuroscope                               0.34
66 Martine Bras (Ned) Selle Italia Guezzi                                   
67 Veronica Andreasson (Swe) Bigla Cycling Team                             
68 Mascha Pijnenborg (Ned) Red Sun Cycling Team                         0.35
69 Laure Werner (Bel) Red Sun Cycling Team                                  
70 Janine Bubner (Ger) Allemagne                                            
71 Grace Verbeke (Bel) Lotto-Belisol Ladiesteam                             
72 Marlijn Binnendijk (Ned) Pays Bas                                    0.36
73 Catherine Hare Willianson (GBr) Fenixs                                   
74 Virginia Hennig (Ger) Allemagne                                          
75 Fiona Dutriaux (Fra) Vienne Futuroscope                                  
76 Jenny Trew (Can) Canada                                                  
77 Marieke Van Wanroij (Ned) DSB Bank                                   0.37
78 Valentina Bastianelli (Ita) Gauss Rdz Ormu-Colnago                   0.38
79 Sarah Stewart (Can) Canada                                               
80 Jana Schemmer (Ger) Allemagne                                        0.40
81 Jennifer Hohl (Swi) Bigla Cycling Team                                   
82 Ludivine Henrion (Bel) Red Sun Cycling Team                          0.41
83 Lieselot Decroix (Bel) Cervelo Test Team                                 
84 Thomas Béatrice (Fra) Esgl93-Gsd Gestion                                 
85 Karin Aune (Swe) Fenixs                                              0.42
86 Catherine Delfosse (Bel) Lotto-Belisol Ladiesteam                    0.43
87 Nadezda Vlasova (Rus) Fenixs                                         0.44
88 Emmanuelle Merlot (Fra) Vienne Futuroscope                               
89 Marina Romoli (Ita) Selle Italia Guezzi                                  
90 Martina Corazza (Ita) Gauss Rdz Ormu-Colnago                             
91 Suzanne Van Veen (Ned) Pays Bas                                          
92 Lesueur Mélodie (Fra) Esgl93-Gsd Gestion                             0.45
93 Gabriella Day (GBr) Vision 1 Racing                                      
94 Elise Depoorter (Bel) Lotto-Belisol Ladiesteam                       0.46
95 Petra Dijkman (Ned) Red Sun Cycling Team                             0.47
96 Veronica Alessio (Ita) Gauss Rdz Ormu-Colnago                        0.48
97 Debby Van Den Berg (Ned) Vision 1 Racing                             0.49
98 Irene Van Den Broek (Ned) Pays Bas                                       
99 Bianca Puratch-Knoepfle (Ger) Equipe Nurnberger Versicherung         0.50
100 Carrie Cartmill (Can) Canada                                            
101 Nathalie Jeuland (Fra) Vienne Futuroscope                           0.52
102 Jennifer Letue (Fra) Esgl93-Gsd Gestion                             0.55
103 Kim Schoonbaert (Bel) Lotto-Belisol Ladiesteam                      0.57
104 Sigrid Corneo (Slo) Selle Italia Guezzi                             0.58
105 Emma Silversides (GBr) Lotto-Belisol Ladiesteam                     1.10
106 Elena Eggl (Ger) Allemagne                                              
 
Points classification
 
1 Linda Villumsen (Ger) Team Columbia Highroad Women                      30 pts
2 Regina Bruins (Ned) Cervelo Test Team                                   24
3 Noëmie Cantele (Ita) Bigla Cycling Team                                 20
4 Kristin Armstrong (USA) Cervelo Test Team                               17
5 Ina Teutenberg (Ger) Team Columbia Highroad Women                       14
6 Amber Neben (USA) Equipe Nurnberger Versicherung                        11
7 Marianne Vos (Ned) DSB Bank                                              9
8 Mirjam Melchers Van Poppel (Ned) Team Flexpoint                          8
9 Emma Johansson (Swe) Red Sun Cycling Team                                7
10 Trine Schmidt (Den) Team Flexpoint                                      6
11 Loes Gunnewijk (Ned) Team Flexpoint                                     5
12 Trixi Worrack (Ger) Equipe Nurnberger Versicherung                      4
13 Katherine Bates (Aus) Team Columbia Highroad Women                      3
14 Tatiana Antoshina (Rus) Gauss Rdz Ormu-Colnago                          2
15 Charlotte Becker (Ger) Equipe Nurnberger Versicherung                   1
 
Young rider classification
 
1 Marianne Vos (Ned) DSB Bank                                           4.56
2 Trine Schmidt (Den) Team Flexpoint                                    0.04
3 Anne Blyth (GBr) Grande Bretagne                                      0.11
4 Denise Zuckermandel (Ger) Allemagne                                   0.14
5 Chantal Blaak (Ned) Pays Bas                                          0.16
6 Julie Beveridge (Can) Canada                                          0.17
7 Elisabeth Armitstead (GBr) Lotto-Belisol Ladiesteam                       
8 Emilia Fahlin (Swe) Team Columbia Highroad Women                      0.18
9 Pascale Jeuland (Fra) Vienne Futuroscope                              0.19
10 Oxana Kozonchuk (Rus) Selle Italia Guezzi                                
11 Sanne Van Paassen (Ned) Pays Bas                                     0.20
12 Katie Colclough (GBr) Grande Bretagne                                0.22
13 Jennifer Fischer (Fra) Vienne Futuroscope                            0.24
14 Alexandra Greenfield (GBr) Grande Bretagne                               
15 Lucy Martin (GBr) Grande Bretagne                                    0.25
16 Joelle Numainville (Can) Esgl93-Gsd Gestion                          0.26
17 Lucinda Brand (Ned) Pays Bas                                         0.27
18 Noortje Tabak (Ned) DSB Bank                                         0.28
19 Audrey Cordon (Fra) Vienne Futuroscope                               0.30
20 Janine Bubner (Ger) Allemagne                                        0.31
21 Virginia Hennig (Ger) Allemagne                                      0.32
22 Fiona Dutriaux (Fra) Vienne Futuroscope                                  
23 Valentina Bastianelli (Ita) Gauss Rdz Ormu-Colnago                   0.34
24 Jana Schemmer (Ger) Allemagne                                        0.36
25 Lieselot Decroix (Bel) Cervelo Test Team                             0.37
26 Marina Romoli (Ita) Selle Italia Guezzi                              0.40
27 Suzanne Van Veen (Ned) Pays Bas                                          
28 Lesueur Mélodie (Fra) Esgl93-Gsd Gestion                             0.41
29 Elise Depoorter (Bel) Lotto-Belisol Ladiesteam                       0.42
30 Veronica Alessio (Ita) Gauss Rdz Ormu-Colnago                        0.44
31 Jennifer Letue (Fra) Esgl93-Gsd Gestion                              0.51
32 Elena Eggl (Ger) Allemagne                                           1.06
 
Teams classification
 
1 Team Columbia Highroad Women                                         14.50
2 Cervelo Test Team                                                     0.02
3 Team Flexpoint                                                        0.10
4 Equipe Nurnberger Versicherung                                        0.12
5 Bigla Cycling Team                                                    0.26
6 DSB Bank                                                              0.30
7 Gauss Rdz Ormu-Colnago                                                0.43
8 Grande Bretagne                                                       0.44
9 Vision 1 Racing                                                       0.50
10 Selle Italia Guezzi                                                  0.55
11 Red Sun Cycling Team                                                     
12 Pays Bas                                                             1.01
13 Canada                                                               1.04
14 Allemagne                                                            1.05
15 Fenixs                                                                   
16 Vienne Futuroscope                                                   1.11
17 Esgl93-Gsd Gestion                                                   1.15
18 Lotto-Belisol Ladiesteam                                             1.25