TD Bank Philadelphia International Championship - 1.HC/1.1
USA, June 7, 2009
Manayunk Madness is back!
By Kirsten Robbins
The men make their way up the wall
Photo ©: Jon Devich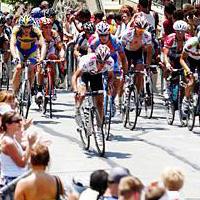 The 25th annual Philadelphia International Cycling Championship and the 14th annual Liberty Classic are thriving and ready to go after a near fall into the world-wide economic crisis. On Sunday, June 7th, many of the world's most renowned cyclist will line up to celebrate the silver anniversary of an event haled as the most important one-day race in America.
Crowds from all over the nation will gather along the well-known streets of the championship course to catch a glimpse of the professional cyclists in action.
Beginning on the Benjamin Franklin Parkway, the professional men will begin with three parade laps around Logan's Circle before shooting off onto a 23-kilometre circuit that heads North on Kelly Drive toward the famed Manayunk district. Both fields on course at the same time, crossing each other in opposite directions along Kelly Drive as the races progress. Fans perch by the masses atop Manayunk Street, a steep 800-metre hill known primarily as "The Wall".
The party starts well before the race does and ends long after the race is over with community festivities, barbecue, a beer-in-hand and the cyclists entertain their audience with their struggle over the climb. Ten times for the men and four times for the women.
The peloton descends off of Manayunk Street and back onto Kelly Drive to make their way back over climbs Strawberry Mansion and Lemon Hill before rounding back onto the Benjamin Franklin Parkway.
The women will complete four circuits totaling 91 kilometres. After the men complete the tenth large circuit their race of attrition kicks in with three short five-kilometre laps around Lemon Hill and Logan's Circle before the finish, totaling 250 kilometres.
The who's who of Philadelphia 2009
Chantal Beltman wins the 2008 version
Photo ©: Jon Devich

Formerly a US Pro Championship event, the events continues to attract world-class talent. Twenty-five teams are scheduled to participate in the Philadelphia International Cycling Championships, sponsored by TD Bank. This includes three ProTour teams, two Professional Continental teams, fourteen domestic Continental teams and four National teams totaling more than 200 cyclists.
The American-based team Columbia-Highroad will lined up arguably the strongest team of sprinters that include Bernard Eisel, André Greipel and Greg Henderson. Italian squad Liquigas will showcase Brian Vanborg, Francesco Chichi and Manuel Quinziato. The newest addition to the ProTour ranks is the Fuji-Servetto team with title sponsor headquarters located in the heart of Philadelphia. The team will start two of the most decorated sprinters that stemmed from US competition, Ivan Dominguez and Hilton Clarke.
Professional Continental teams include BMC Racing who bring with them Martin Kohler and Tony Cruz. The BMC team was granted UCI wild card status during the early season which has allowed them to compete in esteemed events as the Paris-Roubaix. Elk House has also brought a strong squad with Björn Thurau, Daniel Schorn and Herald Starzengruber.
Continental teams and riders that will by vying for victory in Philadelphia include Bissell Pro with Kirk O'Bee, who placed second in the previous year's event. Colavita-Sutter Home's Sebastian Haedo, OUCH-Maxxis' Karl Menzies and Rory Sutherland, Amore & Vita's Richard England, Fly V Australia's Ben Day and Jonathan Cantwell, Jelly Belly's Brad Huff, Kelly Benefit Strategies' Andrew Bajadali and Alex Candelario, Team Type 1's Darren Lill and Ken Hanson, Rock Racing's Rashaan Bahati and Fred Rodriguez, Team Mountain Khaki's Mark Hekman. Other notable teams include Kenda Pro, DLP Racing, Land Rover-Orbea and Planet Energy.
National Teams participating include squads from the US, Denmark, Nigeria and Sweden.
The women's race marks the return of former Liberty Classic champions from Equipe Nurnberger-Versicherung Regina Schleicher with strong support of her teammate Amber Neben. Columbia-Highroad's Ina-Yoko Teutenberg and Judith Arndt will be working toward another victory.
Other riders and teams to look out for are TIBCO's US national road and criterium champion, Brooke Miller, Colavita-Sutter Home's Tina Pic, Jazz Apple's Ruth Croset, Jittery Joe's Laura van Gilder, Proman Shelley Olds, Team Type 1's Jen MCRae, Altarum's Kristy Scheffenacker, Webcor-Builder's Gina Grain, BMW-Bianchi's Erica Allar, Value Act Capital Kristin McGrath, Lip Smacker's Carla Swart, Salamander's Laura McCaughey, Verducci-Breakaway's Theresa Cliff-Ryan and Vanderkitten's Melissa Sanborn.
Upon the conclusion of the races, organisers of will award the winners of the Philadelphia International Championships and the Liberty Classic along with the best young riders, King and Queen of "The Wall" and best overall team classification.