Jayco Bay Cycling Classic - NE
Geelong, Australia, January 2-6, 2009
Main Page Results Overall standings Previous Stage Next Stage
Stage 4 - January 5: Portarlington - Elite women, 45min
Broun consolidates lead on toughest stage
By Malcolm Sawford in Portarlington
Broun takes the drag race to the line
Photo ©: CJ Farquharson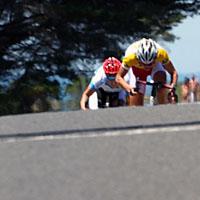 The toughest day of racing at the 2009 Jayco Bay Cycling Classic saw the women's fields decimated by aggressive riding on the hilly circuit. Overnight women's leader Kirsty Broun (MB Cycles) took her second impressive win of the series, giving her a virtual stranglehold on the overall title.
The winner described the day's hard racing. "It was a tough day with the hill on the back of the circuit and one up to the finish. I am happy to still be in yellow and we plan to defend it again tomorrow."
Early attacks by Mazda teammates Jessica Griffiths and Myfanwy Galloway were both neutralised, but the accelerations that resulted saw the bunch split in two. Rochelle Gilmore (NSWIS) extended her lead in the sprint classification with a second place in the first sprint behind Tahlia Paskin (MB Cycles), but the talented sprinter lost contact with the leaders soon after and withdrew from the stage.
An attack by Nikki Butterfield (Skilled) approaching the second sprint at the 30-minute mark saw the lead group down to just ten riders, and subsequent attacks from Tiffany Cromwell (Skilled) and Belinda Goss (Pitcher Partners) weren't enough to shake off the tenacious Broun. Goss' race ended with a fall after clipping a wheel on the final lap. She was caught out when Butterfield and Broun both moved to the right hand side of the circuit.
Broun was unaffected and charged up the final rise to take the win ahead of Chloe Hoskins (Mazda) and Butterfield. "My team worked really, really hard for me today. The plan was to defend the jersey today and my team did not let me down. It was a pity about the crash at the end there, though. Especially as Gossy is one of my best friends. We grew up together in Tasmania and I am very sad that she clipped my wheel. She didn't have a chance to avoid it."
While Butterfield missed the win, she was relieved to have been able to animate the race. "I was a bit concerned with my form over the last couple of days and worried that I had not done enough in the lead up to nationals next week, but I felt really good today and was able to recover much quicker after the attack."
Hoskins has been the surprise packet of this year's Classic. Her hard fought second place has moved her into third place overall, and while she is unlikely to overhaul Broun, the final stage's hotdog circuit at Geelong will see her target Josie Tomic's second place. "I have been consistent all week and today's result was a reflection of that. We have a young team of girls so I am very pleased with the result."
Photography
For a thumbnail gallery of these images, click here
Images by CJ Farquharson/WomensCycling.net
Results

1 Kirsty Broun (MB Cycles)                    
2 Chloe Hoskins (Mazda)                       
3 Nikki Butterfield (Skilled)                 
4 Josie Tomic (Plan B)                        
5 Peta Mullens (Jayco VIS)                    
6 Emma Mackie (Pitcher Partners)              
7 Lauren Kitchen (NSWIS)                      
8 Tiffany Cromwell (Skilled)                  
9 Davina Summers (Plan B)                     
10 Rebecca Locke                              

Sprints

Sprint 1
1 Tahlia Paskin (MB Cycles)                   
2 Rochelle Gilmore (NSWIS)                    
3 Lauren Kitchen (NSWIS)                      

Sprint 2
1 Lauren Kitchen (NSWIS)                      
2 Nikki Butterfield (Skilled)                 
3 Kirsty Broun (MB Cycles)                    
 
General classification after stage 4
 
1 Kirsty Broun (MB Cycles)                  40 pts
2 Josie Tomic (Plan B)                      32
3 Chloe Hoskins (Mazda)                     29
4 Peta Mullens (Jayco VIS)                  28
5 Rochelle Gilmore (NSWIS)                  20
6 Belinda Goss (Pitcher Partners)           18
7 Nikki Butterfield (Skilled)               13
8 Emma Mackie (Pitcher Partners)            13
9 Rowena Fry                                12
10 Lauren Kitchen (NSWIS)                    6
11 Tiffany Cromwell (Skilled)                6
12 Isabella King (Urban Hotel)               4
13 Megan Dunn (NSWIS)                        3
14 Davina Summers (Plan B)                   2
15 Laura McCaughey (Urban Hotel)             2
16 Rebecca Locke                             1
17 Amy Cure (Pitcher Partners)               1
18 Melissa Hoskins (Plan B)                  1
19 Jenny Macpherson (G Force/Body Torque)    1
 
Points classification
1 Rochelle Gilmore (NSWIS)                  15 pts
2 Kirsty Broun (MB Cycles)                   9
3 Nikki Butterfield (Skilled)                5
4 Lauren Kitchen (NSWIS)                     5
5 Tahlia Paskin (MB Cycles)                  3
6 Belinda Goss (Pitcher Partners)            3
7 Peta Mullens (Jayco VIS)                   3
8 Megan Dunn (NSWIS)                         3
9 Melissa Hoskins (Plan B)                   1
10 Josie Tomic (Plan B)                      1

Teams classification
1 MB Cycles                                 40 pts
2 Plan B                                    35
3 Pitcher Partners                          32
4 Mazda                                     29
5 NSWIS                                     29
6 Jayco VIS                                 28
7 Skilled                                   19
8 Urban Hotel                                6
9 G Force/Body Torque                        1