Race Tech: Tour of California – February 23, 2009
Giant revises its distinctive time trial bike to comply with UCI guidelines
By James Huang
The most interesting feature is right up front
Photo ©: Giant Bicycles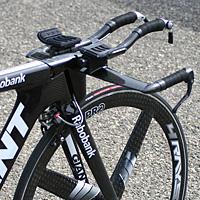 The UCI's January 14 letter regarding more stringent enforcement of its '3:1 aspect ratio' technical guideline may have come as a surprise to many teams and suppliers but Rabobank sponsor Giant says its riders would have been prepared regardless. Giant first got wind of the UCI's intentions as early as last September during the world championships and quickly set off to revise its innovative time trial machine.
"We didn't get any official letter from UCI before January 14th, but we expected that something might happen and to avoid any trouble, we did some modifications," said Giant's Andy Wollny in an email sent to Cyclingnews. "We took the risk that it can be a disadvantage if nothing will happen from UCI side."
Tubing profiles have been revised throughout the frameset and associated components to adhere to the rule's strictest interpretation yet in spite of the changes, Giant communications manager Andrew Juskaitis says the company's distinctive shape is still quite possibly the fastest bike out there. Its latest fourth-generation prototype time trial bike retains key design principles but it has also added new refinements.
Juskaitis says that the bike's somewhat ungainly form was dictated purely by engineering principles. Speed, stiffness and efficiency were identified early on as key performance metrics and everything else was deemed secondary at best.
"The first thing is aerodynamics, the second is stiffness or efficiency, and weight is so low on the podium I haven't even bothered to check," he said, and unfortunately we weren't on site to weigh the bike ourselves. "Even comfort was really low on the requirements for that bike. It was all about building the fastest bike we can so aerodynamics and efficiency were the two things we were really considering."
The thin-walled aero seatpost
Photo ©: Giant Bicycles

As part of that goal, vertical surfaces were used wherever possible as Giant's research suggested they were faster than angles ones, the down tube and seat tube are far apart to allow airflow to "settle back down" between them, and the integrated stem flows practically seamlessly into the perfectly level top tube.
Though the frame is undoubtedly speedy-looking, most of the bike's most interesting features are placed right up front. Shielding the head tube – and effectively increasing its aspect ratio – is an aerodynamic extension sprouting from below the stem that Giant insists complies with UCI guidelines.
"It's not considered a fairing because it's structural and integral to the fork," Juskaitis continued. "So it actually buttresses up the steerer tube and supports the stem so the UCI would consider it a load-bearing member, making it not just a fairing." Two large bolts actually connect the stem extension to the fork crown and Juskaitis claims the stem and steerer wouldn't otherwise be able to support the full load.
The carbon base bar is fully integrated into the stem and Giant offers its riders a choice of two pod heights. Extension position is far more liberal with near-infinite extension possibilities and height adjustments currently offered in nine steps. Giant designers also leave a surprisingly generous amount of space between the open-bottom fork crown and the front tire, supposedly to avoid pressure build-ups, and the proprietary front brake is tucked directly behind the fork crown.
The front brake is mounted behind the fork crown
Photo ©: Giant Bicycles

Giant has also taken internal cable routing to a whole new level as all of the control lines are fed down through the steerer tube. The front brake line exits between the stem extension and head tube while the others go all the way through and then are reinserted into the frame beneath the down tube. An internal guide then feeds the derailleur cables down through the frame towards the bottom bracket and the rear brake exits near the rear of the bike as usual.
Giant's internal testing has suggested that the current generation's conventional rear brake produces more drag than it would prefer but Juskaitis says the company has "something up its sleeve" for generation number five.
Apparently that next iteration isn't far off – we expect to see it in time for the Giro d'Italia – and then Giant will decide from there whether or not they will enter into production based on projected sales. Juskaitis says the current prototypes are currently made using hand built 'team-type' molds that aren't suitable for production. Production-quality molds would be "really, really expensive."
Even so, Juskaitis couldn't help but mention that his "gut feeling is that we'll go to production."
Oakley's new Jawbone
Oakley's new Jawbone makes its official debut
Photo ©: James Huang

We first saw Oakley's new Jawbone back around last year's Tour de France and the eyewear company's bold new style has definitely found greater appeal here at the Tour of California on such notable riders as Lance Armstrong (Astana), Mark Cavendish (Columbia-Highroad) and Thor Hushovd (Cervélo Test Team). Though Jawbone vaguely resembles the old Racing Jacket its appeal extends more to its optical quality than anything else, according to Oakley marketing guru Steve Blick.
Jawbone supplants the usual snap-in arrangement for its interchangeable lenses in favor of a unique system dubbed Switchlock. Lens are encapsulated in a hinged frame and gently held in place with a small rubber pad embedded in the upper frame. To swap tints, users simply flip out one of the hinged dual-density nosepads, open up the lower 'jaw' then remove the lens.
Blick says Switchlock's convenience will undoubtedly draw in users but the so-called floating lens makes for minimal bending stresses and thus even less distortion than Oakley's other already-superb optics.
Other features include a hydrophobic lens coating to repel rain, sweat, road grime and oils, a wider field of view at the upper edge, slightly shorter earstems for reduced interference with helmet retention systems, and lens vents to prevent fogging.
Oakley also tuned the frame construction such that only the earstems – and not the frame – flex to accommodate different head shapes and further maintain optical clarity. As with several of its other models, users can swap to thicker nosepieces to customize the fit, too.
Jawbone is slated for public release sometime in May and retail prices will range from US$190-250 depending on lens options, which will include the usual range of regular and Iridium-coated lenses plus photochromic, polarized and prescription options.
The full skinny on Rock Racing's dual bike sponsorship
Rock Racing sponsor Kestrel Bicycles makes aero frames
Photo ©: Kestrel Bicycles

Rock Racing is officially sponsored by Kestrel but we recently showed you that its riders were still using Fuji D-6 bikes for time trial events. Both companies fall under the Advanced Sports corporate umbrella though and we got further clarification on the arrangement from company spokesperson Karen Bliss.
"Kestrel, known mostly in the triathlon world, has produced some incredible time trial/triathlon machines," said Bliss in an email sent to Cyclingnews. "Most renowned is the Kestrel Airfoil, which is one of the fastest triathlon bikes on the market. Due to its unique no-down tube design, and other features, this bike has pulled some incredible numbers from the wind tunnel. In the same vein, the Talon, Kestrel's other tri bike, has also proven to be an aerodynamic marvel."
However, neither bike is UCI-legal.
"With Rock Racing we had the opportunity to "mix brands," if you will, and provide the riders with the Fuji D-6, our new TT bike," admitted Bliss. "We are determined to keep the two brands' identities as separate and unique as they should be: Fuji being the brand with the long history of Japanese-inspired quality but not so "chi-chi" that consumers couldn't afford one; and Kestrel being the innovative leader in carbon technology with exquisitely crafted frames and incredibly fine detailing.
"Both brands have fans and both brands have a place in the market," she continued. "They also both have different product teams with different R&D departments, different engineers, different industrial designers and different brand managers – they just happen to be owned by the same company."
However, Bliss also hinted that this arrangement is only temporary. After all, it is Kestrel – and not Fuji – who officially sponsors Rock Racing and Advanced Sports apparently intends for it to ultimately be that way across the board. According to Bliss, Kestrel already has a new UCI-legal time trial bike that "has already broken records in the wind tunnel" that we expect to make an appearance under the bad boys of cycling some time this season.
Short-offset seatmast head on the way from Ritchey?
Kim Kirchen's (Columbia-Highroad) Scott Addict SL
Photo ©: James Huang

One thing that has always troubled us about the Ritchey 1-Bolt integrated seatmast head used by Scott, Wilier and others is its single 25mm offset option. Ritchey originally had planned to offer an 8mm-offset option as well but that never made it to market, at least not in the US.
But if your name is Kim Kirchen and you're one of Columbia-Highroad's star riders, you can apparently still get one.
Kirchen unfortunately left the race during stage 4 but not before we spotted one of the short-offset Ritchey heads on his Scott Addict SL. The lack of branding – apparently at Columbia's request since Ritchey is no longer an official sponsor – and the handwritten notes scribbled on its surface suggest that it may still be vaporware for now but this sighting still gives us hope that Ritchey will soon release it to the public. We'll keep you posted.

Photography
For a thumbnail gallery of these images, click here
Images by Giant Bicycles
Images by James Huang/Cyclingnews.com
Images by Kestrel Bicycles
Images by James Huang/Cyclingnews.com