An interview with Chris Horner, February 12, 2009
Chris Horner: Letting the legs do the talking
American pro cyclist Chris Horner will race side by side with his new teammate Lance Armstrong for the first time, a fact which is surprising since Horner has been openly critical of Armstrong in the past. Horner spoke with BikeRadar.com's Gary Boulanger about how the two senior members of the Astana team are getting on.
Horner is ready to roll out with Armstrong, Leipheimer and his Team Astana
Photo ©: Bruce Hildenbrand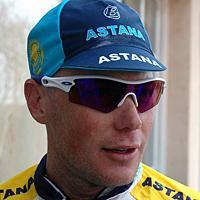 Chris Horner's star began rising after winning a stage during the 1996 Tour Du Pont, where another American, Motorola's Lance Armstrong, was winning his second consecutive race overall. The two racer's paths wouldn't cross again until 2004, when Horner, the defending champion, finished third to Armstrong at the Tour of Georgia.
While Armstrong rose to fame with seven consecutive Tour de France victories, Horner was forging his own sometimes rocky path through professional cycling's ranks. His move to the Astana team in 2008 was somewhat surprising because even after Horner had been critical of Armstrong after the demise of the Discovery Channel team, Johan Bruyneel opened the door for him.
Now that Armstrong has rejoined his long-time director, he and Horner are now the oldest and most experienced riders on the team, and have formed a brotherly bond going into the 2009 season. Armstrong even nicknamed Horner "redneck" at the team's Tenerife camp last December.
"I like Lance"
The 37-year-old Californian appeared jovial and relaxed at the team's Santa Rosa camp just 10 days before the start of the Tour of California, and seemed quite happy to be finally racing with Armstrong.
When asked about what he thought of Armstrong's return, Horner said without hesitation, "It's good! The Tour Down Under saw 100,000 more spectators that weren't there last year - how bad can that be?
"California will be unreal - Lance just brings an incredible amount of people to whatever he does. He's affected so many people's lives through cancer, his motivational tool - he's affected 90 percent of the population!" Horner said.
"Working for someone is a job, and if you like the guy you go deeper. I like Lance."
- Horner explains his motivation for doing domestique duties.
The additional attention which will be directed back to the sport thanks to Armstrong's comeback may well be huge, but it cannot last more than a couple years. I asked how cycling should make the most of his comeback and turn it into a tool to encourage more people to take up the sport.
"He's a month older than me, which makes him the oldest rider on the team," Horner said. "I think he's inspired people to ride more, but I can't vouch for how much he's inspired people to grab a license and race. He's certainly inspired people to buy more bikes. Trek would know that better than I!"
The fabulously outspoken Californian didn't hesitate to answer the question if Armstrong inspires him as a rider.
"I don't need him to inspire me!" Horner said with a huge laugh. "If he was here or not, I would still be racing my bike. I certainly love having him on the team. I got the chance to race my first Tour when he was racing for his seventh.
Chris Horner's Team Astana Trek Madone 6.9 Pro
Photo ©: Gary Boulanger

"As they say on ESPN, 'I know because I was there!'
"It's easy to work with people that you like; I normally don't need them to tell me what they need. Cadel Evans wasn't as vociferous about what he needed, but I knew what he needed. Working for someone is a job, and if you like the guy you go deeper. I like Lance."
In a sport where most riders hang up their wheels in their early 30s, the 37-year-old Horner doesn't see any signs of slowing down. Even he doesn't know how many racing years he has left in his legs.
"I don't know; I love bike racing, and I don't see any reason to stop and do something else," he said with a grin. "If something more entertaining comes along, I'd stop a moment to think about it, but I'm getting my best results, even after having my injuries last year.
"I'll leave that decision up to my legs!"
Objective: world domination
Horner on the attack at the 2008 Tour of Lombardy.
Photo ©: Roberto Bettini

The legs clearly are not complaining yet, and Horner arrived at the team hotel after a 107-mile training ride in the mountains of Sonoma County enthusiastic about Astana's loaded quiver going into the 2009 season. The first order of business will be to defend the team's status as winners of Tour of California, but the objectives for global domination extend well beyond this coming week.
Horner said that the team is not under pressure to take the jersey early in the race and defend it – there is just one day where ending the stage in yellow matters, and that is the final one in Escondido. "No one really cares if you lead it at the beginning, it's at the end that matters. We're going to work hard to win it; we have guys on the team who can win it, who have won it, and are going to win it!" he laughed.
The cagey rider was equally enthusiastic about his race programme, a reflection of the faith his team directors have in his abilities to deliver the goods for the favourite riders.
"I have a great schedule this year," he said. "After the Tour of California, it's on to Paris-Nice, Amstel Gold, Flèche-Wallonne, Vuelta al Pais Vasco, Liège-Bastogne-Liège, Tour of Romandie, Giro d'Italia and the Tour de France. I could take a good result at any one of those races and be happy; certainly the goal is to help Lance win the Giro, and help one of our leaders win the Tour de France.
Working for Contador at Castilla y Leon.
Photo ©: Roberto Bettini

"If I could pick up a win along the way it's always fantastic," he added. "I already have a full plate at every race. We're racing to win the Tour of California with Lance or Levi; Paris-Nice, Alberto; Pais-Vasco, the biggest stage race in Spain next to the Vuelta, Alberto; I'll be hoping to do my own thing at Amstel, Flèche and Liège; Tour of Romandie, Andreas; Giro, Lance; and the Tour - well, I'm sure one of our guys will want to win that!"
As Horner suggests, Astana has high aspirations for the entire year, reflected in their domination of nearly every race the team entered in 2008 after being snubbed by Amaury Sports Organization, owners of the Tour de France and Paris-Roubaix.
"There's no rest for this team; we go into the stage races expecting to win," he said. "I went into the Tour of Lombardy last year looking for the win, but got seventh. At least my teammate Janez Brajkovic took second."
Goin' back to Cali
A native of California, Horner has raced every edition his home state's Tour, and after many years racing in the US and Europe, he believes it to be just as high-profile as any of the historic European events.
"I think it's great for American cycling in general," he said among the buzz of interviews around us in the hotel conference room. "For me personally, it means my family can come watch me race. I grew up in San Diego, just bought a house there, went to school there, and have a history there.
"I'm primarily a Europe-based racer, so racing in California means my mom, girlfriend, kids and friends can see me race firsthand. The crowds are always fantastic. It's not a race that makes or breaks my career, but it's important; I've raced all three editions, twice for Lotto and once for Astana," he added.
The super domestique, known as a trust-worthy all-rounder who's helped Cadel Evans at Predictor-Lotto take second at the 2007 Tour de France while finishing 15th overall, also helped Leipheimer win his second Tour of California in 2008. But how does it compare to racing a week-long stage race in Europe?
"It's the same thing!" he said. "The Tour of California attracts the Europeans, who come and race the same high level. Not like the Tour de France, but like the second-tier races."
The next generation
American racer Chris Horner relaxes
Photo ©: Gary Boulanger

Our interview with Horner took place after I spent the day in the Trek-Livestrong U23 team car with director Axel Merckx. I was curious who Horner was noticing in the up-and-coming ranks of American racers.
"It's hard to say; there hasn't been a large number of riders coming up," Horner admitted. "Taylor Phinney and Craig Lewis come to mind. Lewis was 11th at the Tour of Lombardy - that's a big-time result. I don't think people fully understood the importance of that result. He has some talent for his age - the sky's the limit, and he's my favourite right now.
"I also raced cyclo-cross against Bjorn Selander a few years ago in Iowa; man, he puts out the power! He might be someone to keep an eye on. If he has the right director, we may see some good results.
"Some of the younger dudes from Slipstream are tearing it up as well; Daniel Holloway caught my eye a few times at Elk Grove in Illinois last year," he added.
Back when Horner was an up-and-coming rider, he went toe-to-toe with Armstrong at the the Alpine Valley stage of the 1996 Superweek Challenge in East Troy, Wisconsin. It was a day which changed his career.
"No, he beat me," Horner said with a grin. "Sat on my wheel, though...(laughs)! It was a spectacular race. Française des Jeux director Alain Gallopin (Astana's current director) saw me light it up during a previous stage's criterium. He talked about my coming to Europe. Lance and Kevin Livingston came to the race. Lance broke the race apart, and I joined him the first time, and bridged the gap a second time.
"Alain noticed my effort, and gave me the thumbs-up as I passed his team car. That's what got me my first big contract with Française des Jeux through 1999."
Horner's career has come full circle. Having gotten his start Française des Jeux and then falling victim to the Mercury team's demise, he rode three seasons domestically (Prime Alliance, Saturn and Webcor) before bouncing from Saunier Duval to Lotto. He's finally found a home at Astana – no longer crossing swords with Armstrong and his team, but wielding his side by side with the biggest names in the sport.
Follow Cyclingnews' full coverage of the Tour of California.
See also:
Horner picks Tour favorites
Chris Horner: Happy with the new home
Chris Horner: Ready for more
Chris Horner's 2006 Vuelta diary
Chris Horner: No slowing down now