Tales from the peloton, April 8, 2009
Quick Step the conqueror
Rarely has the cycling world seen a team as dominant as the Mapei-GB outfit that conquered the Spring Classics before and after the turn of the century. One day Northern France in 1996 encapsulated the essence of Patrick Lefevere's 'super squad'. Cyclingnews' Les Clarke discovers that it's a legacy the current Quick Step crew has the talent to emulate.
The Quick Step team 2009 - the next Mapei '96?
Photo ©: Brecht Decaluwé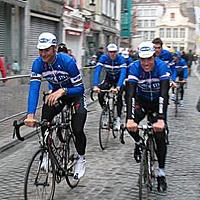 It's a scene most cycling fans have watched many times. The sight of three Mapei-GB riders - Johan Museeuw, Andrea Tafi and Gianluca Bortolami - crossing the finish line together in Roubaix's velodrome during the centenary edition of Paris-Roubaix is one of the sport's most memorable moments.
Tafi, his head lowered a little after an earlier argument with Bortolami and Lefevere, Museeuw, who had punctured eight kilometres from the finish, forcing his teammates to wait while he returned to the head of the field, and Bortolami, who received his reward for being the team player with the world's most powerful professional cycling outfit.
A Mapei-GB trifecta, the only time three riders of the same team finished in the Roubaix velodrome together, in front of the peloton, destined to share the podium in a Belgo-Italian mix of power and style.
"That was a dominant piece of bike racing, the likes of which I've not seen before," gushed English Eurosport commentator David Duffield. "Yes, the Italians finished one, two, three at Flèche Wallonne last year, but this was something else. It was over the hardest course in the world, with more than their fair share of problems..."
Indeed there were problems, including punctures to each of the winning trio, and some on-the-road diplomacy from team manager Patrick Lefevere. With three riders ahead of the field but only one man able to take Roubaix's famed cobble trophy, the Belgian had to make a decision about how to play the finale.
"Last week there was a documentary on Belgian TV where it was finally revealed to the public what the true situation was," begins Lefevere. "Everybody has said that it was [Mapei company owner] Dr. [Giorgio] Squinzi who decided which rider would win.
"Finally he was interviewed and he said, 'Yes, I asked Patrick if it was possible to get three riders on the track [together] because the slogan for the Mapei company was, 'Vincire Insieme' - winning together'. I took the final decision. It showed that what I said all those years was true."
"He had to learn that if you play the game the way you have to play it, you will always benefit."
-Patrick Lefevere describes how he had to convince Andrea Tafi to go along with the team tactics.
The finishing order wasn't without its complaints, Italian satellite TV managed to broadcast some of the radio communication during the final kilometres of the race, when Tafi and Bortolami were waiting for Museeuw, who was receiving assistance from neutral service for a puncture.
Lefevere told Bortolami, "You've got to convince Andrea to keep cool; if he doesn't, he'll be looking for another team," which was conveyed to Tafi thus: "Andrea, don't forget the deal. Don't try anything, Johan has to win."
Tafi, knowing there was little chance of actually being given the win, wanted the next best prize. "I don't want to win; I just want you to let me take second. But you won't even let me do that," he cried.
Over a decade since that race, Lefevere says the decision he made didn't cause any major, lasting problems with his charges, and explains his version of events: "There was a little discussion about it when we were away - about eight or nine kilometres from the finish - when Johan punctured. I wasn't there [with Museeuw]; he was being helped by Mavic [neutral service] and I said to the other two to wait. Then Bortolami punctured and we waited, then Tafi punctured then we waited.
Patrick Lefevere, the mastermind behind Quick Step
Photo ©: Gregor Brown

"I said, 'Listen, we will go in [to the velodrome] together and we will finish together'. For me the winner was Johan, second was Bortolami, because he was the world cup winner in 1995, and Tafi would be third. Tafi's wife was pregnant and he crying, 'I want second place for my wife...' He was still going on with Bortolami - there was no discussion about Johan, only about who would be second.
"We were still in the race, so I said, 'Listen, Tafi, shut up, you will be third, and you will see that before the end of the year you will win a big race'. He won Paris-Brussels and I remember Dr. Squinzi was with me in the car and Johan was doing such a big job for Tafi that he [Tafi] won by three minutes. He had to learn that if you play the game the way you have to play it, you will always benefit... whether it's one day or another, you will always benefit."
Quick Step carries on the legacy
Fast forward 13 years to the 2009 Spring Classics. Boasting the likes of Tom Boonen, Stijn Devolder and Sylvain Chavanel, Lefevere has an impressive arsenal at his disposal, and there's the possibility three of his riders could be entering the Roubaix velodrome together, at the head of the field, a victorious triumvirate conquering all before them.
Lefevere admits the trio has "quite the same characteristics" as those he guided to victory in 1996, and with the addition of Chavanel, announced earlier this week, it's undoubtedly the strongest squad against a field that has actually been weakened through injury.
Relating the 'Class of '09' to that of '96, Lefevere says that this year's crop of potential Roubaix winners should be able to deal with the combination of ambition, ego and character differences. There's one characteristic that binds them, however.
The result of a strong team and strong tactics
Photo ©: AFP

"I think that good riders aren't stupid. They understand that if one day they give something to another rider, that before the end of the year they will get something back. The team was so strong at this time [1996], and there were so many good riders, that everyone could win."
It begs the question: how do make use of all that talent and horsepower?
"You have to have just enough stress on the team - but not too much - so that everybody is super motivated and concentrated," explains Lefevere. "In Paris-Roubaix and Flanders it's war. You don't give presents to anybody.
"It's really important to show that you can come in with the team at the front of the bunch. It says, 'Come on guys, we are here - if you want to win you have to pursue us'."
Stijn Devolder's second consecutive Ronde Van Vlaanderen win last weekend confirmed the Lefevere tactics continue to produce results. The Belgian master tactician admits that this particular charge rides quite differently to his other prime Classics campaigner, Tom Boonen.
"I think tactically Tom is one of the smartest guys I've ever worked with but Stijn is so strong," says Lefevere. "He's very strong but he loses too much energy when he looks to take position on the cobblestones - he always comes from 15th or 20th position and he has to pass through everybody.
"We are here - if you want to win you have to pursue us."
-Patrick Lefevere explains the message his team sends by riding at the front.
"If I could show him on the video how much energy he loses coming from the back to the front, the waste of energy, he would be surprised."
Alternately, Boonen, "doesn't like to fight for position before the cobblestones, before the Kwaremont... he always loses positions [before these sections]," according to Lefevere. "Whether he's in the front or coming from 20th position he knows that at the end of the day in a Classic like Flanders or Roubaix, which are 260 kilometres, the energy that is lost during the race makes a difference. It could be the difference between winning and losing."
Chavanel, having made the switch to Quick Step over the northern winter, is enjoying his best season ever to date. His results speak for themselves, although Lefevere says there's more than just good legs working in the Frenchman's favour. "I'm not only happy because he is a good rider but most of all because he's a splendid guy. He's always laughing, always motivated, very happy to be with us and for me it's really a pleasure to work with him," Lefevere explains.
Whether that personable nature will guarantee a Roubaix triumph is yet to be seen, although the form guide indicates either Boonen, Devolder or Chavanel is ready to take a place on the podium, and Lefevere summarises what gives them that status.
"You don't have problems with good riders. The riders you have most problems with, as we say in Flemish, are the 'pseudo champions'. Those who think they are champions," says Lefevere. "With real champions you don't have these problems."
Photography
For a thumbnail gallery of these images, click here
Images by Gregor Brown/Cyclingnews
Images by AFP Photo
Images by Brecht Decaluwé/Cyclingnews