News Feature, April 12, 2009
Raging Tornado Tom strikes again, again and again
By Brecht Decaluwé in Roubaix, France
Tom Boonen (Quick Step)
Photo ©: AFP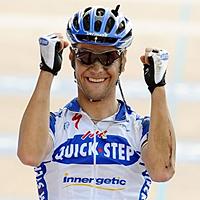 For more than six hours the tornado raged through the north of France. Silently and barely noticed during the first few hours before unleashing his fury two thirds into the rush from Compiègne to Roubaix. The storm gathered strength, gobbling up the pavé as he left a 259 kilometre path of destruction in Northern France.
When the winds died down and the sun shone through in Roubaix, Quick Step's Tom 'Tornado' Boonen kissed the cobble trophy for the third time in his career as the other teams tried to piece together just what had gone wrong.
The Tornado first raged in the terrible trenches of the Arenberg forest ahead of a massive crash that took down co-favorite and teammate Stijn Devolder and held up fellow Quick Stepper Sylvain Chavanel and Garmin's Martijn Maaskant. Thirty kilometers later, on the pavé sector Beuvry à Orchies, the Belgian avoided a crashing motorbike when he put the hammer down once again, creating a 21-man strong leader's group. Boonen rode as if he was in the calm eye of a storm which laid waste to the poor peasants who dared to chase.
The intervals started to get shorter and ten kilometers later Boonen accelerated again, bringing down the number in front to fifteen. Five kilometers later, Tornado Tom was almost satisfied. On the pavé sector of Mons-en-Pévèle, Boonen roared once more and only five riders were able to see light through the dust behind the 28 year-old Belgian. The sun started to shine, and for a while it seemed as if the storm was over... Boonen even changed bikes and the five others gained confidence, not knowing that they were dead men walking.
"They were already dead and I couldn't wait for them," Boonen said.
"This one is the most beautiful of his three wins."
-Quick Step manager Patrick Lefevere.
Flecha attacked before sector number 3, and that other 'God of Thunder', Thor Hushovd, stormed past. As Boonen spun off in pursuit past the Spaniard, the whirlwinds of fate pulled the rug out from under the Rabobank man.
"At the Carrefour de l'Arbre, Hushovd attacked and I marked his wheel. I heard something behind me," Boonen said about the unfortunate crash of Flecha, which took unlucky Leif Hoste down as well. Meanwhile Filippo Pozzato pulled off some cyclo-cross skills and Johan Van Summeren made a U-turn; marking an end to the resurrection of the Silence-Lotto team.
"I didn't know," Boonen said. "There's no way you can look behind you on those cobbles without crashing yourself. Everybody encountered bad luck, even myself early on, but sadly enough that's Paris-Roubaix," Boonen said.
By that time only Hushovd was in contention, but he too would fall victim to a perilous fate. "Hushovd lost speed and I passed him. Once I was in that position I went full gas," Boonen said. The former world champion of 2005 took over the command on the cobbles, and behind him Hushovd overpowered a left hand corner and went down as well.
"I couldn't hear anything as there's a lot of noise coming from the crowds. Once off the pavé I noticed that I was on my own with a gap of ten seconds on Pozzato," Boonen described the situation he was in with fifteen kilometers and two more pavé sectors left.
Pozzato came in a lap behind
Photo ©: Cyclingnews

Filippo 'the shadow' Pozzato carried on the duel which started in Flanders one week ago, and this time the stakes were even higher, a priceless cobble handed out at the legendary vélodrome in Roubaix. It was Belgium vs. Italy, and one should admit that Boonen was playing on home soil. The Flemish crowd was huge and outnumbered the local inhabitants, shouting Boonen forward and waving their yellow lion flags, while the Italian endured their jeers.
"I didn't look back and gave all I had. I didn't hear any information from the radio until I had twenty seconds over Pozzato, and then 22, and 24... It was a fight from man to man and I won it," Boonen said. Eventually he reached the vélodrome with more than half a minute over the man that had spoiled his Ronde van Vlaanderen.
"Tom was going strong and there was nothing to do. Clearly, if I had been able to stick on his wheel it would have changed the whole story. It would have been a good duel."
-Filippo Pozzato (Katusha)
As Boonen completed his first trip around the track, Pozzato entered, nearly drawing up alongside his rival. But even though Pozzato was one lap down, Boonen accelerated once more and even pulled off a sprint towards his third victory at the vélodrome of Roubaix.
After the race Boonen couldn't help but remark on the tactics some riders, including Pozzato, were using. "Once more it's been proven that you can't win a race by sticking on someone's wheel," Boonen said.
While talking with the press the giant Belgian still hadn't recovered fully from what he had pulled off. "I'm still shaking and I'm completely empty; one moment ago I almost threw up. As a performance I rate this as high as my first win in the Ronde van Vlaanderen, possibly even higher. Despite my crash early on in the race, I managed to keep cool although I was riding with only one and a half legs," Boonen said, "but in comparison to my rivals I wasn't getting worse."
As the night fell over the vélodrome in Roubaix, there was no longer any sign of Tornado Tom. In a couple of weeks we'll no be longer talking about the Boonens and Devolders of the peloton. We'll be talking about Valverde, Cunego and Schleck as they are hammering up the Ardennes climbs.
Tom Boonen gets his third cobble.
Photo ©: AFP

Tornado Tom has left behind a lot of casualties, and now, more than ever, he will be regarded as a 'patron' in the peloton. Despite his tender age of twenty eight, Boonen has won five of cycling's Monuments, multiple stage wins and a green jersey at the Tour de France to go along with his world title.
What is more remarkable is that he's overcome last year's cocaine scandal, and risen above all the pressure placed upon his shoulders to triple up in Paris-Roubaix. No longer "the next Museeuw", Boonen is his own man, his own star. He still has many years to forge his legacy.
"I want to win the green jersey one more time, and after that we'll see what's next. I'm changing and with my age I'm going better in stage races while it's getting harder to motivate myself for every sprint. It's easier to focus on these big races, this one week," Boonen said.
"The best moment of the day was when I saw my brother, he's my best friend and he was crying of happiness." His brother wasn't the only one, because despite his past transgressions, Tornado Tom is still exceedingly popular; the fans had tears of joy, while his rivals tasted the bitter tears of defeat once more.