Univest Grand Prix - 1.2
Souderton, Pennsylvania, USA, September 6-7, 2008
Main Page Results Overall standings Next Stage
Stage 1 - September 6: Univest Grand Prix Road Roace, 100mi
Euser wins rainy Univest
By Kirsten Robbins in Souderton, Pennsylvania
Lucas Euser (Garmin/Chipotle)
Photo ©: Scott Schaffrick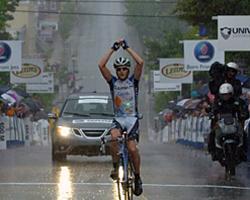 After an injury-laden mid-season, Lucas Euser (Garmin-Chipotle) proved to be back on winning form. The 24 year-old soloed away with the victory in the final two kilometres a head of his late-race break away companion Frederik Ericsson (Cykelcity.se).
"We had the numbers with three guys in the final group so we had to use them," said Euser who celebrated his victory under the warm rain, with enough time to watch his team-mates play out their finish against the remaining chasers.
"We were both cramping, both hurting and just wanted to get to the line," he continued. "I had to play conservative; I looked back after I jumped. He put his head down so I knew I had the win – It's my first pro win and a long time in the making."
Garmin-Chipotle had numbers on their side, dominating the decisive break away of ten riders. After locking up the victory, Euser's team-mates Pat McCarty put the pressure on the chase group, rounding out the podium in third and Tyler Farrar claimed the sprint behind for fourth.
"This isn't a race that lends itself well to a field sprint," said Farrar who acknowledged being the fastest sprinter in the break yet confident his team-mates could do just as well up the road.
"We went into the race knowing that it would break apart and did what we needed to do to keep all of our numbers in the front. We got Lucas up there and the pressure was on the other teams to try to bring it back."
Fredrick Ericsson (Team Cykelcity.se)
Photo ©: Scott Schaffrick

The Swedish time trial champion, Ericsson used his raw power to bridge across to the winning breakaway. The soloist surprised the leaders when he joined them on the first of eleven finishing circuits. The runner up gained full sprint points on the circuits to capture the sprint jersey.
"I felt good all day but I missed the good move," said Ericsson who impressively caught the bunch and then continued a second solo chase to catch Euser. "I had to waste a lot of energy to catch up to those guys but I finally did. I didn't think I would do well after that. I think Euser sensed that I was not as strong and he knew he was going to beat me."
The breakaway was decided when a large group of twenty continued to reshuffle over the steep climbs surrounding Souderton. The ten front riders included Ericsson, Euser, McCarty and Farrar.
Also amongst the front runners were the eventual KOM jersey winner Bernardo Colex and his team-mate Juan Pablo Magallanes (Tecos), Chris Jones and Ian McGregor (Team Type 1), François Parisien (Team Race Pro), Philipp Mamos (Sparkasse) and Gerardo Fernandez (Champion Systems).
The second half of the original break reunited with the slowing lead group mid-way through the final circuits. McCarty and Farrar took advantage of their fresh legs and split the bunch apart for a second time, drawing five of the previous riders with them along with fresh faces Mark Walters (Team Race Pro) and Valeriy Kobzarenko (Team Type 1).
"I don't think they really had the legs to chase and Pat and I got a free ride," continued Farrar who enjoyed the classic-style road race. "We were obviously the freshest at the end."
How it unfolded
The peloton kept the chase on
Photo ©: Scott Schaffrick

Tropical storm Hanna touched down on the international peloton at the 11th annual Univest Pennsylvania, dampening an otherwise exciting bike race. It is one of few UCI sanctioned events held in the US, typically attracting a large contingent of young and amateur riders looking for a professional contact.
The 160-kilometre, Euro-like road race is notorious for painfully undulating terrain surrounding Souderton, Pennsylvania. The peloton endured one large circuit that covered a scenic backdrop of Bucks County's narrow roads, technical twists and gorgeous covered bridges. The event topped off with eleven short finishing circuits incorporated one steep hill on each five-kilometre lap.
"We've taken a classic European road race, something that has taken decades to produce in Europe, and we've transplanted it in to suburban Philadelphia," said John Eustice, event promoter. "The event has never seen more than one or two riders contesting the finish. It's a very difficult race and a place for strong riders to emerge."
Neither historical finishes nor the difficult terrain was enough to deter the hungry peloton from an animated start. Three back-to-back hot spot sprints kicked off the race. Teams Jittery Joes, Toshiba and Sparkasse went after the points available but did not gain enough to surpass Ericsson's point lead gained on the final circuits.
Team Tecos played offensive as the field approached the steep climbs through the heavy fog and rain. Three KOM ascents combined with the Mexican team's aggressive riding style was enough to shatter the bunch.
Garmin-Chipotle and Team Type 1 were amongst the riders able to follow the event's best climber, Bernardo Colex on each ascent. "In general we wanted to win the race today but that didn't happen," said Colex. "We were very aggressive and happy with the way we rode. Getting the KOM jersey is still very good for us. We are the kind of team that race with our hearts and get better little by little."
Tired legs started to set in and the front group continued to splinter as the terrain toughened. Ericsson, who missed the break, committed to a solo effort to catch up back up. "Time trailing is something I'm very good at – My specialty," he said regarding successful putting himself in a position to win.
"I've been a mountain biker for most of my career and just switched over to the road a few years ago. Hard and technical courses like this, with lots of corners and rain suit me very well."
Euser saw a good opportunity to attack on the second lap and Ericsson bridged across several kilometres later. "I had no idea who he was but there was a big Swedish flag on the back side of the course flying for him and I know Swedish guys are tough," said Euser, focused on US world championship team selection.
"I had to play conservative and watch him to see how strong he was," he continued regarding the winning strategy. "We are a great team because we are a team. We are not a bunch of individuals out there. We work hard together and that's how you win races, as a unit."
Photography
For a thumbnail gallery of these images, click here
Images by Scott Schaffrick
Images by Anthony Skorochod/www.cyclingcaptured.com
Results
1 Lucas Euser (USA) Garmin-Chipotle presented by H3O                        3.50.48
2 Frederik Ericsson (Swe) Cykelcity.se/Klehr Harrison                          0.13
3 Pat Mccarty (USA) Garmin-Chipotle presented by H3O                           1.47
4 Tyler Farrar (USA) Garmin-Chipotle presented by H3O                          2.00
5 Francois Parisien (Can) Team RACE Pro                                        2.01
6 Philipp Mamos (Ger) Team Sparkasse/Canon Capital                             2.02
7 Christopher Jones (USA) Team Type 1                                          2.03
8 Mark Walters (Can) Team RACE Pro                                             2.04
9 Valeriy Kobzarenko (Ukr) Team Type 1                                         2.20
10 Robbie King (USA) Rite Aid Pro Cycling                                      3.33
11 Steven Van Vooren (Bel) Cycling Center/JBCA/Doylestown Hospital                 
12 Gerardo Fernandez (Arg) Champion System Racing  KraftGenie Cycling Inc.        
13 Ryan Roth (Can) Team RACE Pro                                                   
14 Michael Stevenson (Swe) Amore & Vita - McDonald's                               
15 Joshua F Dillon (USA) Fiordifrutta Cycling Team                                 
16 Yosvany Falcon (Cub) Toshiba-Santo Pro Cycling presented by Herbalife       3.35
17 Ian Macgregor (USA) Team Type 1                                                 
18 Juan Pablo Magallanes Aranda (Mex) Tecos/Aldefer Auction                    3.36
19 Bernardo Colex Tepez (Mex) Tecos/Aldefer Auction                            4.54
20 Scott Jackson (USA) DLP Racing                                              8.01
21 Matt Winstead (USA) Team Inferno Pro Cycling                               13.22
22 Phillip Gaimon (USA) Fiordifrutta Cycling Team                                  
23 Stefan Cohnen (Ned) Team Sparkasse/Canon Capital                                
24 Jake Keough (USA) Kelly Benefit Strategies/Medifast                        15.13
25 Tommy Nankervis (Aus) DLP Racing                                                
26 Kevin Buck Miller (Can) Team RACE Pro                                         
27 Jonas Bjellmark (Swe) Cykelcity.se/Klehr Harrison                               
28 Cheyne Hoag (USA) CRCA/Sakonnet Technology U25 Team                             
29 Mike Norton (USA) Calyon Pro Cycling Team                                       
30 Rick Norton (USA) Immediate Mortgage/Artemis Elite                              
31 Matthew Johnson (USA) CRCA/Empire Cycling Team                                  
32 Eric Tremble (USA) Kenda/Raleigh Cycling Team                                   
33 Robert Kenneth Osterling (Swe) Cykelcity.se/Klehr Harrison                      
34 Peter Morse (Can) Jet Fuel Coffee                                               
35 Tom Soladay (USA) Time Pro Cycling                                              
36 Mathew Bell (Can) Calyon Pro Cycling Team                                       
37 Trent Wilson (Aus) The Jittery Joe's Pro Cycling Team                           
38 Michael Margarite (USA) CRCA/Empire Cycling Team                                
39 Keck Baker (USA) Battley Harley Davidson Elite Cycling Team                     
40 Christopher Hong (USA) Battley Harley Davidson Elite Cycling Team               
41 Peter Horn (USA) Cycling Center/JBCA/Doylestown Hospital                        
42 John Freddy Parra (Col) Toshiba-Santo Pro Cycling presented by Herbalife        
43 Nathan Coleman (USA) Immediate Mortgage/Artemis Elite                           
44 Clay Murfet (Aus) Kelly Benefit Strategies/Medifast                             
45 Chad Butts (USA) Champion System Racing  KraftGenie Cycling Inc.               
46 Jose Medina (Chi) Champion System Racing  KraftGenie Cycling Inc.              
47 Jacob Mueller (USA) Hershey Cancer Institute-GPOA-Cannondale                    
48 Richard Geng (Ger) Rite Aid Pro Cycling                                         
49 Carlos Oyarzun (Chi) Tecos/Aldefer Auction                                      
50 Andrew Hunt (Can) Team RACE Pro                                                 
51 Christopher T Rozdilsky (USA) Fiordifrutta Cycling Team                         
52 David Nelson (USA) Cycling Center/JBCA/Doylestown Hospital                      
53 Fabio Calabria (Aus) Team Type 1                                                
54 Omar Cervantes (Mex) Tecos/Aldefer Auction                                      
55 Ricardo Tapia (Mex) Tecos/Aldefer Auction                                       
56 Evan Elken (USA) The Jittery Joe's Pro Cycling Team                             
57 Frank Travieso (Cub) Toshiba-Santo Pro Cycling presented by Herbalife           
58 Keir Plaice (Can) Team RACE Pro                                                 
59 Boyd Johnson Ii (USA) DLP Racing                                                
60 Nicholas Bennette (USA) Fitness Together / Independent Fabrication         15.14
61 Bobby Lea (USA) Rite Aid Pro Cycling                                            
62 Richard Faltus (Cze) Team Sparkasse/Canon Capital                               
63 Tilo Schüler (Ger) Team Sparkasse/Canon Capital                                 
64 Martin Gilbert (Can) Kelly Benefit Strategies/Medifast                          
65 Mathieu Roy (Can) Calyon Pro Cycling Team                                       
66 Charles T Marzot (USA) Fiordifrutta Cycling Team                                
67 Eric Schildge (USA) Fiordifrutta Cycling Team                                   
DNF Caleb Fairly (USA) Garmin-Chipotle presented by H3O                            
DNF Tom Danielson (USA) Garmin-Chipotle presented by H3O                           
DNF Graziano Gasparre (Ita) Amore & Vita - McDonald's                              
DNF Fabio Gilioli (Ita) Amore & Vita - McDonald's                                  
DNF Phillip Cortes (Can) Amore & Vita - McDonald's                                 
DNF Yuri Metlushenko (Ukr) Amore & Vita - McDonald's                               
DNF Maxime Vives (Can) Calyon Pro Cycling Team                                     
DNF Thaddeus Dulin (USA) DLP Racing                                                
DNF Owen Nielsen (USA) DLP Racing                                                  
DNF Charles Pendry (USA) DLP Racing                                                
DNF Benjamin King (USA) Kelly Benefit Strategies/Medifast                          
DNF Nicholas Waite (USA) Kelly Benefit Strategies/Medifast                         
DNF Clayton Barrows (USA) Rite Aid Pro Cycling                                     
DNF Stephan Kincaid (USA) Rite Aid Pro Cycling                                     
DNF Miles Watson (Aus) Rite Aid Pro Cycling                                        
DNF Moises Aldape (Mex) Team Type 1                                                
DNF Luis Macias Hernandez (Mex) Tecos/Aldefer Auction                              
DNF Chad Hartley (USA) The Jittery Joe's Pro Cycling Team                          
DNF Neil Shirley (USA) The Jittery Joe's Pro Cycling Team                          
DNF Jared Barrilleaux (USA) The Jittery Joe's Pro Cycling Team                     
DNF Matt Shriver (USA) The Jittery Joe's Pro Cycling Team                          
DNF Nick Frey (USA) Time Pro Cycling                                               
DNF Jackie Simes (USA) Time Pro Cycling                                            
DNF John Hamblen (USA) Time Pro Cycling                                            
DNF Daniel Ramsey (USA) Time Pro Cycling                                           
DNF Mike Stoop (USA) Time Pro Cycling                                              
DNF Daniel Vaillancourt (USA) Toshiba-Santo Pro Cycling presented by Herbalife     
DNF Predrag Prokic (Srb) Toshiba-Santo Pro Cycling presented by Herbalife          
DNF Brian Butts (USA) Battley Harley Davidson Elite Cycling Team                   
DNF Sean Barrie (USA) Battley Harley Davidson Elite Cycling Team                   
DNF Ken Johnson (Can) Battley Harley Davidson Elite Cycling Team                   
DNF Franklin Burgos (Dom) Champion System Racing  KraftGenie Cycling Inc.         
DNF Rashad Guerra (USA) Champion System Racing  KraftGenie Cycling Inc.           
DNF Vladimir Estevez (Dom) Champion System Racing  KraftGenie Cycling Inc.        
DNF Nick Keough (USA) CRCA/Sakonnet Technology U25 Team                            
DNF Graviel Epstein (Can) CRCA/Sakonnet Technology U25 Team                        
DNF Nick Friesen (Can) CRCA/Sakonnet Technology U25 Team                           
DNF Lisbon Quintero (Col) CRCA/Sakonnet Technology U25 Team                        
DNF Sheldon Deeny (USA) CRCA/Empire Cycling Team                                   
DNF Eric Brownell (USA) CRCA/Empire Cycling Team                                   
DNF Michael Mathis (USA) CRCA/Empire Cycling Team                                  
DNF Pascual Caputi (Ita) CRCA/Empire Cycling Team                                  
DNF Jim Camut (USA) Cycling Center/JBCA/Doylestown Hospital                        
DNF Bryan Mcvey (USA) Cycling Center/JBCA/Doylestown Hospital                      
DNF Calle-Henrik Sandell (Swe) Cykelcity.se/Klehr Harrison                         
DNF Johan Anders Lindgren (Swe) Cykelcity.se/Klehr Harrison                        
DNF Jan Gunners (Swe) Cykelcity.se/Klehr Harrison                                  
DNF James B Driscoll (USA) Fiordifrutta Cycling Team                               
DNF Kevin Wolfson (USA) Fitness Together / Independent Fabrication                 
DNF Aidan Charles (USA) Fitness Together / Independent Fabrication                 
DNF Ward Solar (USA) Fitness Together / Independent Fabrication                    
DNF Jonathan Bruno (USA) Fitness Together / Independent Fabrication                
DNF Thom Coupe (USA) Fitness Together / Independent Fabrication                    
DNF Turner Johnson (USA) Hershey Cancer Institute-GPOA-Cannondale                  
DNF Colin Sandberg (USA) Hershey Cancer Institute-GPOA-Cannondale                  
DNF Chris Kuhl (USA) Hershey Cancer Institute-GPOA-Cannondale                      
DNF Elliot Gaunt (USA) Hershey Cancer Institute-GPOA-Cannondale                    
DNF Adam Farabaugh (USA) Hershey Cancer Institute-GPOA-Cannondale                  
DNF Mark Warno (USA) Immediate Mortgage/Artemis Elite                              
DNF Ramon Benitez (USA) Immediate Mortgage/Artemis Elite                           
DNF Michael Githens (USA) Immediate Mortgage/Artemis Elite                         
DNF David Osborn (USA) Immediate Mortgage/Artemis Elite                            
DNF Jamie Riggs (Can) Jet Fuel Coffee                                              
DNF Bryson Bowers (Can) Jet Fuel Coffee                                            
DNF Kevin Hazzard (Can) Jet Fuel Coffee                                            
DNF Jason Baer (USA) Kenda/Raleigh Cycling Team                                    
DNF Jason Beerman (USA) Kenda/Raleigh Cycling Team                                 
DNF Sean ORourke (USA) Kenda/Raleigh Cycling Team                                 
DNF Adam J Sullivan (USA) Kenda/Raleigh Cycling Team                               
DNS Toby Walch (USA) Kenda/Raleigh Cycling Team                                    
DNF Joe Cooper (NZl) Team Inferno Pro Cycling                                      
DNF Andrew Applegate (USA) Team Inferno Pro Cycling                                
DNF Christian Parrett (USA) Team Inferno Pro Cycling                               
DNF Timothy Swain (USA) Team Inferno Pro Cycling                                   
 
Sprints

Sprint 1

1 Frank Travieso (Cub) Toshiba-Santo Pro Cycling presented by Herbalife          10 pts
2 Ricardo Tapia (Mex) Tecos/Aldefer Auction                                       5
3 Nicholas Bennette (USA) Fitness Together / Independent Fabrication              3
 
Sprint 2

1 Trent Wilson (Aus) The Jittery Joe's Pro Cycling Team                          10 pts
2 Jake Keough (USA) Kelly Benefit Strategies/Medifast                             5
3 Ricardo Tapia (Mex) Tecos/Aldefer Auction                                       3
 
Sprint 3

1 Philipp Mamos (Ger) Team Sparkasse/Canon Capital                               10 pts
2 Francois Parisien (Can) Team RACE Pro                                           5
3 Pat Mccarty (USA) Garmin-Chipotle presented by H3O                              3
 
Sprint 4

1 Frederik Ericsson (Swe) Cykelcity.se/Klehr Harrison                            10 pts
2 Lucas Euser (USA) Garmin-Chipotle presented by H3O                              5
3 Ian Macgregor (USA) Team Type 1                                                 3
 
Sprint 5

1 Frederik Ericsson (Swe) Cykelcity.se/Klehr Harrison                            10 pts
2 Lucas Euser (USA) Garmin-Chipotle presented by H3O                              5
3 Francois Parisien (Can) Team RACE Pro                                           3
 
Sprint classification

1 Frederik Ericsson (Swe) Cykelcity.se/Klehr Harrison                            20 pts
2 Philipp Mamos (Ger) Team Sparkasse/Canon Capital                               10
3 Trent Wilson (Aus) The Jittery Joe's Pro Cycling Team                          10
4 Frank Travieso (Cub) Toshiba-Santo Pro Cycling presented by Herbalife          10
5 Lucas Euser (USA) Garmin-Chipotle presented by H3O                             10
6 Francois Parisien (Can) Team RACE Pro                                           8
7 Ricardo Tapia (Mex) Tecos/Aldefer Auction                                       8
8 Jake Keough (USA) Kelly Benefit Strategies/Medifast                             5
9 Ian Macgregor (USA) Team Type 1                                                 3
10 Pat Mccarty (USA) Garmin-Chipotle presented by H3O                             3
11 Nicholas Bennette (USA) Fitness Together / Independent Fabrication             3

Mountains

Mountain 1

1 Bernardo Colex Tepez (Mex) Tecos/Aldefer Auction                               10 pts
2 Pat Mccarty (USA) Garmin-Chipotle presented by H3O                              5
3 Nicholas Waite (USA) Kelly Benefit Strategies/Medifast                          3
 
Mountain 2

1 Bernardo Colex Tepez (Mex) Tecos/Aldefer Auction                               20 pts
2 Pat Mccarty (USA) Garmin-Chipotle presented by H3O                             10
3 Nicholas Waite (USA) Kelly Benefit Strategies/Medifast                          6
 
Mountain 3

1 Bernardo Colex Tepez (Mex) Tecos/Aldefer Auction                               10 pts
2 Pat Mccarty (USA) Garmin-Chipotle presented by H3O                              5
3 Christopher Jones (USA) Team Type 1                                             3
 
Mountain 4

1 Lucas Euser (USA) Garmin-Chipotle presented by H3O                             10 pts
2 Frederik Ericsson (Swe) Cykelcity.se/Klehr Harrison                             5
3 Philipp Mamos (Ger) Team Sparkasse/Canon Capital                                3
 
Mountain 5

1 Frederik Ericsson (Swe) Cykelcity.se/Klehr Harrison                            10 pts
2 Lucas Euser (USA) Garmin-Chipotle presented by H3O                              5
3 Pat Mccarty (USA) Garmin-Chipotle presented by H3O                              3
 
Mountain classification

1 Bernardo Colex Tepez (Mex) Tecos/Aldefer Auction                               40 pts
2 Pat Mccarty (USA) Garmin-Chipotle presented by H3O                             23
3 Lucas Euser (USA) Garmin-Chipotle presented by H3O                             15
4 Frederik Ericsson (Swe) Cykelcity.se/Klehr Harrison                            15
5 Philipp Mamos (Ger) Team Sparkasse/Canon Capital                                3
6 Christopher Jones (USA) Team Type 1                                             3

Best young rider

1 Jake Keough (USA) Kelly Benefit Strategies/Medifast                       4.06.01
2 Jonas Bjellmark (Swe) Cykelcity.se/Klehr Harrison                                
3 Cheyne Hoag (USA) CRCA/Sakonnet Technology U25 Team                              
4 Mathew Bell (Can) Calyon Pro Cycling Team                                        
5 Christopher Hong (USA) Battley Harley Davidson Elite Cycling Team                
6 Clay Murfet (Aus) Kelly Benefit Strategies/Medifast                              
7 Andrew Hunt (Can) Team RACE Pro                                                  
8 Fabio Calabria (Aus) Team Type 1                                                 
9 Charles T Marzot (USA) Fiordifrutta Cycling Team                             0.01
 
Teams

1 Garmin-Chipotle presented by H3O                                         11.36.11
2 Team RACE Pro                                                                3.51
3 Team Type 1                                                                  4.11
4 Tecos/Aldefer Auction                                                       19.56
5 Team Sparkasse/Canon Capital                                                26.51
6 Cykelcity.se/Klehr Harrison                                                 26.52
7 Fiordifrutta Cycling Team                                                   28.21
8 Champion System Racing  KraftGenie Cycling Inc.                            30.12
9 Cycling Center/JBCA/Doylestown Hospital                                          
10 Rite Aid Pro Cycling                                                       30.13
11 Toshiba-Santo Pro Cycling presented by Herbalife                           30.14
12 DLP Racing                                                                 34.40
13 Calyon Pro Cycling Team                                                    41.53
14 Kelly Benefit Strategies/Medifast