Recently on Cyclingnews.com
Rory Sutherland during the ToC pre-race press conference.
Photo ©: Jon Devich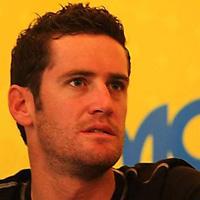 The Rory Sutherland Tour of Missouri diary
Rory Sutherland is back again – the 26 year-old Australian from Canberra is reporting from the 2008 Tour of Missouri for Cyclingnews, following on from his incredibly popular Tour of California and Tour de Georgia diaries. The 2004 Australian Under-23 National Champion will keep readers up to date every day on his and Team Health Net's progress. (For more read his 2008 diaries.)
Stage 5, St. James - Jefferson City, 174km & Stage 6, Hermann - St Charles, 155km
Season almost over
Another condensed and combined diary entry. Again, reasons being lack of Internet, laziness, and the more important one... the racing has been pretty full on. Yesterday was ridden at Mach 10, never seemingly letting up, and today was much of the same. This has become one of the hardest tours in the country. Last year we had great weather, no wind, and not a huge amount of motivation (it is September after all...) but this week's been rain, lots of wind, and hard racing. The winner of this tour will be a true winner for sure.
Today was a good day. I finally made the break, which took way too much time and energy to get into, but at the end of the day it was probably easier being in the break than in the bunch. What do we do in these 130 kilometers of riding? A lot! I think about how much I don't want to be in the break, about what I'm doing next week and I chat and joke with some of the other guys in the group. Luckily, I had a couple of old friends in there with me, which really helps the time go by quickly. Fellow Tour of California break partner Mike Creed was in there again, and definitely made my whole day lot more fun.
Things we do during these tours are pretty interesting. We watch terrible TV and we have been following the hurricane coming from the Gulf. The hurricane seems to be heading straight for us. I keep blinking through the fields, trying to tell myself I'm not in Belgium. I do this while looking around riders to see where the edge of the road is as we are doing 60 km/h in the gutter. Good times, good times.
The tour is wrapping up and it is nearly time to pack up and head home. This is the last race of the season for the team, and the last time that we fly the HealthNet Maxxis flag. It's a little sad; packing up 6 years of sponsorship is never an easy thing to walk away from. It's also going to be the last race with some of the teammates and that's really tough. This happens on every team. Guys move on and find new teams and this is part of the sport.
It is time to get back to my crap TV; something I think is seriously making me more uneducated than I already am!
Rory
www.justrory.com