Recently on Cyclingnews.com
Rory Sutherland during the ToC pre-race press conference.
Photo ©: Jon Devich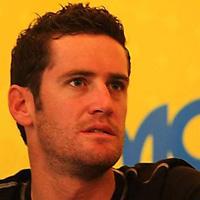 The Rory Sutherland Tour of Missouri diary
Rory Sutherland is back again – the 26 year-old Australian from Canberra is reporting from the 2008 Tour of Missouri for Cyclingnews, following on from his incredibly popular Tour of California and Tour de Georgia diaries. The 2004 Australian Under-23 National Champion will keep readers up to date every day on his and Team Health Net's progress. (For more read his 2008 diaries.)
Stage 4, Lebanon - Rolla, 155km
What a crazy day. This Tour actually seems to be getting harder every day. Today was probably the fastest first two hours I have ever spent on a bike. We were going quick... and I mean really quick. I think for the first hour and fifteen minutes we averaged above 52km/hr on rolling terrain. Usually in Tours there are attacks, of course, but at some stage the band breaks, nature calls, and the break finally goes away. Today that also happened, it just took about an hour or so longer than any other race.
Missouri's a pretty interesting place. For a State that I wouldn't have expected to have so many cycling enthusiasts, they're out there. And not just the enthusiasts - people who don't ride are out supporting this great Tour. Start towns are packed with people, school kids out lining the streets, bands playing on the finishing circuits. I'm sure the 'euros' must think Americans are strange... I love it, it's fun, it's different, and it shows that people love cycling too.
I'm tired. Actually, I think a lot of people are tired after today. The next few days may be more of the same though as the 'battle royale' between Columbia and Garmin kicks off. Rain is forecast for the coming days, which is something I think we'd all rather be without. It is, however, part of cycling, and I'm sure it's not going to stop the racing from being hard!
Not too many snippets from the peleton today, riding at Mach 10 for 2 hours kind of cuts down the amount of chit chat that can go on. However, my roommate TJ did make the break, therefore securing himself the coveted 'Masshole Cup' for this Tour. (Masshole, for those unaware, is a person from Massachusetts.) The coveted Masshole Cup is a mythical award for the first of 'these people' over the line every day. A competition very similar to the whole 'Kanga Cup' we have with Australians, or 'Kiwi Cup' for the New Zealanders across the pond from my homeland. Let's just not tell TJ that he is the only Masshole in the race...
Till the rain comes!
Rory
www.justrory.com