5th Tour of Britain - 2.1
Great Britain, September 7-14, 2008
Main Page Results Overall standings Stage Details Previous Stage Next Stage
Stage 7 - September 13: Glasgow - Drumlanrig Castle, 153km
Boasson Hagen gets his hat trick at Drumlanrig Castle
By Gerry McManus
Edvald Boasson Hagen (Team Columbia) celebrates
Photo ©: Gerry McManus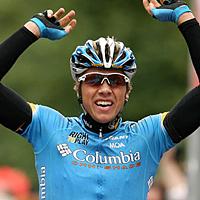 Edvald Boasson Hagen (Team Columbia) out witted his breakaway companions to win his third stage of the Tour of Britain. The Norwegian caught and passed Australian Cameron Meyer (SouthAustalia.com/AIS) as he made a do or die attack in the final two kilometres. Hundreds of fans watched as Meyer came around the final corner, hugging the left hand barriers as he gave everything he had to win the stage.
Boasson Hagen started his attack from a small group which included Matt Goss (SouthAustalia.com/AIS) and Julian Dean (Garmin Chipotle) who had switched to the other side of the road and the Norwegian put his head down for glory to win the stage and pick up the green jersey as points leader of the race.
Goss held on for second spot ahead of Daryl Impey (Barloworld) and Danilo Di Luca (Team LPR Brakes)
The breaks mopped up all the King of the Mountain points on the day with Danilo Di Luca taking over the jersey from Ben Swift (Barloworld). Geoffroy Lequarte (Agritubel) finished 12th at 2min 18 seconds and holds on to the race lead with only the 110 km stage from Blackpool to Liverpool remaining.
"I still don't know if I have won the Tour," overall leader Lequarte said. "We will see tomorrow when I cross the finish line for sure. Today we did a great job and I would like to thank my team, my friends, because they did a really good job. We rode the first part of the stage perfectly. We were able to check the numbers in the break and let the group go. Everyday has been the same configuration. I was able to go with the attacks by Barloworld and Garmin but the hill was not so difficult and we were able to ride to the finish for the sprint. There are lot of teams interested in winning the stage tomorrow and perhaps Petacchi's LPR team will help us. The stage was very beautiful today. There was nobody there, just sheep."
Boasson Hagen started to laugh when he was asked if he could make it four stage victories by the end of tomorrow. "It will be hard," he said: "Today Meyer (Cameron) attacked with two kilometres to go and Greg (Henderson) started to chase him down and almost caught him. Then Julian Dean went full gas with about 500m to go and I was the last man in the group. I managed to get a gap and hold on to win. It's really nice. Today was one of the toughest stages. It was up and down all day and never easy. I was hoping to get a jersey today and it is really nice to have them."
The 21-year-old has won three stages of a tour before when he got the hat-trick in the Tour de l'Avenir in 2006. "This is my seventh victory this year," he continued. "I don't think I would have been able to win three stages if I was in contention for the overall lead. They wouldn't have let me stay in the breakaway group. I am satisfied with three stage wins."
How it unfolded
The race was all together at the 30km mark. Attempts to go clear had started as early as the first KOM of the day which was won by Jonathan McEvoy (Team GB) who had escaped in a small group which included Danilo Di Luca and Chris Sorensen (Team CSC - Saxo Bank). The race winning break of the day went clear even before the first sprint at Glespin which was won by New Zealander Greg Henderson (Team Columbia). Di Luca, Henderson, Daryl Impey (Barloworld) Boasson Hagen, Goss, Julian Dean (Team Garmin-Chipotle p/b H30), Freddie Rodriguez (Rock Racing) and Cameron Meyer (SoutAustralia.com/AIS) traded rivalry for cooperation as the eight man break grew their lead to over seven minutes. Di Luca was first over the summit at Crawfordjohn and at the tough summit of the Mennock Pass. Meanwhile Steve Cummings (Barloworld) had left the bunch and was flat out on the Mennock Pass trying to get to the leaders but they were in no mood to be caught.
Meanwhile the bunch behind was finally taking notice of the break and had split on the Mennock Pass as they ruthlessly pursued the leaders and the gap was down to less than three minutes.
Boasson Hagen took maxiumum points on the sprints at Sanquhar and Thornhill to go equal on sprint points with Di Luca but takes the jersey on countback.
The gap to the leaders narrowed but all eight riders worked together right up until two kilometres to go. Boasson Hagen had a clear lead when he crossed the finish line but he didn't chance celebrating early, as some have done to their own detriment this season.
Sunday finales are usually processional but this one features five laps of a tough 2.4km city centre circuit with a nasty little climb and some tight turns. The Agritubel team will have to watch every move if they don't want their excellent work this week to come to nothing.
Steve Cummings lies second at 6 seconds with Daniel Martin (Team Garmin-Chipotle p/b H30) third at 14 seconds. Any one of nine riders could walk away in yellow tomorrow.
Photography
For a thumbnail gallery of these images, click here
Images by Gerry McManus/www.gerrymcmanus.co.uk
Results
1 Edvald Boasson Hagen (Nor) Team Columbia                                3.45.18 (41.92 km/h)
2 Matthew Goss (Aus) Team CSC - Saxo Bank                                        
3 Daryl Impey (RSA) Barloworld                                                   
4 Danilo Di Luca (Ita) LPR Brakes - Ballan                                       
5 Julian Dean (NZl) Team Garmin-Chipotle-presnted by H30                         
6 Fred Rodriguez (USA) Rock Racing                                           0.05
7 Cameron Meyer (Aus) South Australia.com-AIS                                    
8 Greg Henderson (NZl) Team Columbia                                         0.26
9 Kristof Goddaert (Bel) Topsport Vlaanderen                                 2.18
10 Roger Hammond (GBr) Team Columbia                                             
11 Stuart O'Grady (Aus) Team CSC - Saxo Bank                                     
12 Geoffroy Lequarte (Fra) Agritubel                                             
13 Romain Feillu (Fra) Agritubel                                                 
14 Jonathan Bellis (GBr) Team CSC - Saxo Bank                                    
15 Steven Caethoven (Bel) Agritubel                                              
16 Gabriele Bosisio (Ita) LPR Brakes - Ballan                                    
17 Daniel Martin (Irl) Team Garmin-Chipotle-presnted by H30                      
18 Kristian House (GBr) Rapha-Condor-Recycling.co.uk                             
19 Chris Sutton (Aus) Team Garmin-Chipotle-presnted by H30                       
20 Alejandro Marque Porto (Spa) Palmeiras Resort - Tavira                        
21 Steve Cummings (GBr) Barloworld                                               
22 Emilien Berges (Fra) Agritubel                                                
23 Frederik Veuchelen (Bel) Topsport Vlaanderen                                  
24 Ben Swift (GBr) Great Britain                                                 
25 Russell Downing (GBr) Pinarello RT - Canditv                                  
26 Chris Anker Sørensen (Den) Team CSC - Saxo Bank                               
27 Daniel Fleeman (GBr) AnPost-M.Donnelly-GrantThornton-SeanKellyTeam            
28 Ian Stannard (GBr) Great Britain                                              
29 Kristof Vandewalle (Bel) Topsport Vlaanderen                                  
30 Benny De Schrooder (Bel) AnPost-M.Donnelly-GrantThornton-SeanKellyTeam        
31 David George (RSA) MTN Energade                                               
32 Tom Murray (GBr) Pinarello RT - Canditv                                       
33 Simon Richardson (GBr) Plowman Craven RT                                      
34 Waylon Woolcock (RSA) MTN Energade                                            
35 Paul Sneeboer (Ned) Palmeiras Resort - Tavira                                 
36 Kevin Evans (RSA) MTN Energade                                                
37 Johnnie Walker (Aus) South Australia.com-AIS                                  
38 Alessandro Petacchi (Ita) LPR Brakes - Ballan                                 
39 Hugo Sabido (Por) Barloworld                                                  
40 Tyler Hamilton (USA) Rock Racing                                          2.33
41 Oscar Sevilla (Spa) Rock Racing                                               
42 Jonathan McEvoy (GBr) Great Britain                                       2.38
43 Freddy Bichot (Fra) Agritubel                                             2.43
44 Malcolm Elliott (GBr) Pinarello RT - Canditv                              2.45
45 Pieter Vanspeybrouck (Bel) Topsport Vlaanderen                                
46 Evan Oliphant (GBr) Plowman Craven RT                                     2.50
47 Zakkari Dempster (Aus) South Australia.com-AIS                                
48 Tom Southam (GBr) Great Britain                                               
49 Rob Partridge (GBr) Rapha-Condor-Recycling.co.uk                              
50 Serge Pauwels (Bel) Topsport Vlaanderen                                       
51 Tomas Swift-Metcalfe (GBr) Palmeiras Resort - Tavira                      2.59
52 Tom Barras (GBr) Plowman Craven RT                                        3.09
53 Neil MacDonald (RSA) MTN Energade                                             
54 Lee Davis (GBr) Pinarello RT - Canditv                                    3.12
55 Nicolas Vogondy (Fra) Agritubel                                               
56 Trent Lowe (Aus) Team Garmin-Chipotle-presnted by H30                     3.37
57 Victor Hugo Pena (Col) Rock Racing                                        3.42
58 Magnus Backstedt (Swe) Team Garmin-Chipotle-presnted by H30                   
59 David Blanco Rodriguez (Spa) Palmeiras Resort - Tavira                    3.55
60 Andrew Tennant (GBr) Great Britain                                            
61 Wesley Sulzberger (Aus) South Australia.com-AIS                               
62 Alessandro Spezialetti (Ita) LPR Brakes - Ballan                              
63 Giairo Ermeti (Ita) LPR Brakes - Ballan                                       
64 Claudio Cucinotta (Ita) LPR Brakes - Ballan                                   
65 Kim Kirchen (Lux) Team Columbia                                           4.07
66 David Millar (GBr) Team Garmin-Chipotle-presnted by H30                   4.40
67 Vicente Reynes (Spa) Team Columbia                                        2.18
68 Chris Newton (GBr) Rapha-Condor-Recycling.co.uk                          11.49
69 Geraint Thomas (GBr) Barloworld                                               
70 Kenny Lisabeth (Bel) AnPost-M.Donnelly-GrantThornton-SeanKellyTeam            
71 Dean Downing (GBr) Rapha-Condor-Recycling.co.uk                               
72 Simon Gaywood (GBr) Plowman Craven RT                                         
73 Jay Thomson (RSA) MTN Energade                                                
74 Juan Van Heerden (RSA) MTN Energade                                           
75 Peter Williams (GBr) Pinarello RT - Canditv                                   
76 Rob Hayles (GBr) Great Britain                                                
77 Santiago Botero (Col) Rock Racing                                             
78 James Millard (GBr) Plowman Craven RT                                         
79 Andrew Roche (Irl) Pinarello RT - Canditv                                     
80 Stephen Gallagher (Irl) AnPost-M.Donnelly-GrantThornton-SeanKellyTeam         
81 Robbie Hunter (RSA) Barloworld                                                
82 Bradley McGee (Aus) Team CSC - Saxo Bank                                      
83 Diego Caccia (Ita) Barloworld                                                 
84 Dale Appleby (GBr) Rapha-Condor-Recycling.co.uk                               
85 Bradley Wiggins (GBr) Team Columbia                                           
DNS Travis Meyer (Aus) South Australia.com-AIS                                   
DNF Koen Barbe (Bel) Topsport Vlaanderen                                         
DNF Daniel Lloyd (GBr) AnPost-M.Donnelly-GrantThornton-SeanKellyTeam             
DNF Simon Clarke (Aus) South Australia.com-AIS                                   
 
Sprints
 
Glespin
1 Greg Henderson (NZl) Team Columbia                                            5 pts
2 Matthew Goss (Aus) Team CSC - Saxo Bank                                       3
3 Julian Dean (NZl) Team Garmin-Chipotle-presnted by H30                        2
4 Daryl Impey (RSA) Barloworld                                                  1
 
Sanquhar
1 Edvald Boasson Hagen (Nor) Team Columbia                                      5 pts
2 Danilo Di Luca (Ita) LPR Brakes - Ballan                                      3
3 Greg Henderson (NZl) Team Columbia                                            2
4 Julian Dean (NZl) Team Garmin-Chipotle-presnted by H30                        1
 
Thornhill
1 Edvald Boasson Hagen (Nor) Team Columbia                                      5 pts
2 Danilo Di Luca (Ita) LPR Brakes - Ballan                                      3
3 Daryl Impey (RSA) Barloworld                                                  2
4 Julian Dean (NZl) Team Garmin-Chipotle-presnted by H30                        1
 
Mountains
 
Cat 3: Nerston
1 Jonathan McEvoy (GBr) Great Britain                                           4 pts
2 Danilo Di Luca (Ita) LPR Brakes - Ballan                                      3
3 Chris Anker Sørensen (Den) Team CSC - Saxo Bank                               2
4 Daryl Impey (RSA) Barloworld                                                  1
 
Cat 3: Crawfordjohn
1 Danilo Di Luca (Ita) LPR Brakes - Ballan                                      4 pts
2 Greg Henderson (NZl) Team Columbia                                            3
3 Matthew Goss (Aus) Team CSC - Saxo Bank                                       2
4 Cameron Meyer (Aus) South Australia.com-AIS                                   1
 
Cat 1: Mennock Pass
1 Danilo Di Luca (Ita) LPR Brakes - Ballan                                     10 pts
2 Fred Rodriguez (USA) Rock Racing                                              8
3 Greg Henderson (NZl) Team Columbia                                            6
4 Matthew Goss (Aus) Team CSC - Saxo Bank                                       5
5 Cameron Meyer (Aus) South Australia.com-AIS                                   4
6 Edvald Boasson Hagen (Nor) Team Columbia                                      3
7 Daryl Impey (RSA) Barloworld                                                  2
8 Julian Dean (NZl) Team Garmin-Chipotle-presnted by H30                        1
 
Teams
 
1 Team Columbia                                                          11.18.38
2 Team CSC - Saxo Bank                                                       1.52
3 Garmin - Chipotle                                                              
4 LPR Brakes - Ballan                                                            
5 Barloworld                                                                     
6 Rock Racing                                                                2.27
7 SouthAustralia.com - AIS                                                   2.29
8 Agritubel                                                                  4.10
9 Topsport Vlaanderen                                                            
10 MTN Energade                                                                  
11 Great Britain                                                             4.30
12 Pinarello RT - Candi TV                                                   4.37
13 Palmeiras Resort - Tavira                                                 4.51
14 Plowman Craven RT                                                         5.33
15 An Post M.Donnelly                                                       13.41
16 Rapha - Condor - Recycling.co.                                           14.13
 
General classification after stage 7
 
1 Geoffroy Lequarte (Fra) Agritubel                                      25.02.25
2 Steve Cummings (GBr) Barloworld                                            0.06
3 Daniel Martin (Irl) Team Garmin-Chipotle-presnted by H30                   0.14
4 Gabriele Bosisio (Ita) LPR Brakes - Ballan                                 0.15
5 Ian Stannard (GBr) Great Britain                                           0.16
6 Daniel Fleeman (GBr) AnPost-M.Donnelly-GrantThornton-SeanKellyTeam         0.18
7 Benny De Schrooder (Bel) AnPost-M.Donnelly-GrantThornton-SeanKellyTeam     0.19
8 Frederik Veuchelen (Bel) Topsport Vlaanderen                               0.28
9 Emilien Berges (Fra) Agritubel                                             0.40
10 Russell Downing (GBr) Pinarello RT - Canditv                              1.24
11 Alejandro Marque Porto (Spa) Palmeiras Resort - Tavira                    1.47
12 Jonathan Bellis (GBr) Team CSC - Saxo Bank                                1.49
13 Kristian House (GBr) Rapha-Condor-Recycling.co.uk                             
14 Roger Hammond (GBr) Team Columbia                                         1.52
15 David George (RSA) MTN Energade                                           1.54
16 Chris Sutton (Aus) Team Garmin-Chipotle-presnted by H30                   1.59
17 Simon Richardson (GBr) Plowman Craven RT                                  2.04
18 Kristof Vandewalle (Bel) Topsport Vlaanderen                              2.48
19 Kevin Evans (RSA) MTN Energade                                            3.31
20 Hugo Sabido (Por) Barloworld                                              4.35
21 Edvald Boasson Hagen (Nor) Team Columbia                                  9.18
22 Matthew Goss (Aus) Team CSC - Saxo Bank                                   9.49
23 Julian Dean (NZl) Team Garmin-Chipotle-presnted by H30                   10.41
24 Tom Southam (GBr) Great Britain                                          11.06
25 Alessandro Petacchi (Ita) LPR Brakes - Ballan                            12.35
26 Ben Swift (GBr) Great Britain                                            12.51
27 Vicente Reynes (Spa) Team Columbia                                            
28 Malcolm Elliott (GBr) Pinarello RT - Canditv                             13.13
29 Johnnie Walker (Aus) South Australia.com-AIS                             13.17
30 Kristof Goddaert (Bel) Topsport Vlaanderen                               14.11
31 Serge Pauwels (Bel) Topsport Vlaanderen                                  15.03
32 Evan Oliphant (GBr) Plowman Craven RT                                    15.51
33 Rob Partridge (GBr) Rapha-Condor-Recycling.co.uk                         16.09
34 Kim Kirchen (Lux) Team Columbia                                          16.10
35 Fred Rodriguez (USA) Rock Racing                                         16.19
36 Romain Feillu (Fra) Agritubel                                            16.20
37 Waylon Woolcock (RSA) MTN Energade                                       17.31
38 Pieter Vanspeybrouck (Bel) Topsport Vlaanderen                           17.42
39 Steven Caethoven (Bel) Agritubel                                         17.50
40 Giairo Ermeti (Ita) LPR Brakes - Ballan                                  17.56
41 Jonathan McEvoy (GBr) Great Britain                                      18.02
42 Danilo Di Luca (Ita) LPR Brakes - Ballan                                 18.12
43 Tom Murray (GBr) Pinarello RT - Canditv                                  18.51
44 Stuart O'Grady (Aus) Team CSC - Saxo Bank                                19.07
45 David Blanco Rodriguez (Spa) Palmeiras Resort - Tavira                   19.52
46 Freddy Bichot (Fra) Agritubel                                            20.22
47 Chris Anker Sørensen (Den) Team CSC - Saxo Bank                          21.04
48 Paul Sneeboer (Ned) Palmeiras Resort - Tavira                            22.44
49 Greg Henderson (NZl) Team Columbia                                       23.11
50 Santiago Botero (Col) Rock Racing                                        23.24
51 Daryl Impey (RSA) Barloworld                                             24.16
52 Oscar Sevilla (Spa) Rock Racing                                          24.43
53 Alessandro Spezialetti (Ita) LPR Brakes - Ballan                         24.57
54 Zakkari Dempster (Aus) South Australia.com-AIS                           25.14
55 Andrew Tennant (GBr) Great Britain                                       25.23
56 Tyler Hamilton (USA) Rock Racing                                         26.52
57 Lee Davis (GBr) Pinarello RT - Canditv                                   27.06
58 Wesley Sulzberger (Aus) South Australia.com-AIS                          27.40
59 Victor Hugo Pena (Col) Rock Racing                                       28.09
60 Trent Lowe (Aus) Team Garmin-Chipotle-presnted by H30                    28.39
61 Magnus Backstedt (Swe) Team Garmin-Chipotle-presnted by H30              28.52
62 Peter Williams (GBr) Pinarello RT - Canditv                              30.22
63 Tom Barras (GBr) Plowman Craven RT                                       30.57
64 Stephen Gallagher (Irl) AnPost-M.Donnelly-GrantThornton-SeanKellyTeam    31.34
65 Juan Van Heerden (RSA) MTN Energade                                      33.42
66 Neil MacDonald (RSA) MTN Energade                                        34.08
67 Rob Hayles (GBr) Great Britain                                           34.33
68 Nicolas Vogondy (Fra) Agritubel                                               
69 Kenny Lisabeth (Bel) AnPost-M.Donnelly-GrantThornton-SeanKellyTeam       34.47
70 Cameron Meyer (Aus) South Australia.com-AIS                                   
71 Dale Appleby (GBr) Rapha-Condor-Recycling.co.uk                          34.52
72 David Millar (GBr) Team Garmin-Chipotle-presnted by H30                  35.49
73 Diego Caccia (Ita) Barloworld                                            36.05
74 Robbie Hunter (RSA) Barloworld                                           36.47
75 Geraint Thomas (GBr) Barloworld                                          36.50
76 Dean Downing (GBr) Rapha-Condor-Recycling.co.uk                          37.21
77 Claudio Cucinotta (Ita) LPR Brakes - Ballan                              37.23
78 Bradley McGee (Aus) Team CSC - Saxo Bank                                 37.53
79 Tomas Swift-Metcalfe (GBr) Palmeiras Resort - Tavira                     40.05
80 Bradley Wiggins (GBr) Team Columbia                                      41.53
81 James Millard (GBr) Plowman Craven RT                                    42.47
82 Chris Newton (GBr) Rapha-Condor-Recycling.co.uk                          43.19
83 Jay Thomson (RSA) MTN Energade                                           45.08
84 Simon Gaywood (GBr) Plowman Craven RT                                    50.35
85 Andrew Roche (Irl) Pinarello RT - Canditv                              1.00.56
 
Points classification
 
1 Edvald Boasson Hagen (Nor) Team Columbia                                     58 pts
2 Matthew Goss (Aus) Team CSC - Saxo Bank                                      53
3 Julian Dean (NZl) Team Garmin-Chipotle-presnted by H30                       48
4 Roger Hammond (GBr) Team Columbia                                            45
5 Alessandro Petacchi (Ita) LPR Brakes - Ballan                                44
6 Kristof Goddaert (Bel) Topsport Vlaanderen                                   38
7 Danilo Di Luca (Ita) LPR Brakes - Ballan                                     38
 
Sprint classification
 
1 Edvald Boasson Hagen (Nor) Team Columbia                                     23 pts
2 Danilo Di Luca (Ita) LPR Brakes - Ballan                                     23
3 Giairo Ermeti (Ita) LPR Brakes - Ballan                                      15
4 Daryl Impey (RSA) Barloworld                                                 13
5 Matthew Goss (Aus) Team CSC - Saxo Bank                                      12
6 Diego Caccia (Ita) Barloworld                                                12
7 Peter Williams (GBr) Pinarello RT - Canditv                                  11
8 Evan Oliphant (GBr) Plowman Craven RT                                         9
9 Chris Sutton (Aus) Team Garmin-Chipotle-presnted by H30                       9
10 Geoffroy Lequarte (Fra) Agritubel                                            8
11 Russell Downing (GBr) Pinarello RT - Canditv                                 8
12 Greg Henderson (NZl) Team Columbia                                           7
13 Ben Swift (GBr) Great Britain                                                7
14 Freddy Bichot (Fra) Agritubel                                                6
15 Steve Cummings (GBr) Barloworld                                              5
16 Ian Stannard (GBr) Great Britain                                             5
17 Oscar Sevilla (Spa) Rock Racing                                              5
18 Victor Hugo Pena (Col) Rock Racing                                           4
19 Julian Dean (NZl) Team Garmin-Chipotle-presnted by H30                       4
20 Kevin Evans (RSA) MTN Energade                                               3
21 Fred Rodriguez (USA) Rock Racing                                             3
22 Wesley Sulzberger (Aus) South Australia.com-AIS                              3
23 Rob Hayles (GBr) Great Britain                                               3
24 Serge Pauwels (Bel) Topsport Vlaanderen                                      3
25 Romain Feillu (Fra) Agritubel                                                3
26 Bradley McGee (Aus) Team CSC - Saxo Bank                                     3
27 Daniel Fleeman (GBr) AnPost-M.Donnelly-GrantThornton-SeanKellyTeam           2
28 Emilien Berges (Fra) Agritubel                                               2
29 Vicente Reynes (Spa) Team Columbia                                           2
30 Benny De Schrooder (Bel) AnPost-M.Donnelly-GrantThornton-SeanKellyTeam       1
31 Roger Hammond (GBr) Team Columbia                                            1
32 Santiago Botero (Col) Rock Racing                                            1
 
Mountains classification
 
1 Danilo Di Luca (Ita) LPR Brakes - Ballan                                     36 pts
2 Ben Swift (GBr) Great Britain                                                29
3 Kristian House (GBr) Rapha-Condor-Recycling.co.uk                            19
4 Steve Cummings (GBr) Barloworld                                              15
5 Matthew Goss (Aus) Team CSC - Saxo Bank                                      15
6 Geoffroy Lequarte (Fra) Agritubel                                            14
7 Edvald Boasson Hagen (Nor) Team Columbia                                     14
8 Serge Pauwels (Bel) Topsport Vlaanderen                                      11
9 Hugo Sabido (Por) Barloworld                                                 10
10 Ian Stannard (GBr) Great Britain                                             9
11 Greg Henderson (NZl) Team Columbia                                           9
12 Daniel Fleeman (GBr) AnPost-M.Donnelly-GrantThornton-SeanKellyTeam           8
13 David George (RSA) MTN Energade                                              8
14 Fred Rodriguez (USA) Rock Racing                                             8
15 Victor Hugo Pena (Col) Rock Racing                                           7
16 Peter Williams (GBr) Pinarello RT - Canditv                                  7
 
Teams classification
 
1 Agritubel                                                              75.11.04
2 Garmin - Chipotle                                                          8.53
3 Great Britain                                                             11.25
4 LPR Brakes - Ballan                                                       11.42
5 Topsport Vlaanderen                                                       12.50
6 Barloworld                                                                13.29
7 MTN Energade                                                              14.46
8 An Post M.Donnelly                                                        19.03
9 Team Columbia                                                             19.07
10 Team CSC - Saxo Bank                                                     21.09
11 Pinarello RT - Candi TV                                                  27.28
12 Rapha - Condor - Recycling.co.                                           34.40
13 SouthAustralia.com - AIS                                                 34.48
14 Palmeiras Resort - Tavira                                                38.19
15 Rock Racing                                                              39.03
16 Plowman Craven RT                                                        40.26