Race tech: 2008 Summer Olympics Games, August 27, 2008
Time trial and track tech from Beijing
By James Huang
A look at Sarah Hammer's Felt TK1
Sarah Hammer (United States)
Photo ©: Casey Gibson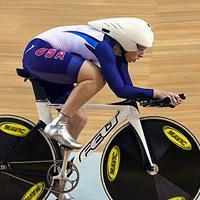 Felt Bicycles outfitted former two-time world champion Sarah Hammer with a prototype TK1 track frame in her quest for a gold medal (which, unfortunately, ended with a broken clavicle during the women's points race final).
Track racers normally don't fret too much over the weight of their machines but Hammer's comparatively small size (she stands 1.7m (5' 7") tall and weighs just 61kg (135lb)) meant that she could afford to go much lighter than usual. According to Felt road brand manager Dave Koesel, target weight was an ambitious 6.8kg (15.0lb); more typical rigs, even at the top level of the sport, can sometimes eclipse 10kg (22lb).
"We've got a painstaking process to cut down on weight that involved about a 40-hour frame build," Koesel said. "It cuts out some of the redundancy of laying up carbon in pre-preg sheets. Here, weight is pretty insignificant, but when you have margins of victory like Chris Hoy's 0.01s in the kilo a few years ago, shaving two pounds becomes very significant."
Giant builds one-off TCR Advanced Track frames
Giant outfitted its track riders
Photo ©: Giant Bicycles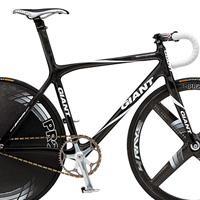 Giant doesn't currently list any carbon track frames in its range but sponsored Olympic track riders Peter Schep (Netherlands) and Wong Kam Po (Hong Kong) each had one anyway. Giant produced a handful of TCR Advanced Track racers based on its previous-generation TCR Advanced road model. According to Giant communications manager Andrew Juskaitis, fewer than 25 of these exist in the world and, at least for now, there are no plans for a production version.
The TCR Advanced Track uses the same front triangle geometry as the standard TCR Advanced but track-specific seat- and chain stays are bonded on out back. The chain stays are also slightly offset to minimize flex under power, thus helping to keep the bike tracking straight when Schep and Wong were dropping the hammer.
Carbon is used throughout the main frame and fork legs but an aluminum steerer is used for better rigidity and security. As is common on track machines, there are also additional layers of carbon for added stiffness though Giant claims the TCR Advanced Track is still lighter than most other comparable carbon track frames.
Look with new 596 track bikes for Beijing; 496 track also updated
Look-sponsored riders used a new track-specific version
Photo ©: James Huang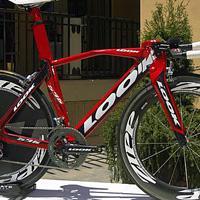 Look debuted its intriguing 596 time trial machine to the public earlier this month and added a pursuit-specific track variant at this year's Olympics in Beijing.
Like the standard 596, the 596 'Beijing' features the Look's trend-bucking expanded wheel gaps, Monoblade fork shape, distinct kinked top tube and new two-piece carbon stem. Obviously, the 'Beijing' rear end sports track-appropriate horizontal dropouts but also an aluminum adapter block in the bottom bracket shell that allows for standard cranksets in lieu of the new Zed design. According to Look, target weight for the complete bike was 6.8kg (15.0lb).
Look-sponsored riders still turned to the apparently stiffer workhorse 496 for the more demanding sprint events though. Not much has changed on the frame itself from previous iterations, but Look says its new Monoblade fork offered improved aerodynamics over the original version while a particularly broad clamp area on a new stem provides a claimed 30 percent improvement in stiffness over the outgoing unit.
Armstrong with unusual handlebar setup in gold-winning time trial
Where'd the brake levers go?
Photo ©: Casey Gibson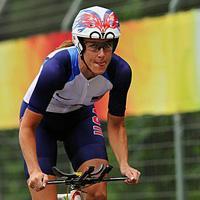 Kristen Armstrong (United States) passed over the usual handlebar suspects as she captured the Olympic gold medal in the women's time trial, opting instead for the rarely-seen Tula model from USE. The Tula boasts the usual performance attributes of slippery aerodynamics and light weight (699g claimed, including base bar, straight extensions, Pro Pods and pads) but its unique in-line brake lever position may have afforded an additional advantage.
"An interesting discovery with the Tula bars is that on trick descents where it is not possible to ride the aero bars, Kristin is able to get into a 'road bike' tuck and feather the brakes, whereas on traditional aerobars, to have your hands on the brakes it means opening your arms out like a parachute," said Armstrong's trainer, Craig Upton.
Even so, the in-line lever positioning likely won't suit everyone so USE also offers optional 'Sporting Pods' which allow the use of more conventional brake levers.
Photography
For a thumbnail gallery of these images, click here
Images by Casey Gibson/www.cbgphoto.com
Images by Giant Bicycles
Images by Casey Gibson/www.cbgphoto.com
Images by James Huang/Cyclingnews.com