An interview with Adam Craig, July 30, 2008
A second Olympic quest
Just two weeks after being named to represent the United States at the upcoming Olympic Games in Beijing in August, Adam Craig successfully defended his US national cross country and Super D titles in Mount Snow, Vermont. Last weekend, at the Mont-Sainte-Anne, Quebec, World Cup, Craig logged an impressive fourth place podium place. Cyclingnews' Sue George spoke with Craig about his preparation for the Olympic Games and the effect the Games have had on his season.
Adam Craig (Giant)
Photo ©: Dave McElwaine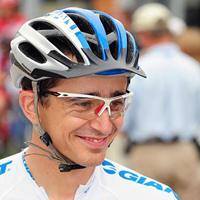 It's not the first time Adam Craig has built a season around the Olympic Games. In 2004, Craig was one of four contenders for two positions on the US Olympic team. After a season-long, global quest for the UCI points needed to make the team, Craig was not selected. However, in 2008, things have worked out quite differently.
"It is a lot better this time around - in part because the [selection] criteria is not absolutely ridiculous," said Craig when asked how his two experiences of trying to make it to the 2004 and 2008 Olympic Games compared. "But I'm also four years older and four years faster, and I know what I need to do now." Craig will turn 27 just one week before the Olympic race.
"It - the effort to make the Olympic team - has been pleasant and pretty easy as far as hard things go," said a joking Craig as he looked back on his spring campaign.
Four years has brought Craig more maturity, perspective, confidence and experience travelling in Europe. "I know as long as I'm riding decent that I can always be top 15 top 20 World Cup. I'm comfortable with myself racing now."
He also credited his Team Giant for providing a mechanic and a soigneur this time around. "I have better support. We have a good set up. Knowing that's necessary and being able to put my foot down makes a difference. I said, 'You know last time my bike broke a bunch and I didn't make the Olympic team - let's try to avoid that.'"
Making the team
"To be honest, if I could make a living doing seven day mountain bike stage races and hour-long downhill races, I'd be ok with never doing a World Cup again"
- 2008 US Olympian Adam Craig, whose been busy chasing points at World Cups all season.
USA Cycling named Craig to the US Olympic team in early July along with Todd Wells, who also went to the 2004 Olympics in Athens, Greece. Wells started off the 2008 season with a bang, sending the message to the others that he really wanted one of the two Olympic berths.
Todd Wells (GT/Pacific) is the other man on the US Olympic MTB Team
Photo ©: Dave McElwaine

"Todd's got a leg up on me for sure. He's been riding out of his skin. I've been riding fairly average." said Craig about a month before winning two national titles at Mount Snow, Vermont.
"Todd's good at getting in shape for stuff. He's good at hanging out in Tucson [Arizona] all winter and never missing a day of training and being ultra professional, so I wasn't surprised to see him up there. He's never ridden like this at World Cups before, but it's not like he's ever had to prepare for this before either. He's really stepped up and done well."
Craig kicked off his season on a positive note with a 15th place at the opening cross country World Cup in Houffalize, Belgium. "Getting 15th there was cool. I felt like I'd had a less than ideal winter of training, but then I knew I could race well enough to get on the team. It was absolutely perfect because it means I still have some gas left in the tank," said Craig, who cited poor winter weather in the Northwest and getting sick after his first major training block this season as reasons he fell behind going into the season.
"I spent basically a month bouncing off the red limiter. And then I finally got rested up and training again before the World Cup. Turns out it was perfect. Maybe it saved me from myself?"
After Houffalize, Craig spent nine weeks in Europe attending all the World Cups and other regional races. Selection for the US team was based on performances at the World Cups and the World Championships.
Although he said it was easier to be abroad chasing points this time around, Craig looked tired after finishing the World Championship race in Val di Sole, Italy, in mid-June. "I'm ready for a vacation," he said after he crossed the line in 45th place as the last rider not lapped or pulled.
Adam Craig (Giant) at Mont-Sainte-Anne
Photo ©: Dave McElwaine

After taking some time off immediately after worlds, he resumed training leading up to the Olympics. "I'll build back up and try to get strong enough to get a medal in Beijing," said Craig, whose plan seems to be working as he finished fourth last weekend at the Mont-Sainte-Anne World Cup. Next weekend he heads to one last pre-Olympic World Cup in Bromont, Québec. "My priority is to build up for the Olympics. I feel like things at the other events will fall into place naturally."
"I'm excited about the Olympics. I'm not obsessed with being an Olympian, I'm more obsessed with being at the pinnacle of sport. I'm glad it's working out to get a trip to the Games, and it'll be nice to be the first group of Americans to really go to the Games and do well and have solid performances."
"I think we've shown so far this year that we can be competitive and I think we can go there and do that. I'm not personally looking for any credibility, but if Todd or I can go there and do well, it would help mountain biking. As Martin Whiteley said awhile ago, 'Mountain biking needs more heros,' and the Olympics are a good way to get that. I'm hoping to motivate people for the good cause of riding bikes in the woods - it's a fun thing to do."
"Even four years ago, I didn't just want to go to the Olympics, I wanted to go and do well. I think we have a chance to go and do well this year. Making the team is great, but I need to make the team so that I can go and medal. It's a perfectly timed step along the way. I'm ready to go."
A closer look at mountain bike racing in Bejing
Adam Craig (Giant)
Photo ©: Dave McElwaine

Craig attended last year's Olympic Test Event in Beijing. "Beijing is a good example of the beauty of mountain biking. You can do it wherever. It's irrelevant whether it's a good course or not because if somebody's fit and knows how to ride, they will probably do well."
"I think Beijing is a good example of that because the course isn't ultra selective. For someone to go ride it, it wouldn't be ultra-challenging or epic, but everyone will be on the same track, and we'll all have the same challenges. It'll be good."
Referring to concerns about pollution, he said, "I hope it rains; otherwise, it might be a situation like the test event where everyone was dropping like flies. Then it'll be a slow race where you'll see who can survive and that person will win."
Craig will be racing for medal and he thinks his toughest competition will be Julien Absalon (France), Christoph Sauser (Switzerland), Florian Vogel (Switzerland), Nino Schurter (Switzerland), and Jose Antonio Hermida (Spain). "Absalon and the Swiss guys have been the most consistent, and Absalon knows how to prepare for a day race. If Hermida's going good, he'll be strong. Someone like [Jean Christophe] Peraud [(France)]or [Cedric] Ravenel [(France)] could do well. Or Burry Stander [(South Africa)] - that guy can sprint up guys like nobody's business. He's come a long way this year, but there's still a long way to go until Beijing."
He also mentioned British riders Liam Killeen and Oli Beckingsale, Canadian Geoff Kabush, and Italian Marco Fontana.
"Beijing is where we'll see who has already cashed too many of their chips this year so far and who's ready and rested," said Craig. "It'll be a race where you have to be at 110% because the course is so steep and punchy and as soon as you falter you don't have anywhere to hide. There's no long, draggy climb where you can ride tempo. We'll see who puts everything together on that day."
Unlike some racers, Craig doesn't think his competition goes faster in an Olympic year. "I think everyone rides close to their ability most of the time. You think there's more pressure because of an Olympic year, but it's not like the guys are riding slower when it's not an Olympic year. It seems to be about the same."
After the Olympics
US National Champion Adam Craig (Giant)
Photo ©: Dave McElwaine

I'll continue trying to make use of some good form by doing the remaining two World Cups. Then, I'll do a bunch of screwing around this fall. I'll race cyclo-cross again as my way to stay in shape until it snows.
"I'm going to hang out at home [in Bend] and recharge. From before Worlds until after World Cup finals, I'll be at home maybe 20 days. That's when I'll reassess and decided what 2009 will look like."
Next year will definitely include racing. "I can't think of a better lifestyle than this. It's got its small challenges, but it's just a question of if I race a full World Cup series or do the Mega Avalanche series and the BC Bike race," said Craig who is looking forward to a chance to do some endurance cross country and downhill racing.
"I still feel like the World Cup is the pinnacle of competition and the best riders are there, and I'm young and spry enough that I'll be there for quite a while to come, but staring down the barrel of another four years of World Cup racing until the London games, I think it'd be cool to do some of that other stuff…races you think it'd be fun to go to if I didn't need to worry about doing this."
"I'm going to try to spread myself around a bit. I think there's a lot of value in that. As a genuine professional mountain bike racer, I consider myself more a professional mountain bike rider rather than racer," said Craig. "I think there's a lot of good events out there that are growing and need support of guys who have the Olympic thing behind them."
"To be honest, if I could make a living doing seven day mountain bike stage races and hour-long downhill races, I'd be ok with never doing a World Cup again," said Craig, who laughed before adding, "But I love competition and that's good too. It keeps me coming back."