World and Olympic 500 metre Time Trial Champion Anna Meares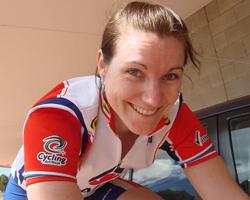 Anna Meares recovery and Olympic Games lead-up diary
At just 24 years of age Australia's Anna Meares is one of the world's top track cyclists. In addition to being the reigning World Champion in the 500 metre Time Trial, Meares is also the defending 500 metre Time Trial Olympic Games champion, after taking gold at the Athens Olympic Games in 2004.
Meares suffered a setback in her Beijing Olympic Games bid in January after a horrifying accident at the Los Angeles Track World Cup came close to ending more than her Olympic ambitions. Now back in Australia and riding again, Meares has joined Cyclingnews' list of diarist and will share her road to recovery and, if all goes well for the Queenslander, Beijing Olympic bid with our readers.
May 6, 2008
Lookin' pretty good
Me in the Aussie Olympic Games cycling team's uniform,

That's me, second from the left, with other members of the

It's great to be normal again,

All the television crews line-up

Like my new shoes? Nike were kind enough

Since returning to full-on training

The last time I wrote I was over run with emotion after learning that I made it into the top nine and subsequently remained qualified for the Beijing Olympic Games. That was almost one month ago now and this past month has seen improvements in leaps and bounds in many areas.
For the past three weeks I have officially been declared 'normal'. This means I can do any and all exercises necessary to get myself fit and strong again. Woohoo!
So I'm into the gym and into the weights, as well as high-intensity workout on the velodrome. After doing five weeks of only standing starts and rolling accelerations on the track, a change in training exercises was a sight for my sore eyes. And it was rather nice having people to talk to and intermingle with again at sessions.
When I started back into the gym I was single leg pressing 50 kilograms, I am currently lifting with one leg 215kg. I started at 20-40kg for squats and I am currently lifting 120kg x 6! This was a huge personal best for me, as I had only ever lifted 120 kg for three repetitions not six.
I have done intense work on my arms and abs and I am happy to say that the old tuckshop arms are lookin' pretty good. I have put on four kilograms, much to Marv's delight, as I lost three kilograms after the fall.
On the track I have also ridden a personal best since coming back. Standing quarter lap my previous best was 7.3 seconds and last week I rode 7.1 seconds. The boys were not too impressed as they had to put in to stay ahead of me but Marv was very happy.
Needless to say that with all of this high intensity work the fatigue has finally caught up with me this week. My body is cashing in for sleep. After a productive two weeks this week has been a struggle, but good none the less.
My neck has been going so much better then we anticipated. Once the intensity stepped up my neck tightened up as it has done in the past but in the last week it has remained 'normal' and not hindered me in any way. This is very good news and has kept everyone who has worked day-in and day-out on me in the last three to four months some time to breathe easy.
As you could imagine I am feeling very strong at the moment, thanks to the hard work in the gym, and this is coming out on the bike. However, when it comes to speed work, when I need to pedal quickly and smoothly, it is nearly non-existent. Well, not quite that bad, but it is something we need to work on but are not yet panicking as we have four months to get that happening. Strength takes longer and so is the focus for now.
I have also done a few exciting things like model the Olympic cycling uniform at the official launch of the Olympic uniforms in Sydney. This was very exciting and a good experience and I had a lot of fun!
I also have a new pair of shoes set up for the track, thanks to Nike who did some customizing on them to recognise a significant achievement in my career. My world record on one and the world champion stripes on the other. Plus, they are bloody nice shoes!
So all-in-all it has been very positive and productive.
I have a fitness trial at a race in Melbourne on June 12. This is at the request of selectors. Although I am pre-selected in the Australian Olympic team they want me to prove I can ride the team time of 11.77 seconds over 200m, as I have not raced since I fell in January, which is fair enough.
Once that is done we are heading overseas from June 21 until the completion of the Olympic Games at the end of August. I'll go into depth on that a bit later.
Hope you've enjoyed the read and I'll keep you updated on how things are going in a few more weeks.
Anna
Photography
For a thumbnail gallery of these images, click here
Images by Anna Meares