World and Olympic 500 metre Time Trial Champion Anna Meares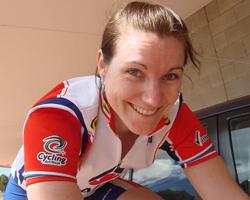 Anna Meares recovery and Olympic Games lead-up diary
At just 24 years of age Australia's Anna Meares is one of the world's top track cyclists. In addition to being the reigning World Champion in the 500 metre Time Trial, Meares is also the defending 500 metre Time Trial Olympic Games champion, after taking gold at the Athens Olympic Games in 2004.
Meares suffered a setback in her Beijing Olympic Games bid in January after a horrifying accident at the Los Angeles Track World Cup came close to ending more than her Olympic ambitions. Now back in Australia and riding again, Meares has joined Cyclingnews' list of diarist and will share her road to recovery and, if all goes well for the Queenslander, Beijing Olympic bid with our readers.
March 25, 2008
Moment of truth
Hi everyone,
Anna and Mark celebrate nine years
Photo ©: Anna Meares

Meares was named the AIS' joint
Photo ©: Anna Meares

Anna Meares accepts an award
Photo ©: Anna Meares

Today marks exactly nine weeks since my fall and I am happy to say that I feel as close to normal as I have since I fell. Things have been progressing very well and the tough times have certainly begun, although I am told the worst is past me.
I have begun a more routine-like training program, primarily focused on the gym to build back some strength and muscle mass. I'm still not able to train at high intensity (heavy weights in the gym), so I am doing a program that has a very high volume. One gym session contains 15 exercises and each at sets of three varying between 10 and 12 repetitions for legs and arms and reps of 20 for abs.
Needless to say that my first session was certainly a rude shock to the body. I was sweating profusely, gasping for air and shaking from fatigue. I walked out of gym absolutely shattered and found myself extremely sore. A good thing of course.
This was much the result of gym all week and soreness was something that was just normal. I am happy to say I have now gotten used to the load and exercises and so no longer pull up sore.
I am also back on the track, but I am restricted with what I can do. I do two track sessions a week rotating between standing starts and rolling accelerations; all individual work. The plan being that these two exercises combined with the heavy gym will see me fit to begin training with the team when they return from the world titles, all going well, of course.
As you can imagine this work load had a very big affect on me and I found myself extremely fatigued after one and a half-two weeks. Marv lightened the plan for a few days to help me recover so I can get back into it again. It made for a pleasant Easter.
The Australian team is now in Manchester, only days away from the World Championships beginning. I have been in touch with many of them, checking on how they are doing and vice-versa. I have begun to stress out quite a bit, with anxiety over my situation hard to control. I just hope that things work out and I stay top nine by the conclusion of the women's sprint.
For those of you following at home the two girls to watch are Svetlana Grankovsky of Russia, who needs Silver to bump me out, and Lulu Zheng of China, who needs fifth to bump me out. If either girl achieves this I am out, if not I am in. We are confident I will remain in, but like everything you just never know.
Since the team has left I have found it very difficult to train on my own. I find myself feeling lonely and bored when I train, particularly at the track. The gym isn't too bad as I have to focus so much on getting through I don't care to think of anything else. It has been tough mentally for this reason to push myself and work hard, but I think I am doing well. I am doing the best I can anyway.
These past few weeks have seen a few points of highlight worth mentioning. My husband Mark and I celebrated our nine year anniversary, almost two of those married. I also was announced the joint Australian Institute of Sport Athlete of the Year with Nathan Deaks, the walker. A very big achievement and one I am very proud and honoured to accept.
Easter has now come and gone and it remains less then two days untill the beginning of the world championships. By Sunday morning Australian time I will know exactly where I stand in terms of Beijing Olympic Game qualification and I hope everyone has their fingers crossed that I will still be standing in the top nine and be on my way to Beijing.
I don't have many photos for you this time around, other then one of Mark and I on our nine year anniversary and some of the AIS awards in Canberra. The lighting was dark and so are the photos.
Anna
Photography
For a thumbnail gallery of these images, click here
Images by Anna Meares