Follow Glen Chadwick through the 2008 Olympics
Photo ©: Glen Chadwick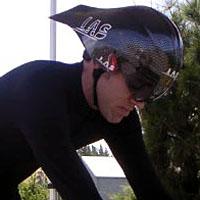 Glen Chadwick Olympic Games diary
Glen Chadwick will participate in his first Olympic Games at age 31. He is the second rider of Team Type 1 to get invited. His whirlwind Tour sees him stay in Bejing not longer than necessary. Cyclingnews readers can follow all his action closely.
August 7, 2008
Day two
Introducing the Haka at the Olympics
The precious pounamu touch stone that the Kiwis use for better performances
Photo ©: Glen Chadwick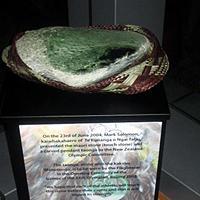 After a nice 10-hour sleep I was up at seven and ready to go! First up was breakfast in the main food hall…. You tend to forget just how many athletes are at these Games until you walk into there! There was a bit of a queue for the cereal but apart from that all went rather smoothly.
We headed off for a three-hour training ride around the triathlon bike course. It was about a 35 kilometres away which in Beijing could take you more than an hour to get to but with their 'odds and evens' license plate rule in effect it made life a lot smoother (they alternate each day between odd and even numbered license plates to keep traffic and pollution down).
The training circuit was pretty nice. It is situated near the 'Ming Tombs' and runs around a reservoir that the triathletes will also swim in. Apparently all the algae has been dealt with? Good luck with that! I took some pics of an island in the middle of the reservoir with a really cool old Chinese building built on it but due to the haziness around this joint the pics weren't so good but maybe I put them in anyways?
After training and the trip back I ducked off for a bit of a late lunch at 15:30 and then just cruised for the afternoon before going to our flag raising ceremony. Just a bit of a formality but thought I'd attend. They did four countries at a time and we just sat in our teams while the Mayor of the Games made her speech.
The part of the New Zealand team that was at the flag raising ceremony
Photo ©: Glen Chadwick

Then team by team they raised their flags to their national anthem. First was Belgium then Uzbekistan then Hungary and last of all New Zealand! Just as the anthem finished and they were about to ask us all to be seated we broke out into the Haka! God, it was funny and all the other countries loved it! Maybe not the Chinese presenters, though, as we threw their ceremony out a bit.
Once that was over I headed off for some dinner and the final event for the night was a small ceremony where we were each presented with our opening ceremony shirt and our Games pounamu (green stone) pendant that we all wear around our necks! We also have a pounamu touchstone that was a gift to the Olympic Team in 2004 and now will travel to every Games from then on. By touching the stone it is said to give us extra strength.
Star Spot of the day: Kobe Bryant!
Off to bed now and up for a couple runs around the road circuit tomorrow.
Chady
Photography
For a thumbnail gallery of these images, click here
Images by Glen Chadwick