Follow Glen Chadwick through the 2008 Olympics
Photo ©: Glen Chadwick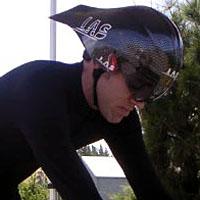 Glen Chadwick Olympic Games diary
Glen Chadwick will participate in his first Olympic Games at age 31. He is the second rider of Team Type 1 to get invited. His whirlwind Tour sees him stay in Bejing not longer than necessary. Cyclingnews readers can follow all his action closely.
August 7, 2008
Chady's whirlwind tour of the 2008 Summer Olympics in Beijing

Day 1, August 4.  Fly Continental Airlines (CO 89) directly to Beijing from Newark (13hrs 25min). 
       Touchdown  on the fifth, then basically doing all the technical stuff 
       with regards to rooms, clothing packs and reading manuals.

Day 2 – Training on the triathlon bike course for three hours
Day 3 - Training on the road race course for four hours
Day 4 – Opening Ceremony (won't be going as I am racing next day)
Day 5 – 245-kilometre road race
Day 6 – Taking the Olympic experience all in and maybe shopping
Day 7 – Leave China  bound for Salt Lake City, Utah….

I'm finally on way to the Games and so far so good, though I thought I was going to get stung into paying for my bike checking in as usual? But once in a blue moon rarities do occur! But all the same off to a good start! So 13+ hrs around to the other side of the world, a couple of movies, a couple of episodes of the Facts of Life (remember that one?), a few hours of sleep, some good old airplane food and we had made it to Beijing.
Immigration was pretty straightforward for a change here and I just breezed through that one. I was met by Dallas Seymour (Former Rugby Sevens Great and All Blacks) He's one of the athlete support crew that is working for the NZOC. He led me out of the craziness onto a bus and then into the Olympic village.
The important sites in the Olympic Village are marked well
Photo ©: Glen Chadwick

We cruised for about 30min and finally arrived at the Olympic village. There are so many locals working here at the Games, it is amazing! We got through the security check points without problems except for a spare bike chain I had in my luggage. But once they found that and saw what it was we had no problems.
We walked over to where the NZ building was and there was a good little crowd waiting out front to greet me, as I got closer they broke out into the HAKA! It was awesome and loud…. I bet no other countries greet their athletes like that? The staff here is awesome and make you feel really welcomed! We even have a little brew (coffee) room downstairs and I managed to get one in this morning as Dallas was behind the machine and it was not bad for a Rugby player! ;)
It's like Christmas when we receive all the outfit!
Photo ©: Glen Chadwick

Once that was over it was into my room and sort all my stuff out! As you can imagine it was a bit like Xmas… First you have all your casual team clothing, team bags and info. Then you've got your racing clothes and then there were a few gifts bags from China with souvenirs, bits n pieces. Oh and a little bag of goodies from home – Pineapple Lumps, Jaffas, Chocolate Fish, Minties etc.. Very welcomed of course! It's really great to see how well organised the team is! It is quite cool to see how the team has pimped out the building also with a 'slice of heaven'. Our Building is actually labelled "Bro Town" (Kiwi Cartoon which I guess can be compared with Family Guy/South Park/Simpsons)
I managed to get an hour in on the bike just before dinner; of course there were people everywhere! But with over 1.3 billion people and about 1/5th of the world's population I was bound to run into a bit of congestion!! The weird thing is though no-one seems to be doing anything or going anywhere? They are all just standing around… Dinner in the main dining hall was the next step. Man, that was an experience to say the least. It's a massive place and if you can think of it you'll probably find it there. There was even a McDonalds hiding down in the corner which I'm sure everyone wanted to go visit. It will be pretty busy once the events start to draw to a close I'd say?
So that's about it for Day 1. Its only 9:15pm but I'm smashed and ready to sleep.
Catch ya later for Day 2…..
Wanshang Hao (Good Evening)
Chady
Photography
For a thumbnail gallery of these images, click here
Images by Glen Chadwick