29th Olympic Games - JO
Beijing, China, August 9-23, 2008
Main Page Results Previous Event Next Event
Event 29 - August 19: Women's Sprint Semifinal
'Miracle' Meares to face Pendleton for gold
By Laura Weislo
China's Guo and Anna Meares (Australia)
Photo ©: Casey Gibson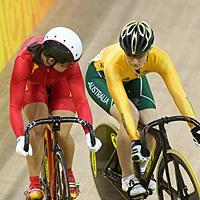 The comeback of Anna Meares continues to amaze, as the Australian was able to best China's Shuang Guo to advance to the gold medal final against Great Britain's Victoria Pendleton. Meares, who suffered two fractured vertebrae in a crash at the Los Angeles World Cup in January, faced a long road to recovery which saw her miss the world championships and have to fight her way onto the Olympic team through a qualifying race this summer.
Her route through to the gold medal final was shorter, but equally arduous as Guo put up a strong challenge. The Chinese rider led the first race, and brough the race to a track stand to try and force Meares to make a move. Unlike World Cup rules, where riders must maintain a walking pace, the Olympics allow this exciting stand-off for up to 30 seconds before being made to continue by the judges.
With the crowds cheering wildly for Guo, Meares remained focused and steady until the Chinese rider finally made the first move. Guo, who is known for a strong finishing burst just before the line, made the unlikely decision to begin her jump out of turn three coming into the bell lap. It was a move which Meares, the gold medallist in the 500m time trial, had used to earn her own position in the semifinal, but the Aussie could not make up ground and came second.
In the second race, Meares led, and kept the pace much slower coming into the bell lap. Guo tried to put in the same maneuver by attacking into turn four, but this time the pace was too slow for her to get the jump on Meares, who slipped into her draft and then pounced on the second half of the lap. The Australian led coming out of the last turn, and while Guo put in a strong effort to close the gap, she missed taking the win by inches.
Victoria Pendleton (Great Britain)
Photo ©: Casey Gibson

In the third race, the pair were half a lap from the bell and Guo dove down the banking to accelerate and then abruptly turned, lost traction and fell, causing a re-start. Unhurt, she was then forced to lead the match. She kept the pace high, and Meares jumped early out of turn three coming into the bell and took the sprinter's lane. Guo came down into the lane, bumping Meares and forcing her onto the blue band - a move which interfered with Meares' progress and would later earn Guo relegation by the judges. Guo took the sprint by inches, and celebrated her feat for several minutes before learning of the judge's decision.
Pendleton's race was far less dramatic as she held off the charge of Dutch woman Willy Kanis in both races with a superior finishing kick. She advanced to the gold medal final, and will face Meares, while Kanis and Guo will battle for the bronze.
Photography
For a thumbnail gallery of these images, click here
Images by Casey Gibson/www.cbgphoto.com
Images by Rob Jones/www.canadiancyclist.com
Images by Greg Chang/PhotoSport International
Results
Heat 1

Race 1
1 Victoria Pendleton (Great Britain)  11.537   
2 Willy Kanis (Netherlands)           

Race 2
1 Victoria Pendleton (Great Britain)  11.885  
2 Willy Kanis (Netherlands)           

Heat 2

Race 1
1 Shuang Guo (China)                  11.629
2 Anna Meares (Australia)  

Race 2
1 Anna Meares (Australia)             11.578
2 Shuang Guo (China)

Race 3
1 Anna Meares (Australia)             11.617
REL Shuang Guo (China)