An interview with Kim Kirchen, April 27, 2008
Kirchen proud Luxemburger with Olympic dreams
By claiming his first Spring Classic victory at the 2008 Flèche Wallonne, Kim Kirchen has risen to a new level in the professional peloton. On the eve of Liège-Bastogne-Liège, Cyclingnews' Brecht Decaluwé caught up with the Luxemburger to talk about his recent triumph and future goals this season.
Winning Flèche Wallonne
Photo ©: Roberto Bettini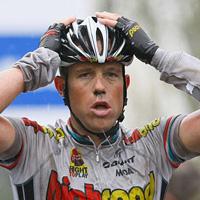 As much as Wednesday's win was a breakthrough moment in the career of Kim Kirchen, the 29 year-old insisted that experience in previous editions was important for his success. Having ridden the race in both dry and wet weather in years past, Kirchen knew exactly where the danger areas were, and which riders to follow in the finale.
"Flèche Wallonne is a fast race right from the start," he said. "For me it was good because I know the course and I know where I need to be in front. I know the descents and the tricky corners. It was very dangerous when it started to rain but I already did the race in the rain so I had some experience.
"I attacked last year [before the Mur] and it didn't work. It was a bit risky to wait and stay with guys like Rebellin for the Mur but sometimes you have to take risks. Maybe I was a little bit lucky because the three leaders [Fabian Wegmann, Alexander Efimkin and Gustav Erik Larsson] had a nice gap and it wasn't easy to get it all together."
Battling cycling's big guns up the Mur de Huy after 200 kilometres is sure to put a sting in anyone's legs, and Kirchen admitted that he's needed a few days to recover from Wednesday's effort. "Yesterday I felt a little bit tired," he said, "but today everything is fine. I think you need at least three days to recover."
"I'm not thinking about tomorrow's race. I'm not nervous."
-Kirchen on his state of mind heading into Liège-Bastogne-Liège.
While his victory wasn't entirely unexpected after he placed second in 2005 behind Danilo Di Luca, Kirchen was never mentioned as a firm favourite since most of his wins have come in different types of races. "I think I always raced well in smaller stage races," he reflected. "I've had some stage victories but in the Classics I was always a little bit behind with the legs in the final kilometres. Now I am a bit older and it became possible for me to ride with the first guys."
"It's pretty good to have a victory right now," he continued. "It gives me confidence. I'm not thinking about tomorrow's race. I'm not nervous. I was more nervous before the start of the Flèche Wallonne. There are a lot of riders on the same level and that makes it hard in races like this because even though you're the strongest rider you can still lose it. Tomorrow at least ten riders will fight each other in a tactical finale."
Relaxing before Liège
Photo ©: Gregor Brown
Kirchen was clearly delighted with his victory in the Flèche Wallonne, continuously throwing his hands in the air while hugging friends and family and waving to his fans in the crowd. Kirchen smiled when thinking back to the scene on the Mur de Huy. "The guy who wins in Liège will also show his happiness although maybe a little bit less than I did," he said.
"It's normal because I don't win so often. If you have a sprint and you already have ten victories it's obvious that you're not showing your happiness that openly. When it's the first or the second victory it's different. When you see Cavendish it is the same," said of his British team-mate at High Road.
Kirchen hasn't racked up a big series of wins in his career but clearly has already achieved some nice results and is one of the few riders to win Paris-Brussels [2004] since Robbie McEwen won four out of the last six editions. Last year Kirchen proved that his wins in smaller stage races like the Tour of Poland and Tour of The Netherlands weren't just luck, and he also finished seventh in the Tour de France and runner-up at the Tour de Suisse. Still, Wednesday's win couldn't have come at a better time.
Kirchen put in a massive effort
Photo ©: Roberto Bettini

"I needed this victory for the rest of the season and also next year to be a little bit more relaxed because that was my problem," he smiled. "I don't have the pressure, besides the pressure that I put on myself. I think that I'm not at the desired level but with a victory like that it confirms that I'm doing pretty well."
For a tiny country like Luxembourg, which has seen more than its share of cycling success with the Schleck brothers in recent years, it is extraordinary to have three top class riders in the peloton and Kirchen is proud of that fact. "It was great to win Flèche Wallonne as a lot of Luxembourgian people were there [in Huy]," he said. "There were three busses from my fan club at the Amstel Gold Race and a little bit less in the Flèche Wallonne. But there will be many Luxembourgian people out there in Houffalize tomorrow."
Kirchen hopes to offer his compatriots more things to be proud of. "I'm riding the Tour [de France] and for sure the Olympics. For Luxembourg it is very important. We have three good riders and we have good possibilities for the road race in Beijing."
That said, Kirchen isn't looking forward to the conditions in Beijing as he is known as a rider who excels in the rain. "The humidity will be the same for everybody. I'm not doing any tests because it takes too much time," he revealed. "I'm also doing the Vuelta and afterwards normally the world championships but it will be a long and hard season. We'll see."