An interview with Jose Antonio Hermida, August 8, 2008
Olympic Games - take three
Spain's Jose Antonio Hermida,
Photo ©: Dave McElwaine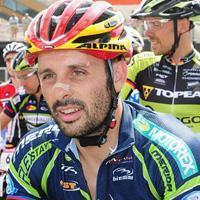 Jose Antonio Hermida won a silver medal at the Olympic Games in Athens, Greece four years ago. Now he's got his eyes on a gold medal in Beijing, China. Cyclingnews' Sue George spoke with Hermida, an enduring and consistent Spanish cross country mountain bike racer, who will be counting on experience and hoping for a little good luck at his third Olympic Games.
Jose Antonio Hermida (Multivan Merida) isn't new to the Olympic Games. In fact, with this year's event in Beijing, China being his third appearance, Hermida's Olympic career has outlasted that of many others. While the Beijing test will feature some new faces, Hermida is depending on experience for his gold medal ambitions.
"Probably the younger riders will be more explosive and more competitive than me, but I have a card to play - experience, and that is also important," said Hermida, who will celebrate his 30th birthday one day after the Olympic cross country race. "I'll be arriving at the Olympics at a good age.
"I have experienced two past Olympics, and I'm at the age when most of us guys are at the top of our careers," added Hermida, who finished fourth at his first Olympics in Sydney, Australia in 2000. "This experience card is one that I have to play."
Hermida hasn't won any World Cups so far in 2008, but he's been steadily building his form going toward the Olympic Games. At the World Cup in Madrid, Hermida came close to a win with a second place, just 12 seconds behind French National Champion Julien Absalon (Orbea).
"Every time we drew in air, we felt like our lungs were burning inside."
-Jose Antonio Hermida knows what to expect in Beijing
In Mont-Sainte-Anne in late July, Hermida was riding in third before the "crash of his life" sent him and his bike flying. After landing on his head and losing his seat, along with over a dozen places, Hermida worked his way back up to 11th. At the Bromont World Cup last weekend, he finished fifth, earning a spot on the podium after a blazing fast start.
"It is not a secret that I want to win," he said. "Most people put me on the favourites list based on my past results in the Olympics. Now it is the time to fight for the gold, but of course, it is the Olympics and racing is racing, so you never know. You can make everything perfect, but your result still depends on luck."
Hermida lives in Puigcerdā, Spain, with his wife and two year-old son, whom he is teaching to ride when he's not away travelling. His home is in the mountains of the Pyrenees, only 500 meters from the border in Spain, and he does most of his training in France.
With two Olympic appearances under his belt, Hemida's approach will be a little different this time around. "In my last two Olympics, I had a lot of fun," he said. "I was there for racing and tried to do my best, but I also had fun enjoying the Olympic experience. I was lucky. There are many riders that go to the Olympics and see nothing and have no time to enjoy the ambiance.
"These Olympics will be different as I will be pushing myself to go for the gold medal, so I will probably need to remove some of the fun part of the Olympics and focus more on my goal," added Hermida.
Making the team
Jose Antonio Hermida claimed silver at the 2004 Athens Olympic Games in Greece. Can he go one better this time around?
Photo ©: Rob Jones

Unlike many countries whose races play a major role in mountain biking selection, Spain selected its Olympic team last November. Many other nations did not chose teams until June or July after the spring World Cups and the World Championships. The selections were intended to be about 95 percent certain; had a rider had gotten sick or demonstrated poor form, a change in the team was still possible.
"I think that was the right strategy," said Hermida. "For us riders, it's better because we feel more confident and relaxed. It has meant we could do a calmer winter of training and then increase our form step by step up until the Olympics.
"For Spain, it was good because we Spanish riders have not had to fight each other," he added. "Our selection was more relaxed. We have just needed to take care of getting ourselves in better shape. It's not like in Swizterland, America or Canada where the riders have been doing all the races to make their teams, and sure they have been focused on winning, but they are still always looking over their shoulders to see if one of their team-mates is right there.
"Some of them could be completely burnt out from chasing points and trying to beat their team-mates while under constant physiological and psychological pressure," said Hermida.
Just another year
Spain's Jose Antonio Hermida has had a good run into the Olympic Games
Photo ©: Dave McElwaine
"My season has not been so different from other seasons," said Hermida. "I just changed around the events in my training. Instead of peaking for Worlds in September as usual, we are peaking in late August for the Olympics. Maybe for others with less experience, it seems like a bigger deal.
"In the Olympics there are only three medals, but there are still the World Cups and the World Championships during the rest of the season," he said. "So I don't know exactly why everyone is completely focused on the Olympics. In my case, I have planned a normal season and then am going to the Olympics."
Racing the Olympics is different than the World Cups due to the much smaller fields. World Cups can attract as many as 200 men, more than four times the amount at an Olympic event.
"It changes things a lot," said Hermida. "It gives some opportunity to riders who would normally start in 40th position and fight their whole World Cup race to get 20th. But in the Olympics, the might start in 20th, so it will be easier for them to improve to top 10.
"Having less racers could be good," he added. "Smaller fields might mean people are less nervous and the start is less dangerous. When there are more than 100 people, there are always crashes in the first corner as everyone tries to get in front. With less people, there will be more places for everyone."
The level of racing at the Olympics will be just as, if not more, competitive as it is anywhere else, according to Hermida. "For those of us who fight for the top 10 every weekend, it won't be a different race," he said. "It will be the same race. The top World Cup and World Championship are also the top riders for the Olympics. In mountain biking, it will still be the same faces at the front - not like in some other sports.
"The big difference between the Olympics and the World Cup or World Championships will be the pressure," added Hermida. "For some riders, that is good. For many riders, it will cause them to make mistakes."
Hermida plans to arrive in Beijing one to two weeks prior to his race. After arriving Hermida plans to relax and focus on the race, with some easy training.
Absalon will be Hermida's main competition, according to the rider, but he also sees Christoph Sauser, Roel Paulissen, Jacob Fuglsang, Nino Schurter, Florian Vogel, Burry Stander, Todd Wells and Geoff Kabush as strong podium challengers.
Previewing the course
It's a hard slog, but Jose Antonio Hermida loves
Photo ©: Marek Lazarski

Hermida was a member of the Spanish team which attended the Good Luck Beijing Test Event last September. While the course has undergone subtle changes since the event, it remains largely the same as the course riders contested in 2007.
"It's a city with about 17.4 million people living there, but it's cool that they could find a place more or less in the middle of the city where they can stage a high level mountain bike competition," he said. "The experience was good.
"Most of the course was artificial, but it was a good course for me in my opinion," added Hermida. "There were short climbs, tricky sections and lots of corners. As a small guy, I like those kinds of courses."
Organizers changed the course to add technical and more natural features upon the request of the racers. "It looks like they changed a lot of parts to make it trickier," said Hermida. "The Chinese workers had cleaned it too well - they removed all the rocks. We proposed they keep the course as-is for a whole year - no more cleaning - just let it develop, with maybe some riding."
The big topic, aside from human rights, surrounding this year's Olympic Games has been air quality. It's an issue Hermida has already had to contend with, as the Spaniard withdrew from the Test Event due to the pollution.
"Most of us really felt it," he said. "All of us Spanish riders stopped during the event because we felt really bad and couldn't breathe. Every time we drew in air, we felt like our lungs were burning inside."
After the Olympics
This may well be his third Olympiad, but Hermida has no plans to retire after the Olympics. Instead the rider thinks he might have another Olympic cycle in him.
"I want to keep racing for four more years after the Olympics," he said. " We'll see if my body accepts the challenge. I want to be like Ned Overend. He's been racing forever."
The good-humoured Hermida knows he will have plenty of competition from the younger riders this year. As he was once the young rider bumping out older rivals, Hermida knows the day will come when the next generation push him down the finishing order.
"In the past, when I was the young rider, I bumped top riders from the podium," he said. "If that happens to me, it will be a like a car flashing me with its lights signaling me to move off to the side. Then I will move to the side - that is life."
Hermida is still passionate about racing and shows no signs of burning out. "Every morning, I still wake up with a smile and I'm proud of what I'm doing," he said. "The day I wake up and feel tired and have no motivation and don't see sense in racing, then I will stop for sure."
That won't mean an end to his cycling though. While his passion for the bike will always continue, he has no plans to do any endurance or Xterra racing like many older or former professionals.
"I will continue riding for sure - maybe freeriding or touring," he said. "Mountain bikers - we are not the kind of people who like to sit on the count and just watch TV."
Photography
For a thumbnail gallery of these images, click here
Images by Rob Jones/www.canadiancyclist.com
Images by Dave McElwaine/www.trailwatch.net
Images by Marek Lazarski