An interview with Hanka Kupfernagel, August 10, 2008
Time on trial in gold rush
Hanka Kupfernagel wants to conquer the time trial course
Photo ©: Mike Kluge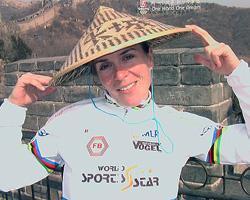 Hanka Kupfernagel is the reigning time trial World Champion. Her whole year was focused on repeating her performance at the Olympic Games in Beijing, but extended health problems have brought turmoil to her plans. Cyclingnews' Bjorn Haake discovered that once healed she had no time to lose.
Germany's Hanka Kupfernagel flew off to China one week before one of the most important races of her life. She had packed four – two time trial and two road – bikes, equipment and a mixed bag of feelings. Kupfernagel was worried about her shortened preparation on the one hand, but drawing confidence from her uncountable wins in the past with the other.
Kupfernagel and her coach/partner Mike Kluge had drawn up the plan for the Olympic season last winter. "We basically took the 2007 plan and shifted it up by a month and a half," Kluge explained.
A plan is only as good as its execution, as Kupfernagel learned when health issues started to occur after Flèche Wallonne. "Flèche is a really hard race and when you are strained you are very susceptible to viruses," she said. "I got sick a few days after the race."
Kupfernagel had caught a bug which was refusing to go away. She lost five weeks in total, with bronchitis and a sinus infection keeping her off the planned schedule.
The illness didn't only affect her training program, but prevented the rider from qualifying for the Olympic cross country mountain biking event. "I had to cancel the mountain bike races in the spring so I couldn't qualify," she said.
"I lived in Los Angeles for a while and sometimes you couldn't see very far, either."
- Hanka Kupfernagel's coach believes the air-quality is blown out of proportion
A start in the mountain biking World Cup event in Madrid didn't materialize, among other races. Not everybody was unhappy with that change of events, noted Kupfernagel. "There was tension with the federation [BDR, German Cycling Federation - ed.]," said Kluge. "They didn't like the fact that one rider would be doing all the events."
When Kupfernagel was healthy again, there was some doubt about whether she would make the Olympic Games at all. "When you have a lot of time to prepare it is no problem," she said. "But with losing those five weeks I was a bit nervous. When there is a week when things don't go so well you question yourself sometimes."
Her experience of many years as a top-level racer made the difference as she overcame the self doubt and she got back on track. By June Kupfernagel had returned to good enough health to win the German time trial championship. In the road race she finished fifth, without the team support that gives Equipe Nürnberger Versicherung and Team Columbia the upper hand in tactical races. A flat tyre close to the finish didn't help Kupfernagel's cause, but it was a sign that her hampered preparation still was on target for the Olympics.
"I hope that all the negative encounters with sickness and mechanicals are out of the way now," said Kluge at the time.
Getting back on top
Germany's Hanka Kupfernagel wants to top the Worlds time trial gold at the Olympics
Photo ©: CJ Farquharson

Kupfernagel went back to some tough training in the Black Forest before tackling the Tour de Feminin – Krasna Lipa and the Thüringen Rundfahrt. She finished third in the Krasna Lipa time trial but in Thüringen, the state where she was born, Kupfernagel ended up in sixth, a little more than a minute behind winner Karin Thürig. Kluge wasn't too concerned about the placing.
"The time trial result wasn't so good," he admitted. "But she had the training and the stage race in her legs. Other competitors had done already maybe six to eight stage races. The Olympics is just one race and Hanka can start it fresh."
Following the German race last month Kupfernagel has devoted her full concentration on the difficult 24-kilometre time trial course in China. The pair visited Beijing in January when Kupfernagel rode most of the course, except for the freeway section which was closed to bicycles.
"It starts out uphill for 4.5 kilometres," she said. "Then there is a little downhill section. It goes up again and the freeway is crossed twice. Towards the end of the hill it gets steeper. The first half is really hard. [But on the descent] it's down on a three-lane freeway – speeds should be around 70 km/h."
Kupfernagel didn't get a chance to check out the quality of the pavement on the freeway, but if the uphill section is anything to go by, it should be smooth sailing. Kluge does a lot of material research and has worked together with bike supplier Focus and Continental to come up with the best setup for Beijing.
Hanka Kupfernagel in a familiar pose
Photo ©: AFP

"Taking four bikes and all the equipment is a bit challenging," he laughed of getting Kupfernagel's equipment to the airport. Kluge believes the athletes fly business class makes for a speedier adaptation to local conditions. "I reckon that it will save two days."
Kupfernagel's illness and the logistics of transporting her equipment isn't the only hurdle the pair have had to overcome. Kluge, who travelled to China three days after Kupfernagel, wasn't able to get accreditation through the German federation, forcing him to seek assistance from the neighbouring federation in Luxembourg.
"We are really happy how Luxembourg stepped in and managed to provide me with an accreditation," Kluge said.
Being accredited for the event will likely allow Kluge to follow Kupfernagel in the car and on the radio during the time trial. The latter should work out better than during Kupfernagel's gold run at the World Championships in Stuttgart last year, where the pair lost radio communication almost immediately after the start.
Neither Kupfernagel or Kluge are concerned about Beijing's pollution problem which has dominated world media headlines this month. On their visit in January they experienced no problems, and despite the differences in weather during August, Kluge doesn't believe it is all that bad.
"I think it was pushed by the media," said Kluge. "I lived in Los Angeles for a while and sometimes you couldn't see very far, either."
Doping concerns
It's quite an involved process to get all that luggage to the races
Photo ©: Mike Kluge

A bigger concern may be what the competitors do besides the hard training. Several athletes have tested positive during the weeks leading into this year's Olympic Games, including Women's Road World Champion Marta Bastianelli.
"I hope the controls stay as intensive as they are," Kluge said. "It's a learning curve in sports right now, but with many being caught maybe athletes start realising that the risk is very high."
The doping issue isn't only affecting cycling, with other sports like track and field being affected by positive samples. Controls aren't equally distributed amongst participating teams, with countries like Germany subjecting its athletes to more rigorous testing than others. It's a topic that Kluge would like to see addressed, with all countries forced to commit to frequent testing procedures.
"Right now, different countries have different controls," he said. "Sometimes the controllers can't reach athletes because the customs stops them. There needs to be some equality in the testing of athletes of different countries."
China is very well known for controlling everything – from how it produces athletes, sensors the local internet and even the lodging in China. Kupfernagel hopes that it won't effect her concentration during her stay.
"We are required to stay in the Olympic Village," she said. "The beach volleyball team was all set up with a hotel, but they had to cancel that. If you are unlucky you are above a restaurant or there is a loud air conditioning unit. If you can't sleep well it is far from a good preparation."
Kluge himself moved out of the Village in the 1996 Olympic Games in Atlanta, United States of America. "The double rooms were so small that if one had to open the suitcase, the other had to go out of the room first," he said half-jokingly.
Kupfernagel has been much luckier with her accommodation. "My room is really spacious," she said.
With Kupfernagel's health and preparation issues all sorted, the German rider will now attempt to turn her World Championship gold from last year into Olympic gold on Wednesday.
Photography
For a thumbnail gallery of these images, click here
Images by Mike Kluge
Images by CJ Farquharson/WomensCycling.net
Images by AFP Photo