An interview with Grégory Baugé, August 13, 2008
Firing for French gold
Frenchman Grégory Baugé
Photo ©: AFP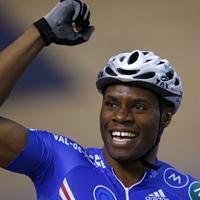 Name: Grégory Baugé
Born: January 31, 1985
Resides: Maisons Lafitte, France
CV: Baugé started out riding on the road aged nine and won his first race in cyclo-cross. He swapped to track cycling in his early teens, coming second in his first race. The rider, known as "Maurice" after Olympic sprint champion Maurice Greene, won the world junior team sprint in 2002, building on that the following year by winning the European and French junior sprint titles.
As an espoir, he took the European team sprint and national sprint title in 2004. He moved into the elite category in 2005 without any major successes, but made up for it in 2006 by taking the world team sprint title shortly after winning the World Cup.
Last year he continued his run of form with first place in the individual sprint at the European Championships and in the team sprint at the Worlds. He rides for US Créteil and has a maximum power output of 2,200 watts on a 48x18 gear.
Sprinting is in his nature. Not content with wins at the French and World Championships, 23-year-old Grégory Baugé has his sights fixed on Beijing… and he wouldn't mind running the 100 metres too. Les Woodland talks to him about riding, running, and the racism that has plagued him on his way to the top of the track sprinting hierarchy
Procycling: We've always thought of you as a track rider, so we were surprised to find out that you started on the road and that your first win was in a cyclo-cross race.
Grégory Baugé: Yes, well, I started when I was nine. I learned quickly and won that cyclo-cross race just six months later. It was at Conflans, in the Yvelines region. Cyclo-cross is a form of racing that I still love. I can't ride it any more because of the track season, but if I get a chance to see a race, whether it's the youngsters or the stars, I go along. I rode cyclo-cross until I was 16.
I was 10 years old when I won that first race. It was superb. Your first win brings a special joy - seeing your family there, your friends, all of them happy. I didn't have a chance to raise my hands in the air that time, but I won three times in a row, riding in plimsolls.
Procycling: That must have pleased your family because it was your father who pushed you into cycling, wasn't it?
GB: I'm not sure "push" is the right word. When I started, he was hesitant because I'd already been doing football for a while. When I said I wanted to take up cycling, there was the question of getting a licence to sort out, which was fairly expensive. Then we had to buy a bike… I had to justify myself. And that's how it started. But from the day I started, my dad always supported me, accompanied me to races and took me on all the long journeys. He was always there beside me.
Procycling: You had a future as a cyclo-cross rider, or perhaps a roadie, but you changed - you became a pistard…
GB: I wasn't inspired by the track in the beginning. There weren't many races and it was hardly ever on television, so for a youngster like me, it was hard to have idols on the track. Not like on the road, though, with the Tour de France and races like that…
Procycling: Your hero used to be Jan Ullrich, didn't it?
GB: [Laughing] Yes, for me it was Jan Ullrich. I grew up with him as my hero, never mind what happened to him later… [Ullrich retired in 2007, still maintaining his innocence of links to the Operación Puerto doping scandal].
But things weren't going so well for me on the road. The races weren't going the way I wanted them to. So I went to the track, just to see. That was when I was about 13 years old. It was a sprint championship at the Cipale track here in Paris - the national cadet championship. I really enjoyed it - and I came second. Even though I didn't win, it gave me a lot of pleasure. And that's how my track career started. I made my choice. My father [was all for it] because he recognised that I wouldn't face the obstacles I would on the road, like doping and maybe the colour of my skin. Et voila!
Procycling: Being black has caused you some problems. When you won that first cyclo-cross race, didn't you hear people making racist comments about you?
France's Grégory Baugé claims victory in the
Photo ©: Mark Gunter

GB: It was kids - I was still in the cadets. But, for me, it was normal. I'd hear things and so would my family. I didn't hear stuff so often from the young riders, but when you looked them in the face, you could see what they were thinking. When a black rider wins, the person you beat can get annoyed. My parents told me not to take any notice, not to say anything. They brought me up well and so that's what I did. Yes, it hurts, but on the other hand, it just made me push the pedals even harder.
Procycling: Does it still happen?
GB: No, not at all now.
Procycling: You said Jan Ullrich was your hero on the road. You're still only 23; have you got idols on the track?
GB: Oh, yes! My idols are Laurent Gané, Florian Rousseau and Arnaud Tournant. I saw Rousseau [now head of cycling at the
French National Sports Institute, where Baugé trains] in races - at world and national championships. I loved the way he won his races - his concentration. When he was at the top he had huge, impressive legs. I got to know Tournant through the kilometre. He's a beast! When I was a kid I watched his kilometre attempt on the internet. He can really push himself on a bike. It's respect that I have for him. It's just not human to do things like that - not human.
Procycling: And now you're the hero. Do you find that odd?
GB: [Embarrassed] Well, yes, but… [he dismisses the idea with his hands].
Procycling: But it's true: you're the chouchou - the darling - of all France!
GB: Oh, I don't know… I don't see why I should be the chou-chou of France. But it's great; if I can put a bit of force on the pedals and achieve my goals, and if that makes the public happy…
Procycling: In 2005 you so nearly won the individual sprint title at the World Championships - aged just 20!
GB: Yes, er… [laughs, embarrassed again]. It was great. And in America as well. I was up against Mickaël Bourgoin. But unfortunately for me, at the bell, my tyre exploded. I wanted to ride the heat again but I wasn't in the right state after the fall. That was the semi-final. After that I came up against the Australian,
Jobie Dajka, and came fourth, so I didn't get a medal. It was annoying, but I still have good memories of that championship as I showed everybody that I had the potential to become champion of the world.
Grégory Baugé leads his French squad
Photo ©: Mitch Clinton

Procycling: And then you were at the 2006 World Championships in Bordeaux, in front of your home crowd, and you went straight out of the individual sprint… In the quarter-final, wasn't it?
GB: [Laughing] No - it was in the first round actually…
Procycling: But how?
GB: How? Well, it was the World Championship, it was in France, and a lot was expected, especially of me, because I'd already won the World Cup and I hadn't lost in three or four outings. And then, on the day of the race, I just didn't have the legs. Physically I was there, but mentally I was somewhere else. I was trembling, I wasn't myself. And I went out in the first round. I tried to react when [Italy's Roberto Chiappa] jumped, but like I said, I wasn't in the right state of mind. I was just a tourist on a bike.
Procycling: You hid your face in your hands for hours. You were there, hiding, until the track emptied for the interval…
GB: Oh, I still remember it!
Procycling: And nobody came to talk to you…
GB: Tournant said a few words to me. Florian as well. [Laughs] It was bizarre - there I was, the World Cup winner, out in the first round. The world came to a stop that day.
Procycling: Who are your biggest rivals for Olympic gold?
GB: Oh, I think I've got a dozen good rivals. Bos, who's got a good chance; Hoy, who's champion of the world; Bourgoin, among the French; and maybe others who will come through at Beijing.
Procycling: In tactics - in personality - what's the difference between you, Hoy and Bos?
GB: [Laughing] I'm an attacker by nature. But those guys are both resistant and can finish their sprint. And they've both come from riding the kilometre, so they can go right to the end.
Procycling: People say that Hoy is open and generous by nature, but that Bos is arrogant - on the track, at any rate…
Grégory Baugé (France) beating his countryman
Photo ©: Ross Harding

GB: I agree. When I started, in 2005, I hadn't done many rounds of the World Cup, so I watched, and yes, there was a guy who was a bit arrogant in the way he rode. As for Hoy, I did several races with him in Manchester, England, and I palled up with him there. I find him very professional. I think he's cool. For me, he's the most open, more so than Bos.
Procycling: Manchester is the training centre for the British track team. Is there much difference between what you do at the French National Sports Institute and what they do in Manchester?
GB: We've never talked about it. I've never asked my adversaries how they train.
Procycling: Was it former world champion and then French national coach Daniel Morelon who said that the British watched what the French were doing and then copied all their ideas?
GB: I don't know about that, but I think it's normal that when one country dominates a discipline then the others will watch and see what tools they can borrow to train their riders. We've been at the top, but we're not the only country who are up there. There are four or five others who have all the backing - financial, equipment… We have to train on a track of an unrecognised distance, 165m. It's better now than it used to be because they've done some work on it. Before, it was full of holes, and when it rained puddles would form on the track.
[Over in Manchester] they have cameras everywhere and they can see how riders are developing, how they handle the bankings… It's crazy what they have, but for me that's normal if you want an athlete to develop. That's the way you have to do it. Here, we're a bit behind.
Procycling: How far do you look ahead now? What are you planning?
GB: I'm in cycling to try to be the best. I have to win something at a high level every year. I look at it season by season. I'm focusing on the Olympic Games in Beijing, naturally. I want to do something there. What I do with the rest of my cycling career depends on that.
Procycling: Meaning…
GB: I've always been attracted by athletics. I've never hidden that. I wanted to try it before I took up cycling. I've tried it since. The day I decide to stop racing on a bike, nobody will be able to talk me out of trying to run the 100m. I told someone here at the Sports Institute that I wanted to have a go at running, and she must have told one of the heads of athletics because he came to see who this cyclist was who was talking about running.
[Tournant enters the room.]
Tournant: He's going to take up boxing.
Procycling: Are you?
GB: [Pointing at Tournant] Pfffff!
Procycling: But are you, seriously?
GB: Pfffff! [Tournant leaves, smiling.]
Grégory Baugé has come a long way since
Photo ©: Mark Gunter

Procycling: What's the difference between you as a track sprinter, and a Robbie McEwen or a Mario Cipollini?
GB: Above all, they have stamina. Riders like me, we're used up after an hour, or an hour-and-a-half maximum. Riders like that, they can go for six hours and then make a violent effort. We can get our heart levels very high, whereas over a distance, they can't.
Procycling: Imagine the impossible: you're in the Tour de France, you're in the last kilometre… What happens?
GB: What happens? I'd go for the sprint! I'd have something over the road sprinters. I could do it, even though the technique - the way you ride the bike and make an effort - isn't the same. But I think I could do something. You can see that in a rider like Franck Pervis, who likes to ride the road as well. When I went to the Tour one year, I got to know Sylvain
Chavanel and we said that if the chance ever came, it'd be good for us to take the chance to try a road sprint together.
Procycling: It's been reported that your power output is three times that of a road sprinter…
GB: Yes, roughly. Because I do a lot of weight training, I do a lot of specific work, a lot of big gears to develop my ability to accelerate. Road riders don't do that. They don't particularly look for great power.
Procycling: How much weight training do you do?
GB: Three times a week. And then big-gear riding, which is another form of weight training - a way of getting big thighs!
Procycling: Speaking of which, how big are your thighs?
GB: 69cm! It's weird!
Procycling: That must give you trouble buying trousers…
GB: No, because [demonstrates by plucking at his clothes] I always go for loose clothes in a big size. It's not too difficult.
Procycling: If you become the senior world sprint champion, you will be only the second black rider in cycling's history to do so, the first since Major Taylor, back at the turn of the last century.
GB: Yes.
Procycling: Why do you think there haven't been any black track champions since then?
GB: Maybe because black riders are not given the chance. People don't go looking for them. But I think you'll see it change in two or three years' time. In the Coupe de France [the French equivalent of the FA Cup] we have a few players who've come from Guadeloupe. They play here, but they have to be sought out, found.
Why shouldn't cycling be more like that? If we can set up a similar way to find riders, that would be a huge benefit for France. And not just in France… I think work needs to be done in other countries as well.
If I can show by my example, by my results, that other [black] youngsters can do it too, I'll be very happy.
Photography
For a thumbnail gallery of these images, click here
Images by AFP Photo
Images by Ross Harding/www.velosportz.com.au
Images by Mitch Clinton/www.clintonphoto.com
Images by Mark Gunter/www.pbase.com/gunterphotograph