An interview with David Zabriskie, August 3, 2008
Beijing-bound Zabriskie optimistic for Olympic success
There are both first-timers and veterans attending the Beijing Olympics for American cycling, and what some may not realise is that Dave Zabriskie is one of those first-timers. The 29 year-old from Salt Lake City is the current U.S. time trial champion, a stage winner in all three Grand Tours and one of the best moustache growers on his Garmin-Chipotle team. But along with his accomplishments have been a string of injuries at inopportune moments, as Cyclingnews' North American Editor Mark Zalewski found out.
Can Dave Z re-discover his exceptional time trial position in time for Beijing?
Photo ©: Kurt Jambretz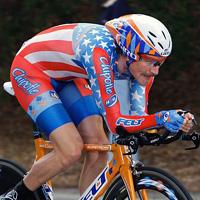 The most recent of these injuries came in this year's Giro d'Italia where, after helping his team win the first stage team time trial, he crashed on the second stage and fractured his first vertebrae. And while a major injury is tough for any athlete to overcome, endurance athletes, and particularly cyclists, can find their carefully structured seasons ruined by the inability to train.
"I think it's just harder for a cyclist," said Zabriskie. "A sport like baseball or basketball, you might miss a few games but it's not that big of a deal. But in cycling if you get injured it messes up half your season and you miss big events like the Tour."
Perhaps the only positive outcome of a season-defining injury, particularly in cycling, is that it can allow a rider to put an intense singular focus on one event in their racing schedule, compared to training for five or six major goals. Maybe it is just trying to look at the positive side of an otherwise bad situation, or maybe it will make a difference for Zabriskie as he sits in the start house for the Olympic time trial on August 13.
"You are never quite sure how things are going to turn out but everything is really coming together quite well," he said.
"I started going out on real rides a while ago and have finally started feeling those moments where you feel everything coming back."
- David Zabriskie is hoping to find his best form for the Olympic TT on August 13
Actually, in non-sporting terms, his injury's timing allowed him to participate in an event for which many male professional athletes are often away from home: the birth of his son, Waylon. Being at home for the first weeks after the birth would not have been possible with the team's rigorous training schedule for the Tour de France, but with no bike riding possible at first he had all the time in the world to enjoy the experience.
"I couldn't really do much though, because of my back," he said, laughing.
And for any cyclist, it is not long before that bike comes calling once more, as well as the schedule of sleep required. "I tried to help out at first but I just couldn't stay up with him all night - I had to keep a schedule. But [my wife] has been great about it!"
As for the rehabilitation specifics, Zabriskie is continuing to work with his long-time collaborator Dr. Massimo 'Max' Testa who has helped him develop his training for years. As for this round of rehab, Zabriskie said it is actually not very special. "I do a tiny bit on the ball and some extension exercises. The biggest thing I do for my back is massage because is was a 60 percent compression fracture and the muscles shortened and everything has to readjust. I've had that worked on quite a bit, along with icing. But really just being on the bike helps it the most because a lot of cycling comes from the lower back.
"It was about two weeks off the bike, and then I got on the trainer again. I started going out on real rides a while ago and have finally started feeling those moments where you feel everything coming back."
One of the keys to his rehab is where he lives, outside Salt Lake City, Utah. "There is a river behind my house that has the snow coming from off the mountain running in it, so I sit in that and everything goes numb!"
Podium, podium!
The crash on stage two of the Giro d'Italia
Photo ©: Roberto Bettini

Also during his rehab Zabriskie has been busy keeping tabs on his team-mates' performance at the Tour - particularly his longtime team-mate Christian Vande Velde. "I'm not surprised so much, he's a good climber and has been riding really well that past couple of years," he said of Vande Velde's performance.
He also said he has noticed a change in the peloton this year, compared to recent Tours. "I was watching it and it looks like the top guys are only going hard for like a minute and then backing off. Not going full gas up the whole climb."
And as for the riders being caught doping, Zabriskie is actually relieved because of his team's own internal testing. "We have these programs in place and when people like that get caught, everyone... like even your own family, doesn't look at you like you are a criminal!"
Cyclingnews spoke with Zabriskie the day before L'Alpe d'Huez and asked what he hoped for Vande Velde. "Podium, podium!" he replied. "I was rooming with Christian before and his dad was talking to us, saying that he could podium at the Tour. I'm sure his dad is going nuts right now!"
Beijing bound
Being an Olympic novice, Zabriskie said he is unsure what to expect - from the housing to the food. But he is hoping that some of the veterans, such as George Hincapie, will be a helpful Olympic guide. "I got a text from George today to say, 'Make sure we are room-mates - and bring a lot of movies!' I'm not sure what he wants to watch though!
Zabriskie will ride both the road race and time trial
Photo ©: Mitch Clinton

"I guess I'll get to try some real Chinese food while I'm there, but I'm not really sure how it all goes down - if we are locked in a compound or what they even allow you to do?"
Although new to the Olympics he was part of an introductory event last year where he met other Olympians. "I went to this Olympic Ambassador program in December and it was really interesting just to be around the other athletes from other sports. I hung out with a bunch of rowers when I was there and they all ride bikes too. It's amazing how many sports do cycling for cross training.
"But it was cool to meet all the different athletes. Maybe I'll try to watch some rowing events - hopefully they will be able to get through the algae!"
Zabriskie said he asked his family to stay home, both because of practicality and to help keep his stress level as low as possible. "My family wanted to go watch but I kinda talked them out of it, because you go over there and likely watch it on the TV anyway. They might as well watch it on TV here and not stress me out."
Of course the U.S. time trial champion, and one of the best time trialists in the world today, is going to focus on the... time trial, but he is also part of the road team. When asked what he might do if a Garmin-Chipotle team-mate like New Zealander Julian Dean attacks, he chuckled and said, "Ha, I'll just let them go!"
But in all seriousness, when asked about how an injury to his back affected his much raved about aerodynamic time trial position, he confidently said that nothing has changed.